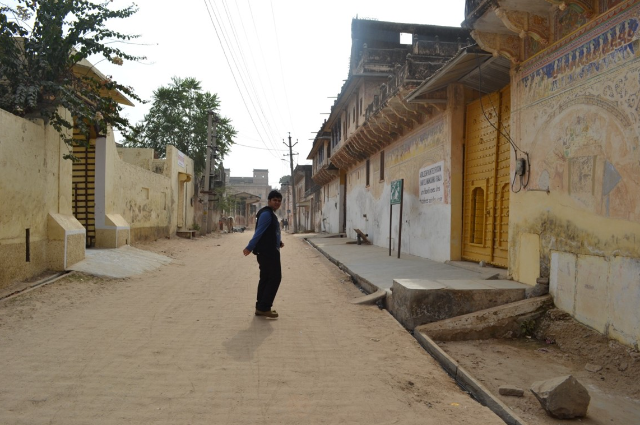 As life happens, we decide to travel. Among the many lonely places in India that I have had the privilege to visit, Mandawa stands out. I remember the mysterious whispers among the cluster of old Havelis, which stand witness of decades of Rajasthani culture. These grand old dames are at least two hundred years old, yet they smile at us roguishly. This village, in Jhunjhunu district is preserved as it were in the past. Rajasthan is famous for its forts and palaces but very few know of the upper middle class, mainly of the business community that flourished here. They have built Havelis which we may call villas. These houses are marvels of architecture. History stares at us through the jaali windows or jharokhas that are so typical of Rajasthan.
The villas are made of local stone which is very tough and have lasted without much maintenance all these years. They are the living quarters of the business community who lived here. As you enter through the front door there is a large courtyard. On one side is the office or gaddi as it is locally called. The businessmen would sit here with their employees and meet customers and others. Above this structure would be a balcony surrounding it. This was meant for the ladies. Maybe during some function, the ladies would be invited and they could see the proceedings from the upper balcony.
The other side of the courtyard would lead to large rooms which were the living quarters. What's so striking about these havelis that people flocked to see? The answer is wall paintings or frescoes. These are colourful, painted on the stone walls with vegetable dyes and are so eloquent that you know the story of every house. Beautiful veiled faces glanced at you, peacocks danced on green backgrounds. Images of deities loomed. On some walls you could witness the marriage procession of a handsome groom, going with his barat to wed his lovely wife. They are all there telling us their stories and enchanting us with their mystery.
I soon discovered that this tiny hamlet is actually spearheading a revolution in India's tourism sector. There were crowds of foreigners and very predictably, students of a French architecture college were studying the Havelis. Many of them have been turned into small resorts, charming with their quaint paintings, artefacts and romantic tales. You can spend a night or two in these beautiful homes. The adventurer or even the historian in you would bloom in these aesthetic surroundings. Some families have kept their homes but they follow an open-door policy. Most of them don't live there but visit often. In one such villa, the caretaker showed me around. I gave him a little tip for his kindness, which he was happy to receive.
He informed me that the house owners have an understanding. This is that they will continue to use the traditional materials that their forefathers used. It is getting difficult to get skilled workers for this but there would be no compromise. The secret of the smooth walls was the cement that is made by crushing local stones. The walls have a finish that makes a vibrant background for the paintings. These walls paintings are the most important part of the charm.
This is the revolution that is unfolding in Mandawa. India has stories in vey nook and cranny. If only each one of us thought like the entrepreneurs of this village, we would never have to give up our ancestral homes. Instead of being liabilities they can be turned into assets. In every café in Mandawa is the promise of hospitality. All cuisines are served here, especially Rajasthani. I opted for a plate of plain rice and Laal Maas, a very typical Rajput dish. It was delicious. I peeped into sundry temples tucked into the niches of these homes.
The inhabitants of this village were creative, imaginative and entrepreneurial. This spirit lives on. It's important to create but it's also a great achievement to preserve. The beautiful paintings breathe beauty into the daily humdrum of existence. Today, we keep photographs of everything that strikes us. But for centuries these paintings, painted by hand by talented people have captured precious moments. While life around us has changed these paintings still bear testimony to that life. This is a marvel. They were also innovative enough to use the stone which was sourced from their own village. This was not only cost effective but also is useful in modern renovations.
One can compare these paintings to European frescoes. Although the organic dyes used give these paintings a very vibrant look even after all these years. Surprisingly, they are very like paintings on walls that have been discovered in the ruins of Roman cities. Especially, that of Pompei. It's my personal belief that deeper research would reveal surprising links between the two cultures.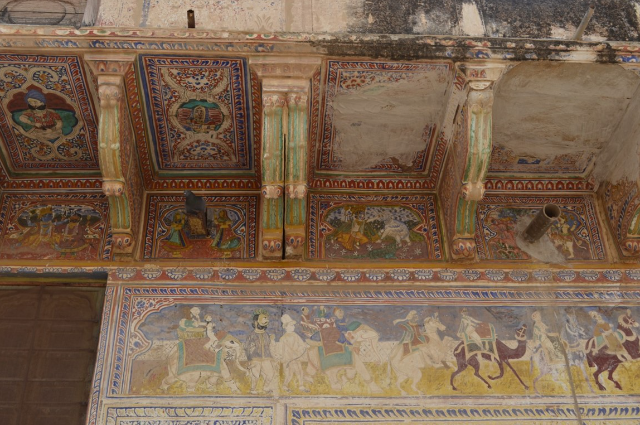 Mandawa is easily accessible from Jaipur. Although I did see people there, it's still a remote place. Many may not know of its charms but all would be surprised once they see it. Apart from the ancestral Havelis there are small boutiques where one can shop for handmade ethnic clothes and jewellery. After all, I didn't hear of this city even though I lived in Pilani, working in the BITS campus for quite some time. It was a cab driver who told me about it and took me there over a week end. Each time I think of Mandawa, a pining rises within me. The eloquence of the paintings whisper to break my ennui and to escape in the world of dreams.
After all, a place where the food is good and the nights are abuzz with music certainly is sure to give one a memorable holiday. The best months to visit this pace is September to April. Christmas can be cheerful and one can be a part of the incredible country that's India.
. . .