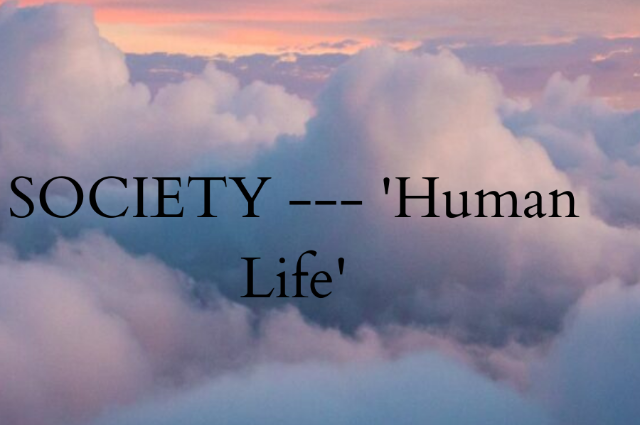 My mind works like a rail which is being possessed with a lot of questions but the answer I get is none. Recently there is a question which is striking me and i.e., "What's the purpose of human life?". What is the meaning of it? Well, I too don't know but based on the situations, happenings of the surroundings, and the world I have inscribed my views on it.

The motivation behind human existence is to live and allow us to live. Societal living is conceivable when there are mutual concordance and a sensation of fraternity among its individuals. The establishments of family and marriage add to amicable living in the general public. Tranquil conjunction is the way to a fruitful life. Society is isolated into halves and has not from time immemorial and since money was brought into vogue. This extraordinary separation is the reason for some giving up throughout everyday life. On the off chance that individuals figure out how to participate and be liberal and soak up a humane disposition towards the poor then one cannot exclusively be glad yet, in addition, satisfy others.
Life, when incited the full, requires to end one day. Thus, what is the target it needs to show up at when the soul leaves the body? For devotees and the ardent, the point is to get one with GOD or any superpower or the Ultimate.
I am obsessed with this word called "society". Obviously, it has pros and cons. Human life is structured on society and it has impacts on humans. It includes social, economic, political, geographical impacts, etc. Human life and value always depend on society. It judges the way we talk, walk, see, and everything we do. It had been deprived of the ages. Sometimes the society comes to our peeks to destroy us. They should understand that it affects us by the steps they take and the reactions they react towards us. They should stop provoking against others. While taking any decision the society should keep in mind both sides of the story. Each and every person has their own instinct of valuing life and does society. Life should be valued on their accomplishments, not on their weakness. However, our society has adjusted and created, disparity stays common from one side of the planet to the other. Our general public allocates worth to human existence dependent on nationality and I personally accept that you can't relegate a cost to somebody's life and you shouldn't. It's both strategically and ethically unjust. I accept esteem is something just an individual can allot to their own life dependent on experience and importance.
Looking at today's human society, one can see that it is intensely occupied by materialism. Human values are beginning to lose their position. The rage of materialism has been moderately unfavorable to the traditional, social and moral system. The spirit of freedom has taken about the deprivation in the ethical life of the human lives. Loss of ethical honesty has always been responsible for the devastation of progress in the past. There should be a general cognizance being created by socio-cultural groups regarding the value of traditional duties and tradition. Today, several sorts of exploration and distributions ought to be done on a few parts of the general public which help to sustain the human upsides of the human local area in the post-current period. Human qualities are being treated as keys to the arrangement of worldwide issues.
Everyone in life goes through issues that all have various results, and now and then that result brings about an individual getting themselves impoverished. It's anything but on the grounds that they have lesser worth than every other person or that their story doesn't have the right to be a group, it is just that occasionally life tosses obstacles and these obstacles can bring about an individual turning out to be or being needy. Society shouldn't create problems instead if they support us in evolving a proper human life, we would be able to develop a great society of lives.
. . .