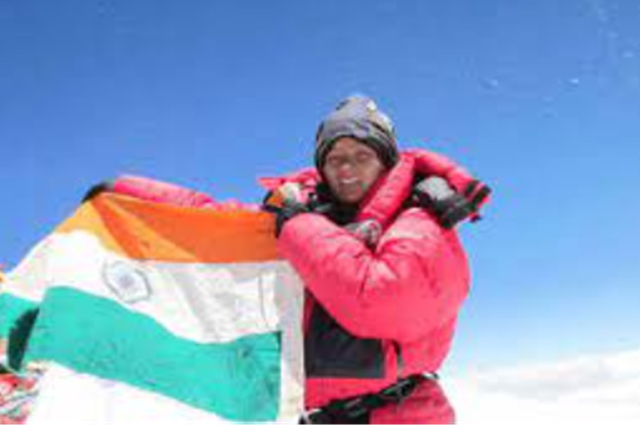 "You are not your illness. You have an individual story to tell. You have a name, a history, a personality. Staying yourself is a part of the battle.". Women, since the time immemorial have received a nod of disapproval whenever they tried to reach out to their optimum potential of actualization. Fortunately for us, we've been trained to overcome adversities thrown our way time and again, from giving birth to a human, ending but not limited to dying while safeguarding our dignity. The concept of weakness has shaped our discourse around this perception for women and among such cohorts of victims who bore the brunt of society is Arunima Sinha.

Hailing from Ambedkarnagar, Uttar Pradesh, Arunima was a national level volleyball player. Her life seemingly went downhill in the year 2011, with a horrific accident that turned her life upside down, perhaps for good. Travelling from Lucknow to Delhi on the Padmavati Express, Sinha had to get her date of birth included on a certificate for documentation purposes. She narrates that her train's coach was hijacked by armed robbers, threatening money and jewelry from passengers. Headstrong as Arunima was, tried protecting herself and her fellow passengers, which led to her being thrown off the moving train. Alas! To add more to her misery, a train that was passing by on the parallel tracks ran over one of her legs.
She remembers laying on the tracks with a broken leg while watching helplessly in horror as the rats fed off on the bloody leg, screaming for help, drifting in and out of consciousness the entire night. Further on, villagers found her the next morning and took her to a nearby hospital for treatment, but just as she thought how this could possibly get any worse, she realized that the hospital she was taken to lacked basic facilities. Neither doctors nor was she left with any other choice but to go ahead with an amputation of her left leg below the knee, and a rod in her right leg for support, without anesthesia before any further resolution for treatment. After passing through her darkest hours, she was taken to New Delhi AIIMS where she was fitted with a prosthetic leg and had to spend four months recovering.
For an average amount of humans, many would consider this as the end of the means of life, But Arunima knew better than to let that deter her from her goals. And lying on that hospital bed she decided that she wanted to turn her life around and climb Everest. And like you readers, people around her thought the same; she needed psychic help to overcome the trauma, because who in their right frame of mind would wish to climb Everest with a prosthetic leg? She quotes, "People don't believe unless you give them an example" and so she decided to become one. 'When people start saying that you've become madly obsessive about your goal, that just means you're very close to it.' is what she learned from the hapless situations life put her through. Her goal became her life, her passion, her need, her stubbornness and her one and only obsession now became Everest. Right after she was discharged, she contacted Bachendri Pal, an Indian mountaineer.
After years and months of practice, she was ready to conquer her quest. This woman bled and cried but never took a step back, only two ahead. She and her team plod across blue-green ice wearing crampons while her prosthetics only made it tough for her. She mentions in one of her stage appearances that this was her leg, and it had to work the way she wanted it to, it did not have a mind of its own to walk and this statement does not cease to show how resolved she was. Upon reaching the last base camp i.e. 4th camp, the south col, it seemed as though the hurdles were incessant. This south climb of 3,500ft is usually referred to as the "death zone" by the climbers. It was perhaps the first time the fear crept, and why wouldn't it? The 200 (aprox) death bodies half buried under snow with blood patches would shake anyone up, "They died doing the same thing I am going to do" Sinha mentioned. "Fear kills more dreams than failure ever will." And that's when she decided that she would complete this summit for all those dead souls.
Yet another time her life decided to take a swing at her, when she was told that she didn't have enough oxygen to complete the summit. It was her last decision to make, last swing to dodge and last step to take. Two hours later at 10:55 am on 21st May 2013, finally she was where she dreamt to be, at the top of the world. After 11 am, climbing ahead is considered a suicide, and Arunima had started her descend. Her oxygen had drained out and it was as if death was meeting her eyes. It was then, when Sinha held on to the last thread of life, and her fate had to bow down to her. It so happened that a British climber had taken off one of the oxygen cylinders on his way down due to bad weather. Arunima's Sherpa bought her that cylinder right before it became impossible for her to survive and she was saved by the bell. Luck helps those who help themselves, she said.
After all the turmoil you just read about and the Arunima went through, one would think that their test to god has been done justice to. However, Arunima her fate wasn't sparing her yet. Apparently, there was a last ball thrown her way when her prosthetic leg almost came off and so did her tears. Her anger knew no bounds, but more than anger, she was determined to prove herself. Sinha confesses looking up and screaming, "भगवान् तेरे पास जितना दम है तू लगा, मेरे पास जितना दम है मैं लगाउंगी पर ज़िंदा जाउंगी" that translates to "God, try as much as you can, and I'll try as hard as I can to go down alive."
At last, after completing her summit successfully, she proved her belief that she never walked with her legs, she always walked with her mind and soul. Till date, Arunima has successfully scaled Mt. Kilimanjaro, Elbrus, Kosciuszko, Aconcagua and Carstensz Pyramid. In 2015, Sinha was conferred the fourth highest civilian honor in India 'the Padma Shri', doing justice to the title as a woman of exceptional godly determination, and an epitome of vessel of patience to draw inspiration from.
. . .