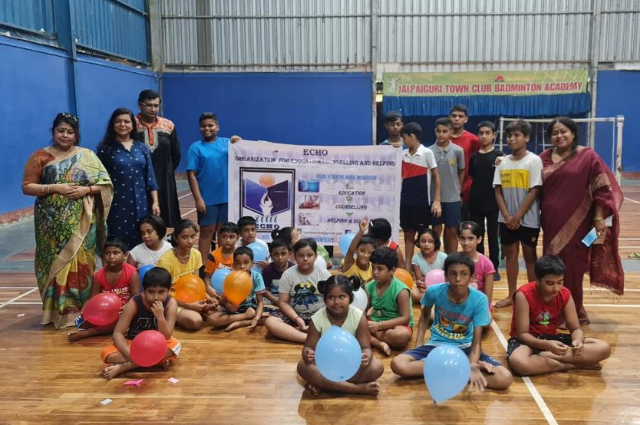 he famous Jalpaiguri Town Club Badminton Academy (Jalpaiguri, WB India) a 124 years old sports academy in collaboration with Education Counselling and Helping Organization (ECHO, Kolkata WB, India) organized health, wellness, science awareness, and motivational workshop with young children and advanced state level players (school level) at the academy on August 20, 2022. The academy coaches, staff, and the governing body members including the guardians also participated in this workshop. This was the first time ECHO organized a workshop like this North Bengal. It was a challenge for the ECHO to cope with 'Sports Mindset' of the teenagers.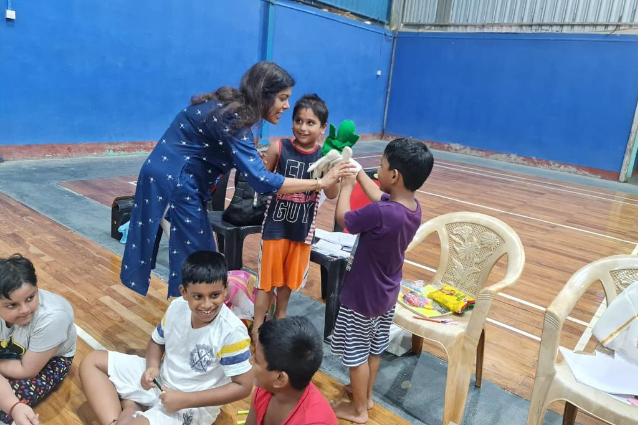 Tips were given on how to cope with these stresses and adjust to the challenges they face in everyday life. To perform well they must prioritize their mental health as much as their physical health. The tense state that anxiety puts the body in brings negative thought patterns, anxiety stress, and depression. We had sessions with Young players who had just stepped into the world of Racquet Sports aged 6 to 12yrs. We had sessions with them through Stories and tasks given to them such as Listening to Stories with Morals, Solving puzzles, and coming up with Creative Solutions gave the children a sense of accomplishment and competence. When we were playing with these Little Ones they learned that They were Valued and Fun to be around. We stressed the feeling of Confidence among the Players heading into the Competition. They were told to bring their Friends and Family members during the Competition to cheer for them. For individual Sports they were asked to generate more of a Team spirit sentiment by befriending other Competitor or at least Wishing them Good Luck!!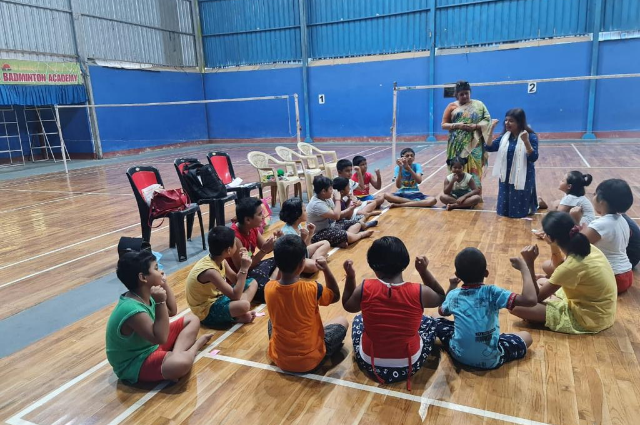 Ms. Santwana Basu (Director, Cassa Dei Bambini, Kolkata WB) and of the Managing Member and Vice Treasurer ECHO who served as one of the resource person said, "Listening to story is a joy for anytime of the day. I got an opportunity to work with a group of students between 6 and 12 years, at Jalpaiguri Town hall club. Indeed It was a great initiative taken by ECHO that I thoroughly enjoyed. We shared lot of stories, play activities to experience some universal qualities, as children are in the budding stage and every now and then they are learning from their experiences. It was quite impressive to note that those young students have joined sports club to play badminton and some of them are even played in state level". She further emphasized, "…we felt language is the connection to bridge their feelings and through language they can express their thoughts and emotions. We thought it is important to like how to get along with each others while playing a match , building team , how to be kind and helpful to each other, courage to stand for the truth, ….Molding a heart or to make a tiny spark is also important.. We believe in three things …Respect each other…Learn from each other…

Love each other. Children are our future citizen and future for our country."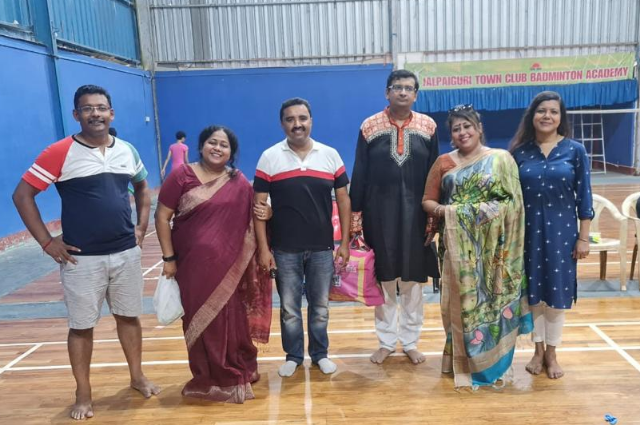 Play is the instrument for productive scientific thought. The students were asked to explain certain facts and to draw which they expressed nicely . The communication process was conducted in two ways; inner talks .. through drawing and writing stories; and expression of thought through actions and pretend play. Language is the foundation of communication both with self and others. Play supports children acquisition of social and self regulatory skills which is very important for every sports person. Mind training is equally important to develop their emotional intelligence and social intelligence.

In her address to the students, a highly elated Ms. Basu stared, "Children! both you and I need to know and appreciate the wonderful world and this earth is the house for all the animals including you and me.. We have to make our life's journey beautiful and purposeful". Her speech was highly applauded. Myself and Ms. Sutapa Bardhan (Secretary, ECHO) participated in an interactive prep talk with advanced state level badminton players between classes 7-10 to train them to be mentally alert, active and motivated for better performances during competition and to avoid competition based anxiety or stress. The workshop was highly appreciated by both the participating students and the guardians.
Ms. Tilottoma Dey, another ECHO member; herself a cancer survivor and a highly successful entrepreneur who has single handedly established a specialized boutique of unique designs for men and women fancy clothes said, "….our interactions with the parents and staff members was very important and eventually fruitful. We asked them to stay POSITIVE around their ward and always praise and encourage them during their GOOD and BAD times. Even if a child is not doing well we can still praise their efforts, sincerity and dedication through which they can gain confidence. She further added, "…..Once a child feels confident of his/her abilities they naturally becomes more competitive……..WE SHOULD NEVER JUDGE A TREE WHILE IT IS STILL A SEED……. We were looking forward to this workshop for weeks and it exceeded our expectations !!! IT WAS A SUCCESSFUL TEAMWORK….A group of many Hands in One Mind."

The ECHO Secretary and an IT professional, Ms. Sutapa Bardhan summarized by saying, "….this program conducted by us was only finalized in a short time but the passion and the impact it created will be long term. This was ECHO's first program with the Sports Academy and mental health workshop been held for the budding champions and ones who has just started to bloom as future talented state players. It's worth mentioning the zeal, motivation, awareness they all had and the expressions and interactions we experienced. The sessions conducted by Saikat Basu were overwhelming and enabling. The children got empowered, motivated. And shared their feelings and their takeaways".
At the end of the program we thanked the guardians of these children as they have been exemplary in involving their wards in sports and prioritizing this in their curricular side by side with studies. The experience ECHO had here was heart touching and we will look forward to many more of these interactions and encourage our new generations in sports, keeping the goal focused, building their confidence levels and teach them to be a winner mentally and morally in life like in sports !!
. . .