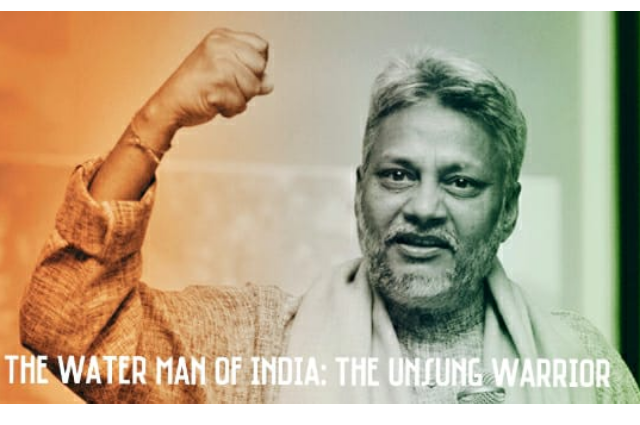 If you are a 90s kid, I must say our childhood has widely influenced by heroes like Spiderman, Batman, and Superman. These men save people, rescue them from danger and fight against the enemy. These super-heroes were the epitome of greatness, kind-heart, and outstanding courage to us. This made our childhood memorable and much more exciting.

However, when we grow up and come to our senses, we realise our idols are no more than fictional characters. It made us believe that real heroes do not exist in the real world.
But to my fortune, I got to know about a person who is far better than these heroes.
Rajendara Singh, he is named. He is a water conservationist, environmentalist, philanthropist, social worker and the most essential
"The Water man of India".
Yes!!! You read it right.
But why is he called the "Water Man of India?
I thought to myself.
I searched on google and YouTube to get as much information as possible about him.
This man amazed me with his heroic journey. He left his well-paid government job and sold all his household goods for Rs. 23,000/- to initiate a water awareness across villages. He found villages located nearby Thar have semi-arid area that caused lack of water, which forced people to migrate other places for their livelihood.
Thus, he started a crusade to bring water back to villages. With the help of time-tested and path breaking techniques, he built over 8,600 johads (percolation ponds), check dams, and rain water storage tanks with villagers.
On dry land, his unwavering love for the environment works like a magic wand, bringing water back to its natural habitat.
However, it was not the end of his journey. There were loads to come on his path.
In 1986, 20 km away from his headquarters, he began his first walkathon (Padyatra) educating people to rebuild old check dams. People of Bhanota-Kolyala village through voluntary labour and with help of TBS volunteers, constructed a percolation pond and more than 375 tiny earthen dams at the source of a dried Arvari river.
As we all know, hard work always finds its way to shine. Soon, the river has been flowing again since 1990 after more than 60 years of drought.
Despite all the efforts made by villagers and TBS volunteers, water level in ponds and lakes nearby Sariska did not climb up as predicted. It was found that the missing water got evaporated after miners left pits unfilled after their operations in the area. The legal battle started, and they knocked on the door of the Supreme court to file a public interest petition.
In 1991, the Supreme court welcomed the petition and banned mining in the Aravallis. Thereafter, in May, 1992, Ministry of Environment and Forests notification barred miners from mining in the Aravalli hill system altogether, and 470 mines operating within the Sariska sanctuary buffer area and periphery were closed.
Villagers' sheer efforts have paid them off. Then President, K. R. Narayanan visited the area and awarded the "Down to Earth — Joseph. C. John Award '' to the villagers. Gradually, the Arvari became the perennial river and recipient of 'International RiverPrize'.
Ruparel, Sarsa, Bhagani and Jahajwali rivers were restored after having dried for decades. People started coming back to their ancestral lands and gradually deserted villages got populated. Agriculture activities once again resumed and brought back livelihood and happiness to people.
There was one man behind all this who remained undaunted. Rajendra Singh convinced people to take charge of water management and guided them through darkness to light. It was his sheer hard work and the drive to payback society that has earned him global acclaim. Later, he was presented with Magsaysay Award in 2001 and Stockholm Water Prize in 2015.
His journey is remarkable and inspirable. It takes extreme attitude, sheer hard work and rock-solid determination to reach this far and set new benchmarks.
Don't you think this superhero should receive more recognition?
After all, he was the one who was working on the ground to create awareness and encouraged others to contribute for social welfare. He extended his helping hand not only to people but also to the environment.
. . .