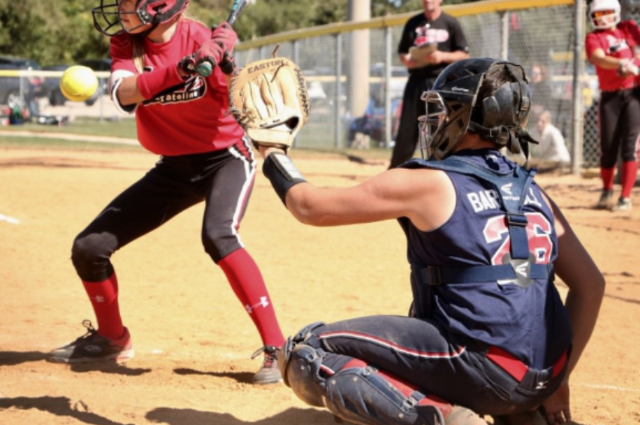 There are a handful of people who narrate their experiences in life. On hearing the word True Stories, one would start writing about a fiction story and make it look like a true story. Well, I am not among those. What I shall narrate below is my true story: I am a softball player who is playing this sport since 4 th standard. In that standard itself, I got a chance to represent Navi Mumbai at an inter-district tournament. After that, I couldn't get many opportunities for about 2 years. My future in this sport had become dim until one day.

It was the month of April 2018 when I was again allowed to represent Navi Mumbai at the inter-district tournament held in Nashik. I was high on spirits for this tournament. We had to play 3 group games of 2 innings each and depending on our positions we had to play the qualifiers with 3 innings each. Sadly, luck did not favour me in the 1st game as I failed to add some home runs to my team's tally and I was rested for the 2nd one. I was again given a chance in the 3rd game when the player who replaced me couldn't offer much from his side.
I didn't lose this opportunity like before, scoring 2 home runs in 2 consecutive innings. Our team had won all three matches and we progressed to the quarterfinals. It was time for our coaches to decide who all will play the match. I had little hope of making it into the playing 9 since I had only given my best in the 3rd game. However, shockingly I was selected as a member of the playing 9. I knew I had to play well this time. It was a do or die situation for me. My coaches had kept their faith in me and allowed me to play so I had a huge responsibility on my shoulders. The match had begun. In the first innings, all our batters failed to add any home runs to the scoreboard. Our opponent hit 6 home runs in their turn. In the 2nd innings, our team managed to add only 2 home runs to the tally which were scored by our captain and me. Our opponent hit 4 more home runs in their 2nd innings and we couldn't do much in the 3 rd inning. Consequently, we lose the match and exited the tournament. But this was not the end for me and some of our team members.
Some of the best players from each district were selected to represent Maharashtra in the National tournament going to be held in Telangana. Surprisingly, some of our team members were also selected which included me! We had to participate in a national tournament going to be held next month. I was astonished; excited and confused at the same time. I couldn't believe my ears. I was going to represent my state the next month itself!
The tournament began on 5 May 2018 and the sequence of our games was the same as that in the inter-district tournament. Unfortunately, as always luck did not favour me again in the 1 st game. This time, however, I wasn't rested for the 2 nd game. Initially, I thought that I had lost an opportunity and I shall not be able to come back, but I was wrong. In the next 2 games, I smashed 4 home runs in 3 innings. I was back in form. We won 2 out of our 3 games and advanced to the quarter-finals. Everyone was hoping for me to score a home run. Unfortunately, I couldn't score in the 1 st innings; not because I was not able to play but because I was hit hard on my stomach with the ball and I couldn't play in that innings. However, I came back strong in the 2 nd innings, hitting a home run. It was the last innings of the game; our team had to score 3 home runs to win the match. When I came to bat, I managed to hit the ball to the left long fielder. We only had the last batter who if scored, we would win the match. I was on the 3 rd base, and another player was on the 1 st base. The pitcher pitched the ball and the batter hit it hard in the air.
The second baseman positioned himself below the ball and he caught it. Our team had lost the match! We lost the match by a single home run to spare! It was a complete disaster, unexpected by our team. It took about a minute or so for our team members to realise what had happened. But as we say, bygones are bygones; we couldn't do anything so we had to accept our fate and exit the tournament. However, this was again not the end of my story. After I came back home, I was informed that there was another inter-district tournament in the same year to be held in Shirdi. There I represented Navi Mumbai again and performed well to be selected for the National tournament going to be held in Indore. However, this time I didn't get even a single chance to play as there were more players this time. I didn't know, that God had something in store for me.
The next year, i.e., in 2019, I was again selected for a national tournament held in Solan, Himachal Pradesh. This time I got the chance to play twice, though scoring only once. However, my fielding was at its best as I took 3 catches in the deep. In the same year, I was selected for another national tournament again held in Telangana. In this tournament, I played well once again like in the previous year, hitting 2 home runs in 2 games. After that, I never got a chance until Covid-19 washed away all my ambitions in this game.
Summing up, I have represented Navi Mumbai thrice and Maharashtra four times. However, my favourite tournament in which I gave my best was the first national tournament held in Telangana which I had played in May 2018. One may ask, "Why are you writing this story? There is nothing much in it." Well, that's a very good question. I wrote this story not to depict my school life in softball but to set an example that we should never lose hope. Even after not giving my best in a few games, I played well in the rest because I never lost hope; I persevered and progressed ahead which eventually gave me success. I still have hope that I shall again get a chance to represent my district, state and at some time my country also in the game of softball after the pandemic ends.
. . .