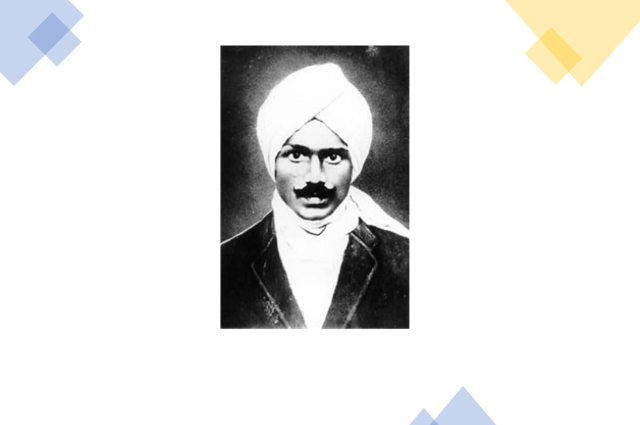 Chinnaswami Subramania Bharati was born in Ettayapuram, Tirunelveli district on December 11, 1822. His father, Chinnaswamy Iyer was an influential figure. He was a Tamil scholar employed under the Maharajah of Ettayapuram. And mother Lakshmi Ammal. She passed away when Bharathiyar was five years old his mother. This incident that very much shaped his dedication to the welfare of women throughout his life. He was a prodigy who started learning and creating from a young age. He spent two years in Varanasi with his aunt Kuppammal and husband Krishna Sivan. These years was very precious for him. Speedily gaining a fair knowledge of Sanskrit, Hindi and English, he duly passed with credit the Entrance Examination of the Allahabad University. The Banaras stay brought about a tremendous change in Bharathi's personality and life. Outwardly, he sported a moustache and a Sikh turban and acquired a bold swing in his walk.

From 1902 to 1904, Bharathiyar worked for the Maharajah. His works included reading newspapers, magazines, poetry and being the Maharajah's companion. Later, Bharathi, as a young man began his career as a journalist and as a sub-editor in "Swadesamitran" in November 1904.
Later he also worked in weekly 'India'. India was the first paper in tamilnadu to publish cartoon. He also published and edited a few other journals like "Vijaya".
Bharthi; Nationalist as a Journalist
Bharati was not only the greatest poets; he was also an ardent Indian nationalist and an impassioned advocate of social reform of those days. Through the power of his ideology, he was able to envision freedom and independence for the three hundred million Indians dominated by British Imperial force. In Bharati's imagination, the imminent liberation of Indians would free them both from imperial rule by the British – at a time when Britain was the most powerful nation on earth – and from oppressive social customs which had been practised in India for thousands of years. He was one of the pioneers of the national movement in South India; yet the role of nationalists from the South in the construction of modern India increasingly seems to be relegated to the sidelines by modern historians.( Dr. S. Vijaya Bharati, 2004)
Unfortunately, Bharati was victimize for his convictions by both the British and the orthodox elements of Brahmin society, who treated him as an outcast. Due to his constant protest against the british and its laws he exiled from British India in 1908 and went to live in Pondicherry, a French colony in South India. He spent ten years in exile there and eventually returned to Madras, where he died.
During his exile, Bharathi had the opportunity to mingle with many leaders of the militant wing of the independence movement such as Aurobindo, Lajpat Rai and V.V.S. Aiyar, who had also sought asylum in the French, Pondicherry. The most profitable years of Bharathi's life were the ten years he spent in Pondicherry.
From Pondicherry, he guided the Tamil youth of Madras to tread in the path of nationalism. This increased the anger of the British towards Bharathi's writings as they felt that it was his writings that induce and influence the patriotic spirit of the Tamil youth.
Bharati's attempts to publish his works were frustrated by several factors whose negative influence persisted throughout his life. One of these was the political situation in India. Bharati's unyielding anti-British stance resulted in a government ban on the publication of his works because of the political views which they expressed.
Bharati was also constrained in his publishing efforts. His profession as a journalist became very difficult for him. British persecution made him impossible to maintain his position as a journalist in Madras. He attempted to continue his professional activities in Pondicherry, but his magazine 'India', a Tamil-language publication, was not allowed to circulate outside the French territory. Which resulted in India cut off from the greater part of the readership for which it was intended, the Tamil-speaking population of Madras Province. The magazine was forced to cease publication in 1910. Bharati spent the following years in great poverty.
Later, Bharati came to be keenly interested in publishing a definitive edition of his works. He made several attempts to publicize his intentions in the hope that he would be able to raise the necessary funds from friends and publishers. He also sought help from the Maharajah of Ettayapuram, his native village under whom he worked before. Bharati's circular of 28th June 1920 gives a clear statement of his intentions in this regard. Bharati concludes his letter by describing that government restrictions on his writings have been lifted – and even suggests that government officials may be asked to provide loans for this worthwhile endeavour.
Unfortunately, Bharati's efforts to publish a definitive edition of his works did not plucked the plum of success during his lifetime. After his death, the project was taken up by his widow, Chellamma. Chellamma published notices to the public in several Tamil magazines.
'Bharat Our Land'- Patriotism in Bharathiyar Works
Bharathi is considered as a 'national poet' due to his number of poems of the patriotic flavour through which he inspired the people to join the independence struggle and work vigorously for the freedom of the country. Instead of merely being proud of an Indian, he also outlined his vision for a free India. He published the sensational "Sudesa Geethangal" in 1908.
Bharati's poetry expressed a progressive, reformist ideal. His imagery and the vigour of his verse were a forerunner to modern Tamil poetry in different aspects. He was the predecessor of a forceful kind of poetry that combined classical and contemporary elements. He had thousands of verses on diverse topics like Indian Nationalism, love songs, children's songs, songs of nature, glory of the Tamil language, and odes to prominent freedom fighters of India like Bal gangadhar Tilak, Mahatma Gandhi and LalaLajpat Rai.
'Bharat Our Land', is one of the important patriotic poems of Bharati that expounds patriotism, rich in symbolic connotations and profound in its spiritual content. This single is more enough to show love and respect to his motherland. It captures the imagination of readers, creates magnificent effects in the listener. The reputation of ''She is Peerless, let's praise her'' uttered in devotion is admirable and memorable. The Indianness of his works is noticeable not only in the choice of his poetic material, diction and imagery but also in his adherence to Indian aesthetics.
Some examples from his verses:
The mighty Himavat is ours,
The generous Ganga is ours ,
The Sacred Upanishads are ours,
There's no equal anywhere on the earth.
It provides his view about India as a whole before consciousness, a unified vision of India in physical beauty, grandeur, intellectual and spiritual powers. The poem blending both past glorious of Bharat and present vision of India.
"Gallant warriors have lived here,
The divinest music has been heard here,
Of hoary antiquities Bharat,…."
The poem beautifully portrays the emotional intensity of the poet to his motherland. It deals with varieties of subject matters especially from geographical features to great people and to reality. The very title itself suggests that the past wants to tell something about his mother land, thus when we read the poem we feel proud to be an Indian.
Another prominent patriotic poem written by Bharati is 'Salutation to Bharat'. The poem employs the best example for her abilities as a poet of freedom. In the poem the word 'this' a demonstrative pronoun sharply captures the beauty of the land. It focuses itself on the poet's commemoration towards his mother land and hearty respect. There is a magnificent rhythmic flow in the poem, the lines
"Mother I bow to you
Mother I bow to you"
shows the emotional intensity of the poet . He praises the land with beautiful lines like
'light of knowledge',
'grew in wisdom',
'the truths of the spirit', etc. The poem deals with three stanzas, which expresses the life of beauty, music, joy. It is very wonder that our attention is drawn to the countless great ancestors who flourished the land with their noble thoughts, mother land, girlhood that is pure virgin, young woman, spiritual truths and we notice how harmoniously all these are combined, merged into a single poem. The rhythm of the poem intimately corresponds with the heartbeats of the poet and the reader too. A reader is compelled to be lost in the music, the rhyme, the melody, the joy of the song by considering the following lines,
"This , this is the land that gave us birth And the light of knowledge
This is the land where our mothers lisped this first words
And grew in wisdom
Mother I bow to you
Mother I bow to you"
The time of the writing is when the country was suffering under the yoke of foreign rule, one could expect a different approach to poetry. The poet feels very proud and rejoice to be a citizen of this land and poet asks may I not praise this land? These are the beautiful expressions of patriotic feelings in the poems of Bharati .
The poem 'Jaya Bharat' is another poem. It celebrates the joyous and hectic life of a patriotic. The patriots get out of anguished mind and shriveled body to cry from the depths "Mother, we bow" which shows their hearty strength to overcome all the problems and depressions.
In recognition of Bharati's exceptional contribution to Indian culture, as a poet, and nationalist, the government of India ultimately conferred upon him the title of Indian "National Poet."
Social Reformer
Bharati was not only the greatest poets; he was also an ardent Indian nationalist and an impassioned advocate of social reform. Through the power of his ideology, he was able to envision freedom and independence for the three hundred million Indians dominated by British Imperial force. In Bharati's imagination, the imminent liberation of Indians would free them both from imperial rule by the British – at a time when Britain was the most powerful nation on earth – and from oppressive social customs which had been practised in India for thousands of years.
Along with his reputation as a poet and freedom fighter, Bharathiyar was also a prominent social reformer. He shouted against the caste system and consistently spoke about women's issues. Sister Nivedita, a disciple of Vivekananda, played a big part in this issue. They met once during one of his visits to Calcutta. Their interactions influenced his views regarding the upliftment of women. Then he went on to dedicate a few of his works to Sister Nivedita . Bharatiyar's writing portrayed his views about women and his admiration of their strength. He wrote about how men enslave women and treat harshly with the threat of violence which they practised over those who did not obey. The women was described as "the civiliser and, therefore, the spiritual superior of man" (Sundara Rajan, 2017).
In his writings, Bharathiyar also spoke out against social issues such as child marriage. Despite being forced into one. He was born into a Brahmin family but it is said that he gave up his caste identity to show that he promote equality and brotherhood. He is known as an anti-caste figure by some in Tamil Nadu, has also spoken out against casteism and untouchability in his poetry. His insisted views upon this also came to talk between the intelligent and scholars. However, there are others who disagree as Bharatiyar was someone who advocated for reform in Hinduism and still believed in it, rather than dismantling the systems completely. One incident of his which is famously noted is that of when Bharathiyar performed the thread ceremony for a boy. This move was regarded as radical among the society as the thread ceremony was reserved for certain castes and someone , regarded as an untouchable by caste society, was not allowed to take part. Bharatiyar insisted on this as he intended to showcase that everyone is equal in society..
Hence, it is clear that Bharathiar was a great freedom fighter, who fought for the freedom of the country and people's rights through words and deeds.
References:
Bharati, S. V. (2016, September 26). The legacy continues . .. Mahakavi Subramania Bharati.

"Brief Shining Moment in Judicial History". Daily News. Colombo, Sri Lanka. 11 June 2013. Archived from the original on 10 June 2014. Retrieved 30 November 2013. – via HighBeam
Bharati, S. V. (n.d.). Annotated Biography of Subramania Bharati. Mahakavi Subramania Bharati.
Knowing Subramania bharati beyond his turban colour. (2019, June 6). Telegraph India.
Subramania bharati. (2019, December 7). Encyclopedia Britannica.
Sundara Rajan, M. T. (2017, September 12). Subramania bharati — The eternal revolutionary. The Hindu.
Sundara Rajan, M. T. (2017, September 28). Adorer of the feminine principle. The Hindu.
Venkatachalapathy, A. R. (2018, May 8). Why Subramania bharati, icon of modern Tamil culture, remains little known to the rest of India. Firstpost.
Venkatachalapathy, A. R. (2019, August 23). Sister Nivedita and her Tamil dedicator, the patriotic poet Subramania bharati. Telegraph India.