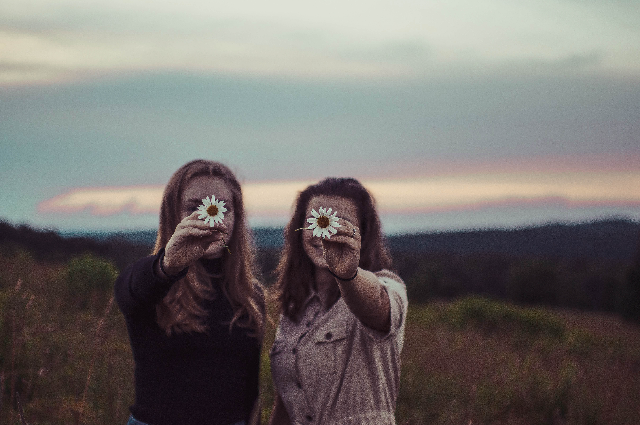 It was a windy morning and I was waiting for the school bus at the bus stop, surrounded by familiar faces. The environment around was as usual chaotic with the beeping noise of the car honks and regular quarrels among families staying in nearby houses. It was the first day of the term but I had kept my emotions within myself.

Suddenly, a girl whom I had never seen before, came up to me and said, " Hey! I am Emily. I have taken admission in your school." I being a bit puzzled replied her hurriedly," Hello! Nice to meet you. Welcome to our school"
I for a second thought that how indecent I was being at a public place and so without wasting any more time, I fetched the school bus. On the bus, Emily sat next to me. She started telling me about herself and about her interests. I wasn't well acquainted with the students at my school because I was an introvert and didn't usually talk to anyone but somehow I became comfortable with Emily and told her about myself too. It really felt very nice to have made a new friend on the first day of the new term.
When we arrived at school, we walked to the class together. Emily being a new student was greeted by all the students and teachers. She came and sat next to me. Everyone started staring at me as I usually sat alone in the class and did not speak to anyone without any reason. Somewhere in the corner, I felt that this was going to be the beginning of a story. Emily did not care about what people thought about me. Rather she wanted to know more about me. Almost every student of the class came up to Emily to talk to her and she spoke to everyone in a polite and decent manner.
We sat together in the cafeteria and had our lunch. We spoke about things related to school and I asked her how her first day at a new school was going. She replied saying, "It is a mixed day. I made a few friends and they are great! But I couldn't get into the drama club!" I told her that the club selectors are a bit biased and so told her not to worry. The rest of the day was as usual boring as we had AP History in the afternoon.
After school, we went back to our homes. The environment at my home was also on my list of unfavourable things. All my family members were not of interactive nature which made me dead from inside since childhood. I used to go up to my room straight after returning from school. My parents didn't like my quiet nature but never tried to find the reason behind it.
I always felt the absence of a best friend which I felt somehow would be fulfilled by Emily in the upcoming days. And my thought was not even near to being wrong. Emily and I went to school together, sat in the class together, ate lunch together, and even hang out after school. I didn't invite her to my house, keeping in mind the dull environment there. She didn't mind that at all. Her parents were divorced and she lived with her mother who always welcomed me with love and warmth. I really enjoyed Emily's company. We watched movies together, went to shopping and roamed about in the city. I had never felt so happy and enthusiastic in my entire life. It felt like she was the sunshine which made my life bright.
One day, Emily was hesitating to ask me a question. I knew it was regarding my family and so I told her, " I know. You want to know about my family, right?" She nodded her head and then I told her about my family and how everything was at my house. She didn't judge me but instead said that " You have me as your best friend forever." I hugged her and thanked her for being there.
Emily's birthday was coming up next week and I had planned something special for her. I had always wanted to organise a birthday party but in a different style. I knew how important it was for Emily and so I came out of my comfort zone and invited some of my classmates. Everyone was a bit surprised as I was socialising with everyone but it didn't bother me. I was happily engaging myself in the birthday preparations. On the day of Emily's birthday, I surprised her with chocolates in the morning, took her to her favourite cafe and then we visited the art exhibition of her favourite painter.
In the evening, the birthday party went very smooth and I gifted Emily a beautiful dress and gave her a friendship bracelet as a symbol of our bond. Emily afterward, thanked me for being so loving and caring towards her. The earlier me would have felt that life was going unusually happy for me but now I was a new version of myself who loved to enjoy every moment I could. Emily had made me see the world from a different perspective and she helped me face the world confidently.
This was the scenario ten years ago. I knew all good things come to an end but my friendship with Emily was rather interrupted. Her mother had passed away due to a heart attack and so she unwillingly had to go to New York to live with her uncle and aunt. They were very serious people and didn't let Emily keep in touch with me. I understood the situation and didn't communicate with her either as I knew her uncle and aunt could be angry. Eventually, we lost touch. After finishing off my post-graduation, I got a job offer from a publishing house in London Presently, I am working there. It was a nine to five job and so I didn't get much free time. I often thought about Emily and what she had been doing in her life now. The only memory that I had of her was a few pictures of us and the friendship bracelet. I still cannot thank her enough for being my life changer.
One day, I was walking down the streets and I suddenly collided with a lady. I didn't recognise her at first but on seeing the bracelet in her hand, I jumped in joy and hugged her saying, "Emily! I have missed you!" Everyone around stared at me like my classmates ten years ago but Emily also recognised me and hugged me back. I couldn't control my happiness. I took her to a restaurant. We talked about our lives and how it has changed. It felt like a part of my life which was disrupted was fixed again. She told me that it had been difficult for her to live with her uncle and aunt after the death of her mother. I consoled her and then we spoke about the beauty of London. We exchanged numbers. Then we had to cross the road to fetch the bus.
While we went halfway through the crossing, I got a call and so didn't notice the bus rushing towards me. Emily pushed me away from the track and also tried to get herself away from there but the bus hit her left leg and it got injured badly. Her left leg was surrounded by a pool of blood. I was dumbstruck. I had no words. I started crying and then somehow managed to call the ambulance. Emily was rushed to the hospital and taken directly to the Operation Theatre. The surgery was a long one and I had been praying for every passing minute.
After the surgery, the doctors had said that she was ok for now but it will be difficult for her to get her leg back in stable condition soon. I went to her ward and held her hand. Tears dropped from my eyes and I said to her, "It was because of me. I am sorry." Emily replied, "Common! I'll be fine very soon and also this is a very small thing I have done for my best friend." I couldn't control my tears of happiness and thanked her for saving me again. I was glad to know that we were still best friends. I took special leave from the office to take care of Emily as she didn't know anyone in London. I did every possible thing to make her comfortable and make her leg steady. Emily became a bit better in two months and then she thanked me for taking care of her.
Emily had been such a successful entrepreneur in her life that an accident was no hurdle in her achieving more success in life. She was nominated for the Best Entrepreneur of the year award by the company she was working in. She invited me to the Annual Awards Day and when she was called up to the stage, before receiving the award, she said.
"Today the reason why I am standing in front of you all is because of the person sitting right there in the corner. " Nancy Baker"- the woman because of who I got new ease of life. We have been school friends and she was there for me throughout. I owe a lot to her. We had lost touch for a while but when we met again, it was just like old times. Nancy, I love you."
I couldn't control my tears of happiness. I knew that no matter whatever I have achieved in life, this was my biggest achievement. I shouted and said," I love you too Emily!" She received the award and then came up to me to have a word. I told her, " If it wasn't for you, I wouldn't be the person I am today. Thank you for everything." She hugged me and then we went for lunch.
Sometimes in life, we forget to appreciate the things that matter the most to us but instead we value less important things. You might be thinking that why did I thank Emily when I was the one who took care of her. It is because my life changed since the day I had met Emily. The dull and quiet Nancy was now an independent and confident woman. And so I can say ," If it wasn't for Emily", I wouldn't be a new version of myself.
. . .