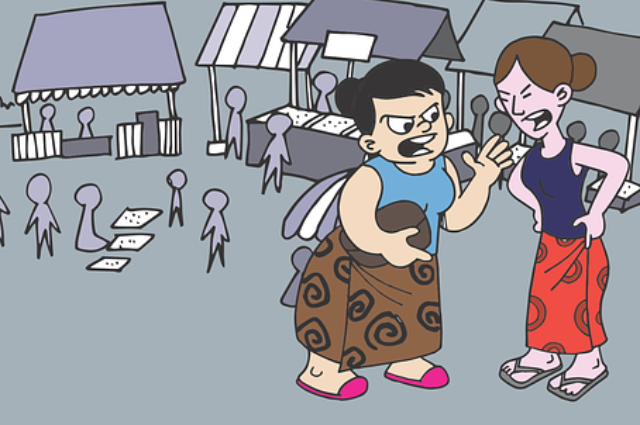 Well, Aunty syndrome appears when we tagged every middle-aged woman in her thirties as aunties, though I hate it, but we again cannot banish this word. It's really ridiculous, it's like an insult "AUNTY". Mostly our some semi-literate ones use this word, like our maids, rikshawallas, grocery vendors, etc. as they are not able to understand the toxicity of this word to females. They are trying to be respectful most of them think that aunty is some kind of modern form of address, they use it as a synonym for madam they do not understand that it's kind of insult indeed as soon as word aunty word appears it's like somebody is acting like a killjoy.

Imagine the Image that appears front as AUNTY such as a matronly, well-fed, woman of uncertain middle age - with a disapproving gimlet eye and grating voice. One does not want to be an 'aunty'. And yet, one is an aunty! The Aunty Syndrome is real. That's true and hurting.
A request call me DIDI, BHABHI, BEHAN, BAJI, APPI, MAAM, yes even BEHANJI but not Aunty, it's too hurting, it points right to heart .
Might be reason for Aunty as it's a generic term for most of the relative terms like Chachi, maami, mausi, etc. But I think these terms show relation and respect but Aunty shows that one is unable to address the lady appropriately. To my horror, a woman gets transformed into aunty as soon she gets married from young didi to aunty category.
Even Bollywood tries to make aunty cool but it doesn't work...There was even reportedly a controversy between Aishwarya Rai and Sonam Kapoor over the latter's remark of Aunty. Aunties are not cool, we can imagine aunties wearing bright magenta suits or sarees with lots of gold jewelry, complaining and gossiping over everything. No, it's not cool. Think of a woman how she feels that someone maybe 1 to 5 years younger calling her auntie.
I bet most women hate 'auntyhood' that was bestowed upon them as soon they get married or your father subordinate. No, they are not aunties You can call her mam, it's respectful, a neighbour you can call her bhabhi or didi it's nice, a relative than call her bua, chachi ,mami, etc but not AUNTY. Even behan ji is better than Aunty. Seriously, let our middle-aged women, who are in their thirties move out from this Aunty Syndrome.
. . .