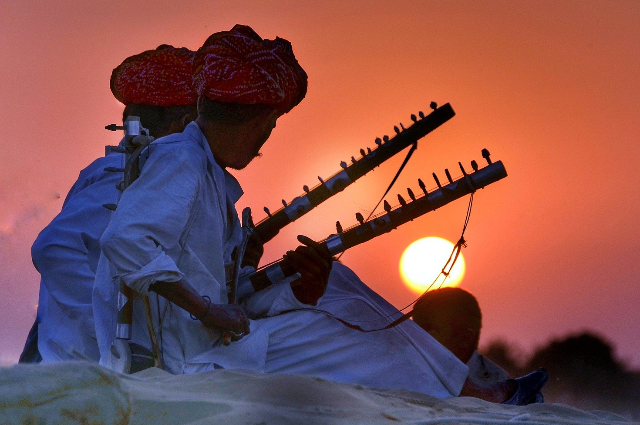 Rajasthan is famous for its prestigious past, various customs and traditions. It is the land of the kings, over the years it has been ruled by various kings such as Rajputs, Marathas and even Muslim rulers. Rajasthani people are known for their hospitality and treat their guests with full of honour. Most of the people in Rajasthan are involved in tourism related jobs.

(A) RAJASTHAN FOLK DANCE AND MUSIC:
Some of the dances of Rajasthan include chang, Bhopa, Ghoomer, Tejali and kathputli (puppet show). Ghoomer dance which originated in Udaipur, has gained international recognition and appreciation. Folk songs are usually for certain purposes like weddings, birth and were passed to tell a story of bravery or a romantic tale. Many traditional instruments are used by then that include Sarangi, Dhols, Kamayach, Been and Shenhai.
(B) FOOD OF RAJASTHAN:
Rajasthani food is known for its various spices and also its sweetness. Rajasthan is most famous for Dal -Bati and Churma. Also famous for kachori, Ghewar and Gheriya are some delectable sweet dishes originating from Mewar available in most restaurants in Rajasthan.
(C) ARCHITECTURAL STYLE IN RAJASTHAN:
The architectural style in Rajasthan is as diverse as its people. The Jain temple in Ranakpur was built in the fifteenth century. The Umaid Bhavan palace in Jodhpur is an architecture of Beaux arts style along with a blend of eastern and western architectural styles. The fort contains several gates, Jain temples and Havelis. It is also included as a world heritage site by UNESCO.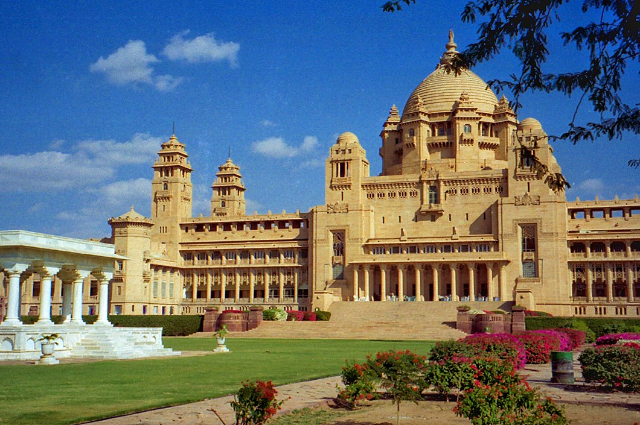 (D) RELIGIONS:
Most residents of Rajasthan are Hindus (mainly Vaishnavas), Muslims and Jains. There are various temples that are important pilgrim sites like the Lodrakar, Ranakpur Jain temple and Jagdish temple.
(E) HANDWORK:
Rajasthani beautiful carpets, garments, Jewels are all made by the local people. Rajasthani people use camel leather to make Journals, Shoes and Bags. The carpets are made from the hand knitting techniques and much like Persian carpets, having a geometric design and borders. There are also many miniature items made out of red sand and clay as toys for kids and decoration pieces with bells attached to it.
(F) CAMEL FESTIVAL:
Camels are commonly found in Rajasthan which is meant to survive conditions of scarcity of water, extreme winds, heat and cold due to their biology. Camel fairs take place every year in Pushkar, Bikaner and Jaipur regions. There are various events and competitions carried out for fun like camel race and dance which usually held for two days.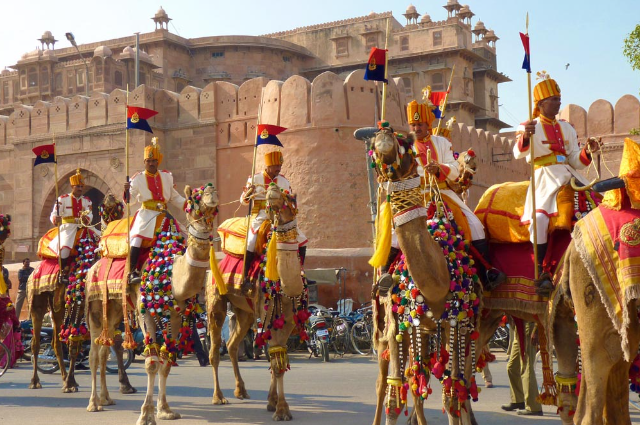 (H) COLORFUL DRESSES:
The women wear sarees with the odhni covering their heads as a sign of respect. The men wear dhotis and kurtas with a headgear called paggri and safah. The designs on their clothing are either embroidered and dotted. The material of the clothing is usually cotton and even silk for women.
(H) LANGUAGE:
Rajasthan depends majorly on income earned via tourism, therefore most of the people have learned English and Hindi languages. Perhaps both to be able to communicate with the travelers. There are some dialects originating from Rajasthan that include Marwari, Malvi, Mevati, Jaipuri and Dhundari of which the most famous is Marwari their local and mother tongue language.
. . .