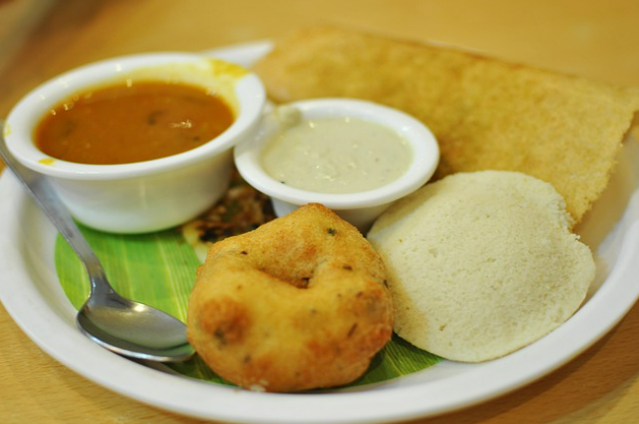 Introduction
South Indian food includes the cuisines of the five states (Andhra Pradesh, Karnataka, Kerala, Tamil Nadu and Telangana) of south India.
South Indian Food
South Indian food has earned much fame across the globe, particularly for scrumptious dishes like Dosa, Vada, Idli, Uttapam and Sambar. South Indian meals comprise cuisines of five South Indian states namely Tamil Nadu, Karnataka, Kerala, Andhra Pradesh and Telangana, along with several local cuisines within these states. The region offers a wide variety of vegetarian and non-vegetarian dishes with each state holding its own uniqueness and food habits. Some authentic and popular South Indian dishes that are sure to delight taste buds include Chakra Pongal, Sambar and Vadai from Tamil Nadu; Rava Idli from Karnataka; Kadala Curry and Appam from Kerala; and Kebabs and Biryanis from Andhra Pradesh.
Distinct Features
South India is known for its varied range of spices, many of which are being exported to different nations for centuries. The most important spices produced in South India are cinnamon, cardamom, nutmeg, cloves and pepper. The region is famous for a wide range of spicy foods with each state differing others predominantly from the spiciness of food, its different varieties and method of cooking. The staple food of locals of the region including some Brahmin communities is rice which is best savoured with Sambhar or curry.
Tampering of different South Indian dishes remains almost the same with primary ingredients being mustard seeds, red chillies, curry leaves and oil among others. Availability of different root tubers, coconut and huge variety of fish has witnessed use of such items in various regional dishes. Ingredients like chana dal, urad dal, plantain, tamarind, ginger, garlic, coconut and snake gourd along with fresh green chillies and dried red chillies are used extensively in preparing South Indian cuisines. Ragi (Eleusine coracana) also forms a staple diet in southern Karnataka while in northern Karnataka and Telangana, jowar (Sorghum) and bajra (Pearl millet) are consumed widely.
Let us have a glance at the various delicacies of different South Indian states to get the essence of each region.
Cuisines from Tamil Nadu
The staple food of Tamil Nadu is rice which forms part of a typical Tamil meal and savoured with different mildly or richly spiced vegetarian and non-vegetarian dishes. Although most of the Tamilians barring the Brahmins and certain non-Brahmin communities are non-vegetarians, they usually consume vegetarian meals with meat intake being quite infrequent compared to other non-vegetarians across the globe.
The various Tamil dishes can be categorised in different groups starting from the regular meals, the light meals, snacks, desserts and different accompaniments.
Different Gravies and Curries
Traditionally, several dishes are served during the main meal that is typically savoured with rice as staple. These include:
Sambar or sambhar, a very popular South Indian stew that is prepared with lentils, vegetables and tamarind.
Rasam, a tamarind-based soupy dish prepared with tomato, cumin, pepper, chilli pepper and can also comprise of any combination of vegetables with lentils.
Kuzhambu, a gravy dish made of toor dal, urad dal, tamarind and other spices that can include different vegetables.
Thayir that is curd which when taken with rice is called 'Thayir Sadam' where Sadam means rice.
Each of these dishes has a number of varieties for instance under the category of rasam there are Kattu Saaru, Poondu Rasam, Koli Saaru, Inji Rasam and Kadalai Rasam among others while varieties of kuzhambu includes Mor Kuzhambu, Puli Kuzhambu and Molagu Kozhambu among others.
Side Dishes
These are basically accompaniments of the main meal which includes dishes like kootu, a semi-solid like preparation made of vegetables and lentils; poriyal, a fried or sautéed vegetable dish that usually forms a side dish of a three-course rice meal comprising of sambar, rasam and thayir; pappadam roundish and crispy appetizer made of dal or sago or potato either deep fried or roasted; and oorukaai or pickles.
Sweet Dishes & Other Accompaniments
The sweet dishes served as the last course of a meal includes items like thirukannamidu, Kesari and kheer. After the meal bananas are offered to the guests followed with paan comprising of nicely folded betel leaves consisting of lime and betel nuts that is considered to have digestive value.
Light Meals
Light meals or tiffin items are taken during breakfast and early dinner and generally does not form part of the heavy mid-day meal. The most popular of them include:
Dosa: a home-made pan cake prepared out of fermented rice and lentil batter and served hot with sambar and chutney. There are varied kinds of Dosas available either stuffed or plain that has garnered much fame as a South Indian delicacy.
Idli: a South Indian steamed cake made out of fermented rice and black lentils (de-husked) that is savored with condiments like sambar and chutney.
Upma: a thick porridge prepared with roasted suji (semolina) or coarse rice flour which may include different vegetables and seasonings.
Parotta: a layered flatbread prepared with Maida flour, eggs, ghee/oil and served with vegetarian or non-vegetarian curry.
Poori: unleavened deep-fried bread served with curry among others.
Snacks
Snacks items like vada, bhaji, and bonda are quite popular in this region and are relished with different varieties of chutneys and thayir Pachadi.
A mini Tamil veg meal may comprise of variety of rice preparations like tamarind rice, sambar rice and curd rice along with flat pan fried bread called chappathi complimented with a gravy dish, a Sweet Pongal and chips. A non-vegetarian meal includes biriyani, which can be of varied forms and non-vegetarian gravy items. A traditional South Indian meal is served on a banana leaf. Tamil cuisine conventionally proposes of including all the six tastes that any food can be categorised into, namely sweet, sour, salt, pungent, bitter and astringent into the main meal so as to get complete nutrition and balanced digestion. Traditionally there are two variants of Tamil food restaurants, the Brahmin restaurants that serve pure vegetarian food and the Military restaurant that serve vegetarian as well as non-vegetarian food, both of which welcome people from all caste, religion and communities. Tea and coffee are usually served as staple drinks in these restaurants.
Chettinad Food
Among the different regions of Tamil Nadu, cuisines of Chettinad, a region that falls in the Sivaganga district situated in southern part of the state, has earned huge fame for its spicy and aromatic dishes, particularly the non-vegetarian ones. The meaning of Chettinad itself is a social caste that is skilled in preparing food and the Chettinads are regarded as great chefs. The unique hot and pungent flavour of the dishes seasoned with grounded spices, the boiled egg toppings on the meals, the salted vegetables and sun-dried meat are some of the distinct features of this cuisine.
Some of the popular vegetarian dishes of the area include dosa, sambar, rasam, thayir sadam, paniyaram, kozhakattai and adikoozh. Different non-vegetarian dishes are made of chicken, mutton, crab, fish, prawn and lobster, some of the selected ones are fish fry, Chettinad pepper chicken and karuvattu kuzhambu.
Karnataka Cuisine
The state of Karnataka offers a wide range of appetizing platters and boasts of some lip-smacking dishes such as Masala Dosa, Idli and Vada that originated in the temple streets of the city of Udupi. The dishes of the region are less spicy as compared to other South Indian states and contains liberal amount of palm sugar and jaggery with the exception of Northern Karnataka cuisine which is real hot.
The cuisines of the state vary according to different regions. Roti made of pearl millet and sorghum and rice are staple of North Karnataka cuisine which is usually taken with spiced and stewed lentils, spiced vegetable salads and eggplant dishes. Spicy condiments like pickles and chutneys are the common accompaniments of this cuisine which is famed for its spicy and hot nature. Seafood, coconut and coconut oil forms an integral part of coastal Karnataka cuisine. The gassi or gravy items prepared with chicken, meats and fish are taken with rice, the staple grain of the region. Preparations like Saaru, a dish like Rasam and Huli, a dish of vegetables and lentils made with different spices and coconut and then tempered with asafoetida, curry leaves and mustard are taken with rice. Side dishes like playa, accompaniments like gojju, tambli and happala forms part of the meal. Pork, meats and chicken are used to prepare a variety of Coorg cuisine that witnesses an extensive use of Kokum while rice remains the staple. Steamed rice and the nutritious Ragi Muddle made of ragi (finger millet) flour and water are the staples of old Mysore cuisine, also referred as South Karnataka cuisine. The usual South Karnataka dishes include saaru, uppinakai, huli, and gojju among others.
Dairy products are used in various forms. While yogurt forms an integral part of every meal that is taken with rice as the final course, spicy buttered milk is commonly served in hot summers. Ghee and butter are used to prepare various delicacies, especially during festivals and occasions.
A famous Karnataka dish is the Bisi Bele Bath which means hot lentil rice. As the name suggests this authentic dish that is served as the second course in traditional meals is made of rice, vegetables, toor dal, tamarind pulp and spices like curry leaves, asafoetida and nutmeg. It is often served with items like potato chips, papadum, salad, chutney and boondi.
The Karnataka cuisines are unfinished without the sweet course. The natives of the place are known for their knack for sweets. Some of the popular desserts of the state are coconut mithai, Mysore pak, Belagavi Kunda, dharwad pedha and rave unde. Interestingly most of these are non-dairy based desserts sweetened with jaggery and not refined sugar.
Udupi Hotels
Udupi hotels mostly serve Karnataka cuisine and have somewhat become synonymous with South Indian food. They have popularized this cuisine across India with their small set-ups. Generally vegetarian breakfast dishes like Dosa, Idli, Uttapam and Vada among others are served at affordable prices in these set-ups that are generally run by natives of Kanara region of Karnataka.
Kerala Cuisine
Kerala cuisine is varied, but best categorized according to the different local communities. The more famous ones are the Malabari Muslim dishes and the Syrian Christian dishes. Availability of coconut which is also the prime export item of the state has made it a fundamental component of Kerala cooking whether used as an ingredient or in oil form extracted from the nut. Availability of seafood in the coastal belt of the state makes it almost a daily consume. The common breakfast items include dosai, idli, parotta with mutton or chicken curry, vegetable stew, duck roast and chicken or mutton stew among various other dishes.
Different vegetarian dishes include aviyal, sambar, rasam, kichadi, pachady and olan to mention a few. There is a wide variety of non-vegetarian dishes with some of the popular ones being Malabari Fish Curry, Pork Mappas, Malabar Biriyani, Meen Thoran – a fish preparation with coconut, Duck Curry, Pork Vindallu, Shrimp Coconut Curry, Fish Fry and Fish Curry. The various snacks items are banana fry, cutlets, cakes, halwas and payasam among others.
Andhra Cuisine
Many of the exquisite and delectable cuisines of Andhra Pradesh indicate a profound influence of culinary styles of the Mughals on the cuisines of this place. The mouth-watering Andhra delicacies like Biryani, Kebabs and Kurmas among others that are usually heavy, spicy and hot in nature are sure to satiate the gastronomic enthusiasts. The traditional cuisines of Andhra are considered the spiciest among all other Indian cuisines and witness liberal use of tamarind and chilly powder that give the dishes a distinct tangy and hot flavor. Diverse ranges of cuisines are available in Andhra that differ mostly based on different regions. While the food of Rayalaseema district is quite similar to that of Tamil Nadu and eastern Karnataka due to its close proximity with these regions, the staple diet of the Telangana region, which has evolved into a new state, is rotis made of jowar and bajra. The Andhra coastal region offers varied cuisines with unique flavor, courtesy the more fertile lands of the belt and also due to availability of variety of seafoods.
The popular Andhra dishes include breakfast or tiffin items like:
Upma, pulihora, attu and pesarattu
Curries or kooralu like cabbage pesara pappu and gutti vankaya
Pappu or dal/lentils like Moong Dal or Toor Dal prepared with vegetables
Pulusu, varied form of sour curry-like stews made with tamarind paste
Chaaru, a Rasam like preparation, however more diluted
Different types of pickles like tomato pachadi, gongura pachadi and maaghaya.
Some of the popular desserts are laddu, thokkudu laddu, boondi laddu, kaaja and pootarekulu.
Food of Andhra is never complete without mentioning the various delicacies that comes with a Mughal touch from the city of Hyderabad. Patronised by the Nizams, the Hyderabadi cuisines evolved as one of the most spiciest and delectable cuisines of India that has garnered worldwide fame. Some of the toothsome and finger-licking dishes include:
Hyderabadi Biryani is made of Basmati rice, meat and selective rich spices.
Other varieties of biryanis include Kachay Gosht ki Biryani and Dum ki Biryani.
Achaari Subzi: a gravy preparation of vegetables having flavour of pickles
Dum ka Murgh: a chicken preparation made in Hyderabadi Style
Mirchi ka Salan: a chili and peanut curry that often accompanies the biryani
Baghara Baingan: a brinjal curry that often forms a side dish with the Hyderabadi Biryani.
More details
South Indian foods, compared with the other culinary cultures belonging to Indian gastronomy, have various distinguishments that you cannot find elsewhere. Although this cuisine is famous for its vegetarian recipes, there are many meatier other options.
I guarantee you can opt for these Indian delicacy recommendations and enjoy a whole day traveling in South Indian regions full of palatable foods. Want some light meals, heartier treats, or desserts? You can find everything you wish for here!
Indian delights in Southern style
When it comes to Asian cuisines, you should never ignore the starch bases. It's because you'll always need something to pair with their savory delights.
Feel excited yet? Let's scroll down and see the most famous Indian starchy dishes for you!
1. Idli / Idly (Indian Steamed Rice Cake)
Once mentioning Idli, everyone might immediately think of a light and favorable Indian breakfast recipe that usually goes alone or with a portion of Sambar (spiced lentils stew).
Steamed, fermented black lentils and rice with a mild taste can never go wrong with something savory, like Sambar. Coconut-based Chutney is also a great way to go as the lovely richness from the typical Indian fruits in the sauce complements the rice cakes well.
The ones who first brought this delight to India in the 10th or 12th centuries were Saurashtrian textile merchants. They are now known as the Indo-Aryan ethnolinguistic Hindu Brahmin community and live mainly in the Southern regions of this country.
Another idea holds that ancient Indians created idly and that its precursors appeared in old documents under various names. The dish, known as "iddalige" in the earliest source from 920 BC, was made entirely of black gram and differed slightly from the present Idli.
2. Puttu / Pittu (Steamed Cylinder Rice Cake)
Puttu (meaning "portioned" in Malayalam/Tamil) is also a steamed rice cake; however, it's native to Kerala, Tamil Nadu, or other Southern Indian regions. The main differences between those regional types are the prominent cylinder shapes and the additional sweet/ savory fillings.
To form a portion of Puttu/Pittu includes coarsely ground rice (or red rice flour in Sri Lanka) with condiments and some rich coconut products; Puttu is a good taste balancer.
Some most recommended delicacies to go with Puttu are Curries (chickpeas/mutton/fish) or bananas.
3. Appam (South Indian Rice Pancake)
Another South India breakfast idea for you is this Appam. This dish appeared a lot in Tamil Perumpanuru (an old Tamil poem), and historians believe that it was from the ancient Tamil country as well. Nowadays, Appams are pretty prevalent around India, especially in Kerala.
Fermented rice flour and coconut milk mixture made into thin, crispy pancakes with a signature bowl-like shape is the featured image of Appams. The batter needs time to rise, so the cooks might have to prepare it ahead of time. It may take time, but the result pays off.
If you want to try this recipe as an Indian dinner delight, you can match the plain ones with mutton/chicken or chickpeas Curries like Keralan citizens. Otherwise, going for ones with eggs is also an excellent way to enjoy this delicacy.
4. Dosa (Indian Rice Crepe)
While many historians agree that South Indians developed Dosas, the proper birthplace of this treat remains a bone of debate. Whether the rice crepes are from the Tamil country or Karnataka (once known as Udupi), this dish is exquisite.
In South India, you might find it under various names such as Dosai (in the Tamil language) or Dosha (in Malayalam). These terms all allude to a kind of thin Crepes made of fermented rice and lentil batter, and the preferred sides are also Sambar and coconut Chutney.
Local people might also serve this delight with spiced mashed potato or vegetable fillings. Or else, enjoying these Dosas with Indian pickles is also a great way to go.
5. Pesarattu / Cheeldo / Pesara Dosa (Mung Bean Flatbread)
Pesarattu or Pesara Dosa is not a Crepe (like Dosa). It is actually a flatbread including moong dals (meaning green gram) soaked in water for at least 4 hours before being finely pounded into a smooth paste.
Locals then mix other fresher ingredients into the batter and pan-fry it carefully until crispy. To make the food look more attractive with a light green note, the cooks sprinkle some chopped onions or green chilies as toppings for your portion of Pesarattu.
Having its roots in Andhra Pradesh and best served on the side of Upma, an Indian breakfast treat, Dosa acts well as a first meal of the day or as a light Indian snack. Yummy!
Some other ways to enjoy this dish is to pair it with tamarind-ginger Chutney or other things based on the regional variants. However, all are great.
6. Upma (Indian Thick Porridge)
Most popular in the Southern Indian areas such as Tamil Nadu or Andhra Pradesh, Upma has been a breakfast staple there before becoming more famous nationally. You may encounter it under other names such as Uppuma (in Tamil) or Uppumavu (in Malayalam).
To make Upma, people in South India utilize many different ingredients, from rava (semolina), whole wheat, and coarse rice flour to corn or noodles.
Since the base of Upma is pretty bland on its own, local people often add other components like spices and nuts to make the whole treat more toothsome.
Besides the legendary combination of Upma and Pesarattu, this dish also goes with Kesari Bhath (an Indian sweet pudding) or Ghugni (a kind of chickpeas/peas Curry). The best Indian drinks to go with Upma should be ones with a pretty strong effect and taste.
7. Onion Uttapam (Indian Onion Topped Pancake)
To be honest, Uttapam is a variation of Dosa, but it goes with toppings of many fresh veggies like onions, capsicums, or tomatoes. Some vendors/restaurants make this thick pancake with beets or grated coconuts, which also helps enhance the dish's overall flavor profile.
The main ingredients for an Uttapam (or Oothappam in Kerala and Uthappam in Tamil Nadu) are urad dal (black gram) and rice. The local cooks apply the same idea with what they do with Dosa batter and let the whole rice-urad dals mixture fermented.
Because the rice and urad dal ratio in the Uttapam batter is 3:1, this dish might be a bit more starchy when eating than some other Indian-style bread or pancake recipes. About the side dishes, Sambar or Chutneys are the best choices.
8. Parotta / Porotta (Indian Flaky Ribbon Pancake)
Tamil Nadu (a Southern Indian region)'s workers were the creators of Parotta or Porotta. Their initial idea for making these flaky ribbon Pancakes was to have an affordable starch dish, and they chose to use maida/aata flour (all-purpose/wholemeal wheat flour) for that.
To make the food, the local cooks only mix the flour with oil/ghee and water (according to a proper ratio) together and knead the whole dough well. The dough should be soft and stringy that can be stretched into a thin layer.
It might take time and effort for this step, but a good thing takes time. After a time, the Tamil workers moved to other Southern regions (like Kerala or Maharashtra) and brought their beloved recipes with them.
Typically, people pair it with Yogurt, Raita (Indian yogurt condiments), and savory Curries (Korma). Meaty (chicken, mutton, and beef), fish or veggies Curries all work here, so you can freely choose what you love more.
A notable fact about this delight is it's more prevalent in the urban areas. Also, the more preferable ones are the Aata Parotta (with whole wheat flour), as the maida (all-purpose flour) variations are considered unhealthy.
9. Thengai Sadam (Coconut Rice)
Unlike common coconut rice recipes that only have coconut soaked rice (or rice cooked with coconut flakes), South Indian Thengai Sadam also includes nuts (like almonds or cashews). This treat particularly calls for short-grain rice instead of the longer ones like basmati rice.
Generally, the local chefs need to roast every spice (curry leaves, green chilies) and nuts with melted coconut oils first. They then put the grated coconut into the pan and saute it well with other ingredients before adding the cooked rice.
Mix them well, and the coconut rice is ready to serve. The most recommended Indian side dishes to go along with Thengai Sadam are dry Curries of choice. Papad or crispy black gram flour-based dough can also work well here.
10. Dahi Bhat / Thayir Saadam (Curd / Yogurt Rice)
Mixed with curd or unsweetened probiotic yogurt, this Dahi Bhat might look like a dessert, but local people actually have it with pickles or as a final dish of a meal (lunch or dinner). This delight is pretty famous in South India, and people there call it by various names.
For example, it's Perugannam in Andhra Pradesh, Thayir Saadam in Tamil Nadu, and Dahi Bhat in Maharashtra. There are 2 main variations of this dish: with and without tempered ingredients like black gram, mustard seeds, etc. Besides, each is also served differently.
While the one without tempered components goes to ordinary meals local people serve the other as Prasadam ("blessed food") for devotees during formal or religious occasions.
Besides the fact that it's tasty, Dahi Bhat also aids digestion and offers various health benefits.
Savory Main Courses Or Side Dishes To Diversify Your Feast:
11. Sambar (Spiced Lentils Soup / Stew)
If you have never heard of this authentic Indian soup recipe before, you will remember it clearly after finishing reading this humble article. It's because this Sambar is highly versatile and can pair with most of the pancakes/flatbreads above. How amazing!
First appearing in the 17th century at the lastest, this luscious and simple soup dish has been a staple in Indian meals since then. People there, especially Southern Indians, adore this dish for its hearty yet healthy characteristics.
On the side of lentils, other summer vegetables like gourds, beans, or carrots can go in this soup either. Full of flavors and nutrients from various veggies, there is no reason not to give this Sambar a go.
12. Rasam / Charu / Tili Saru (Spicy South Indian Soup)
Born in Andhra Pradesh and Tamil Nadu, Rasam is now renowned around India as a spicy soup dish with luscious sweet-sour broth consisting of tamarind and kokum (a mangosteen fruit). Other things contributing to the palatableness of Rasam are tomatoes, dals, etc.
The dals are typically lentils, and the more famous kind of dals going with Rasam is toor dals (or pigeon peas). To add depth to the natural sweetness of this soup delight, the cooks use regional condiments such as amchur (dried mango powder) or ambula (sun-dried mango).
As mentioned in the name of this food, besides Rasam, Charu (in Telugu) and Tili Saru (in Kannada) are the other ways to call for this delight in South India. These names are meaningful, such as Charu meaning "essence" or "soup/juice."
13. Chettinad Chicken Curry (Chicken Curry From Chettinad)
The name of this dish has introduced where it comes from, the Chettinad region of Tamil Nadu. This particular cuisine is renowned for the "deadly" spiciness, so you can also expect that signature taste from this Chettinad chicken Curry.
Looking at the ingredients of this Indian chicken delight, you can see that the cooks have to mix various spices. Some things like kalpasi (black stone flowers, for a smokey flavor), red chilies paste, and other hot condiments always appear.
To ease the robust flavors of this particularly hot dish, finding a starch base or refreshing sides is a must. I highly suggest Parathas (flaky flatbread) or steamed rice, but you can opt for your favorite dishes like Idli or Upma.
14. Kozhi Ishtu (Keralan Chicken Stew)
Not every Indian delicacy is spicy, and this favorable stew is solid proof of that. The dish's term "Ishtu/Ishtoo" is quite renowned in the Northern Malabar regions. Although it would be best to describe the dish as "mild," you can expect more than just a bland bite.
This Kozhi Ishtu might not include robustly spicy components, but the aromatic spices are never excluded. Anise, cardamom, fennel seeds, and cloves are some of the most prominent ingredients here.
The local cooks need to process all of them in thick-bottom vessels to achieve the authentic flavor of the food. They also put some vegetables in to enhance the nutrient profile of this Kozhi Ishtu so that you won't need to worry much about the dish's nutritions.
The richness of coconut milk makes the food go perfectly with a portion of pancakes (Appams) or rice hoppers for breakfast.
15. Chicken 65 (Spicy Deep-Fried Chicken)
Fried chicken is an absolutely no-fail dish whenever you crave fast food. Among various chicken fry recipes, this beloved South Indian Chicken 65 is one of the best. Chicken 65 has its name from the year it was born, 1965, in a Buhari hotel in Chennai.
Although there are some other theories behind the name of this dish, the mentioned one is a bit more famous. Whether you want to have it as an Indian-inspired hors d'oeuvre or as a quick snack, it can work well and please your appetite.
The spotlight of this delight is its flavored crust with various spices (red chilies or ginger garlic paste). The crunchiness and impressive flavor punch can easily tempt you from the first bite into it.
16. Andhra Chili Chicken Curry (Andhra-Style Chili Chicken Curry)
A notable fact about this Curry is that it has no relation to the typical Andhra cuisine, but its name only refers to the prominent overly spiciness featured in the Andhra foods. Therefore, be aware that this food is not for ones with a faint heart.
Instead of Andhra, Bengaluru or Bangalore is definitely where you should find this good Andhra Chili Chicken Curry. After marinating the chicken with condiments/spices overnight, the chefs need to process it carefully to preserve the nutrients from every component.
Since the whole dish has a relatively intense flavor, you should call for Parotta, rice (or cumin rice) to neutralize all the robust notes. Want it for a fascinating Indian lunch or dinner with this specialty? Feel free to do so.
Local chefs might make it into a chicken fry dish by applying the same spices used for marinating steps with this Andhra Chili Chicken Curry. Their tastes are close as their marinades are similar, but the chicken fry is more tempting to those who enjoy fried foods.
However, both variants, Curry and fry, are best when they are still hot, so you need to savor them as soon as possible after buying.
17. Kori Gassi (Mangalorean Chicken Curry)
"Kori" means "chicken," and "Gassi" means "Curry". This Mangalorean creation has already shown you its "core" inside its name. Mangalore has a beautiful coastline with typically hot weather. The foods there are famous for the vibrant red color with a mix of many spices.
Wondering why this Kori Gassi is so spicy after the first spoonful? The secret lies on the ground, chilies added. However, you don't need to worry about whether your dish is overly spicy. The use of coconut milk/oil and grated ones help boost the balance already.
What about the side dishes going on the side of Kori Gassi? Rice wafers or Roti (an Indian flatbread) is highly recommended. The combination of Kori Gassi and rice wafers is also known as Wafer Kori Roti ('chicken Roti") even though there is no chicken in use.
18. Haleem (Paste-like Stew)
Haleem, a stewed delicacy consisting of lentils and wheat/barley, is an Arabic-originated delicacy and is well-known in South India as well as other South Asian countries.
The Hyderabad (the capital of Telangana state in Southern India) variants of Haleem have meats (chicken/mutton or else) combined, either.
The precursor of Haleem was Harees, a delight that appeared for the first time in some 10th-century documents (during the Mughal time). The historians believe that foreign migrants brought it to this country.
When preparing this dish for Islam's Ramadan month, people in Hyderabad often cook it inside a large kettle (called cauldrons) for many hours.
19. Meen Kulambu/ Kuzhambu (Fish In Tamarind Curry)
As there are a lot of meat-based dishes so far, it would be best if I talk about a fish-utilizing recipe in this list of Indian specialties now. Tamarind acts as the base for the gravy of this delicacy on the side of the spice blend of fenugreek and coriander.
Locals love creating this Meen Kulambu from ladyfish (or kizhangan/Indian whiting) in an earthen pot (called chatties) in Kerala. The cooking process in the earthen pot lends an exquisite earthiness and rusticity to the whole dish.
This fish Curry pairs best with a portion of steaming hot rice, Roti, or Dosa, so you should taste them together at least once in your life. One tip to make the fish meat even more full of flavor is to let the whole batch rest for a while. Trust me; the result can easily blow your mind.
20. Beef Ularthiyathu (Kerala Beef Fry)
In case you want to find Indian recipes compatible with the instant pot, this beef Ularthiyathu or Kerala beef fry is an ideal nominee for that. Appearing for the first time in 52 CE, this Indian beef dish has always been a favorite of the Keralan people.
Typically, the local chefs cook the meticulously spiced beef chunks slowly with tons of spices like meat Masala (typical Indian spice mix), flavoring powder to make this Keralan beef fry. Because of that, using a pressure cooker or instant pot can help reduce the time for cooking.
The finished dish doesn't contain much gravy, so finding a way to enjoy it is essential. I usually have it with banana Fritters or Parottas. They are the perfect combo, so don't hesitate to order them together.
21. Pork Vindaloo (Pork Curry From Goa)
Another Southern-style Curry is Vindaloo with its best match, pork. Portuguese delicacies, or to be more specific, Carne De Vinha D'alhos (marinated pork), have a strong influence on the local Indian dish and that is how a fiery Vindaloo was born.
Traditionally, the Carne De Vinha D'alhos calls for the red wine and garlic to soak the pork, but the Indians changed the alcoholic ingredients into palm vinegar.
The local chefs then put every ingredient, from the meat to aromatic spices and veggies, in the same pot and cook for a long time. In the end, the sellers will serve your order with plain rice. This combination is reasonable as the whole thing will be milder when going together.
Sometimes, you might need this Vindaloo going with other kinds of protein. The most prevalent substitution is chicken, yet you can also see it as an Indian shrimp-using delight. But, shrimp is easy to rubbery, so the cooks need to be careful.
Making Pork Vindaloo is effortless once you know this enticing recipe.
22. Poriyal / Thoran (Stir-Fried Vegetables)
In case you are feeling a bit greasy with all the savory and meaty suggestions above, it is time to go for a veggies-loaded treat.
This Poriyal recipe doesn't use a single kind of veggies (potatoes, beans, lentils, carrots, etc.); the cooks are free to add their own twists to this easy, simple, stir-fried dish.
What makes this Poriyal different from the other cuisines' stir-fried vegetables is the use of spices. To make this humble dish match better with Parottas, rice, or other starch bases in a full meal, grated coconuts, curry leaves, and mustard are utilized to boost the aroma/taste.
It's important to have something light and to refresh to devour after a meal or to renew your taste buds (with a piece of light treat). If you are now finding something like that to enjoy while having your trip in South India, take a look at these suggestions below.
23. Mysore Paak / Pak (Indian Mysore Ghee-Based Sweet)
The term "Paak/Pak" in this food's name means mixture, and it has that name since the chefs need to make it from a mixture of ghee (clarified butter), gram flour, and sugar. About "Mysore," it is about the birthplace of the treat, which is the Mysore city of Karnataka state.
Kakasura Madappa, a chef for Krishna Raja Wadiyar IV, coincidentally created this dish while trying to make a new dessert for the King. He was in luck that time, and when the King asked him about the Indian sweet delight's name, Mysore Paak came out suddenly.
Nowadays, the modern variations of Mysore Pak still encase the goodness from the original version and also offer lovely notes of floral essences and spices (like cardamom). Local people enjoy having dessert for weddings and baby showers.
Each cook will have their own secret for Mysore Pak and in case you want to experience the authentic Madappa recipe, find Guru Sweets stores in Devaraja Market. The owner is the descendant of the creator of this dish.
24. Payasam (Indian Wet Rice Pudding)
Unlike the general concept of rice Pudding with a thick consistency, Payasam has much more liquidity. This South Indian sweet dish has been there, in local people's daily diets, for more than 2000 years, and its name was derived from the term "payas" (meaning " milk").
Once enjoying a portion of this Pudding, its appealing sweetness matching the pleasant additional tastes from coconuts, nuts, and dried fruits can easily please your taste buds. The sweetener for Payasam is jaggery so that the overall taste won't be overly sweet.
Although rice is the main ingredient for Payasam, locals sometimes change it into sweet corn, tapioca, bulgur wheat, or vermicelli. Another fact about this luscious Payasam is it's a temple food and is often prepared for Hindu devotees.
25. Ada Pradhaman / Payasam (Festive Sweet Porridge)
Let's talk about a variation of the previously mentioned Payasam; this Ada Pradhaman is a staple for various South Indian festivals and special occasions. For instance, locals make it for a Keralan harvest festival (Onam) or an offering to the Gods in Hindu temples.
Notably, the word "Ada" refers to a kind of Keralan steamed rice parcel wrapped inside a rice-made flour. However, the "ada" here is the flattened ground rice.
To form a delicious portion of Ada Pradhaman, the cooks will use jaggery and coconut milk instead of dairy products or regular sugar.
With its piney-smelling, fruity, and slight astringent flavors, cardamom accentuates the deliciousness of this dessert pretty well.
The locals make this sweet porridge inside a bell-shaped cooking vessel, and they always melt the jaggery before processing to remove unwanted impurities.
26. Medu Vada (Savory Fried Snacks)
Besides the fact that people may call it by other names in India (such as Wadeh, Bada, or Vadai), there are also various ways to describe it in English, like Fritters, Donuts, or Cutlets. You can also find it as a Northern Indian dish called Bhalla, and they're pretty the same.
About the origins of this food, historians believe it first appeared during 100 BC or 300 BC, and Tamil people were the ones who created it. The main ingredients for a portion of Vada are mainly legumes (like chickpeas, lentil, or pigeon peas).
More importantly, the spices are essential since no one wants a bland deep-fried treat. Therefore, curry leaves, cumin seeds, and onions with other condiments like black pepper grains have to be included in the recipe.
Crispy exterior with loads of flavors encased, Medu Vada seems like a must-have food to try whenever you visit India.
27. Murukku (Rose Cookies)
In love with something more crunchy for your snack time? How about giving this Muruku a go? The motherland of Murukku is in Tamil Nadu and people in this area are the ones who spread it to other South Indian regions like Andhra Pradesh, Karnataka, and Kerala.
While its name, "Murukku," means "twisted" in the Tamil/Malayalam languages, the Indian-originated snack is called "murukulu/ janthikalu" in Andhra Pradesh. The main ingredients for Murukku are rice and urad dal flour, along with spices like cumin seeds.
Although there is no rose essence or extract here, the food has the name Rose Cookies in English because of its flower-like shape. Looking at its appearance, you might think of Jalebi; however, they are not the same thing as the Murukku doesn't go with flavored sugar syrup.
28. Thattai / Chekkalu (Deep-Fried Rice Flour Snack)
During the Sri Krishna Jayanthi/Janmashtami (or Krishna's birthday celebration), you can quickly meet Thattai. This humble yet tasty snack, which has only rice flour, chana dals (split chickpeas), urad dals (black grams), etc., acts as a festive staple in many South India areas.
People in different regions might call it by other names, such as "Chekkalu" in Andhra Pradesh or "Nippattu" in Karnataka. But, they all refer to this crunchy, deep-fried snack.
There are two main variations of this food (salty and sweet), and local people also use Thattai to form a fascinating sandwich rather than just used it as a snack.
The fillings for the exciting dish can be Chutneys, some root veggies (carrots, beetroots), or else. Sounds great!
29. Hyderabadi Dum Biryani (Hyderabad's Mixed Rice)
This delicacy is a must-try for the traditionalists at heart. The Hyderabadi cuisine is renowned for the expertly use of rice, wheat, and meat combined with plenty of herbs/spices, and that's what this Dum Biryani is all about.
To be honest, the actual roots of this Dum Biryani are pretty unclear. The only sure thing about it is it's flourished under the influences of Hyderabadi gastronomy. The standard ingredients for a Biryani batch are usually basmati rice, meat (chicken, goat, or mutton), and spices.
On the side of some common spices like bay leaves or cinnamon, an authentic Hyderabadi Biryani needs shahi jeera (caraway), papaya paste, and javitri (mace flower). All make the dish totally distinguished.
Baghaar-E-Baingan (Hyderabad eggplant Curry), Dahi (or yogurt), Chutney, or some simple Indian fresh salads are the great sides for this filling rice dish. Believe me, the rejuvenation from salads or richness from Dahi works perfectly here.
30. Hyderabadi Keema Biryani (Hyderabad's Minced Meat Mixed Rice)
Pretty similar to the previous Dum Biryani, this recipe also comes from Hyderabad with meat as the main protein. Furthermore, the local chefs also cook this dish in dum like the previous Dum Biryani. Yet, the Keema Biryani calls for minced meat rather than meat cubes.
If you are questioning the typical yellowish hue of the food, it is from the saffron-soaked milk. To enhance the tempting fragrance of the recipe, the cooks also put in the floral essence (from rose or screwpine flower extract).
Every time you dig into this dish, the topped caramelized onions never fail to impress you with their lovely sulfuric, earthy scents. The accompaniments of Keema Biryani are varied, so you can simply ask for the recommendations of the sellers or choose something you like.
31. Kothu Parotta (Curried Shredded Bread)
Do you wonder how Indian people deal with leftover bread? If yes, Kothu Parotta is the most common way to use leftover bread (especially with leftover Parottas) in Kerala. It's so tasty that the local citizens also enjoy it as a quick dinner with Raita there.
As "Kothu" means "chopped/shredded" in the Indian language, so you can somehow guess that the cooks have to chop or shred all the ingredients. They"ll then cook all of them on a flat pan and add some other things like eggs or meats (chicken/mutton) with spices to taste.
The sauce that pairs with this intriguing Indian street dish are often tomato-based and flavored like a spicy Korma (an Indian Curry).
The mix might seem lumpy at first, but it will blend well afterward. Trust me, Kothu Parotta tastes better when it's cold, and you should try it at least once.
32. Unniyappam / Unni Appam (Small Rice Cake)
Compared to other traditional recipes above, this Unniyappam (or Unni Appam) is much "younger". The name, Unniyappam, literally means "small rice cake," and local people typically make it from bananas, roasted sesame seeds, rice, cardamom, etc.
Since the early 21st century, jackfruit-based variants have become more prevalent. The idea is to make the modern Unniyappam in the same manner as the original ones, so the cooks also form the mixture/batter into balls before frying them with oil.
Unniyappam can also be a prasad (blessed food offered to Hindu gods) during religious occasions. Once having the first bite into the fried rice cake ball, you can feel the crispiness on the food's exterior and the mellow taste of banana inside.
Have The Mood For Some Southern Indian Delights? Try These!
Typical Southern Indian dishes are full of aroma and local people tend to encase various flavors inside their recipes. Once you have the chance to try lots of them, you'll immediately notice the similarities in tamarind, mustard, asafoetida (hing), or peppercorns.
Conclusion
Typically, Southern Indian food will feature curry leaves, mustard, asafetida, pepper and peppercorns, tamarind, chilies, and fenugreek seeds. Huli pudi (also known as sambar powder) is also used to spice and flavor dishes.

By and large, South Indian cuisine is perhaps the hottest of all Indian food. Meals are centered around rice or rice-based dishes. Rice is combined with Sambaar (a soup-like lentil dish tempered with whole spices and chilies) and rasam (a hot-sour soup-like lentil dish), dry and curried vegetables, meat dishes, and a host of coconut-based chutneys and poppadums (deep-fried crispy lentil pancakes).
Rice is tastier and better than wheat any day, especially the unpolished brown rice. Rice has vitamin B, calcium, protein and all required minerals for health. Rice is also easily digestible unlike wheat. Some people believe rice eating causes diabetes and wheat controls diabetes which is absolutely wrong. Wheat eating Punjab has the highest incidence of diabetes in India. It's also no.1 in obesity rate.

South Indians are great lovers of coffee, which is usually a special type made with chicory.
. . .