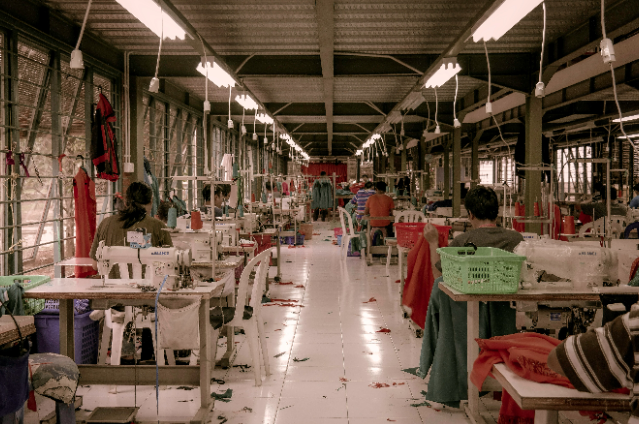 Introduction
India is one of the largest producers of textiles and apparel in the world. Consumers across the globe import textiles from India due to the high-quality fabric used and the affordable cost. Here are some really interesting facts about the textile industry in India:
According to Statistics, the Indian textile industry is valued at 223 billion dollars as of 2021.
The industry is the largest producer of cotton and jute, 2nd largest in silk, and 95% of hand-woven fabrics globally are from India.
The textile industry is the second-largest employment provider in India after the agriculture industry.
TEXTILE INDUSTRY
Textile is the second basic necessity in the world after food. And everybody in this world is a consumer of it. Textiles symbolize the identity of an individual's cultural, social, economic, political, and religious norms.
In fact, it has the potential to be synonymous with a community, state, or even a country. Textile has turned into a powerful medium to express oneself and influence people.
Indian history showcases the role and relevance of the indigenous fabric. The Kadhi fabric popularized by Mahatma Gandhi acted as an autarky agent. It was India's way of showing resilience and displaying its unity. Even today, many political leaders acknowledge its significance and use it as their attire.
IMPORTANCE OF TEXTILE INDUSTRY IN THE INDIAN ECONOMY:
The textile industry in India is one of the oldest in the country and is a big one. With hand-woven, hand-spun, and various mills, the textile sector is extremely varied. Since it is one of the biggest sectors, the industry has about 4.5 crore employed workers which also includes 35.22 lakh handloom workers all across the nation.
There are several materials and raw materials that are exported from India to the other parts of the world and between April-December 2021, it stood at US$ 29.8 billion. This market is actually expected to be worth more than US$ 209 billion by 2029.
India is the world's largest producer of cotton. In the year October 2021-September 2022, production stood at 360.13 lakh bales for the crop. In the year 2020-21, 1.13 million tonnes of cotton yarn were exported from India.
The textile industry in India has also witnessed a spurt of investment not just from our own country but also from several international countries and companies. From April 2000-December 2021, the industry (including dyed and printed) attracted Foreign Direct Investment (FDI) worth US$ 3.93 billion.
The textile industry has been very beneficial for India's economy. Since India does a worldwide trade of clothing and textiles, the GDP of India has really boosted which has brought a huge amount of revenue to India.
The industry size has expanded from USD 37 billion in 2004-05 to USD 49 billion in 2006-07. The textile export market increased from USD 14 billion to USD 19 billion in the same period. The local market witnessed a growth of USD 7 billion, that is, from USD 23 billion to USD 30 billion.
TEXTILE DESIGN
It is the process of planning, producing, and modifying textiles to suit the needs and likes of people. The Indian textile design and its understanding have evolved significantly over the years. The finished products after textile design include clothing, carpets, drapes, and towels. Good textile design can take the finished garment to great heights.
The scope of textile design and its production is significant in India due to the abundance of resources and a strong history of textiles. What makes India unique from its global competitors is the combination of original and traditional design practices followed in the production and its linkage with agriculture.
The multitude of design rules based on the region's diverse practices and ideas adds to the richness of the design. This makes the Indian textile products perfect for domestic and export markets.
TEXTILE PROCESSING
Textile processing starts right from procuring raw materials such as wool or cotton to manufacturing the end product. The textile process of today dates back to the very beginning of human civilization.
Though automated machinery has replaced most of the traditional methods, even today, the end product is obtained after several mechanical procedures.
There are mainly five steps, namely:
STEP 1: SOURCE FIBER
For the textile manufacturing process, natural and man-made (or synthetic) fibers are used. The natural fibers are cotton, wool, silk, etc. The artificial fibers are polyester, rayon, nylon, etc. The first step is to source these fibers.
If you are using natural textile fibers, they need to be cultivated, harvested, and obtained from farmers, whereas artificial fibers are ordered directly from individual manufacturing plants.
STEP 2: YARN MANUFACTURING
In the yarn manufacturing process, the raw materials are processed into yarn. The fiber is cleaned and mixed together. If there are any scattered pieces of debris or remains, they're removed instantly so that the entire batch is not contaminated.
Next comes the spinning process, where the raw materials are spun into yarn.
STEP 3: FABRIC MANUFACTURING
In the fabric manufacturing process, the manufactured yarn is weaved. The yarn is created into a lengthy fabric using a weaving machine.
It is then fed into a loom to create various colors and threads based on specific sections known as harnesses.
STEP 4: WET PROCESSING
This is the process of dyeing and finishing, where you bring the fabric to a semi-finished state. The dyeing process involves adding color to the fabric, while the finishing process involves adding chemicals. In a few cases, textile printing is also included.
The process involves using printers on the fabrics where chemicals are heat-activated and applied to the fabrics.
STEP 5: GARMENTS MANUFACTURING
This is the final step in which semi-finished cloth is transformed into finished cloth. This step is a collective set of processes that involves garments design, pattern making, sample making, production pattern making, grading, marker making, fabric spreading, fabric cutting, cutting parts, sorting, bundling, sewing, inspection, spot removing, ironing, finishing, final inspection, packing, and ends with the shipment.
DIFFERENT TYPES OF TEXTILE INDUSTRIES IN INDIA
If you exclude artificial fibers, the textile industry in India is generally categorised into 4 textile types:
1. COTTON TEXTILE INDUSTRY:
India is the largest cotton producer in the world and has the largest cotton cultivation area. The cotton textile is also the second most developed sector (in natural fibers) in the entire textile industry.
It is the most widely distributed industry in the country in terms of geography. States, where it is prevalent, include Maharashtra, Gujarat, Tamil Nadu, Uttar Pradesh, West Bengal, Madhya Pradesh, Karnataka, Andhra Pradesh, Kerala, Haryana, Punjab, and Delhi.
The industry supports the livelihood of 5.8 million cotton farmers, and 50 million people are engaged in the processing and trading of cotton.
2. WOOLEN TEXTILE INDUSTRY:
India is the seventh-largest producer of raw wool and has the third-largest sheep population in the world. However, due to a severe lack of domestic production, the country depends on raw wool imports from Australia and New Zealand. The woolen textile industry typically caters to the requirements of defense and civilians of the country.
The industry is comparatively small when compared to cotton in the country. Top production states include Punjab, Haryana, Rajasthan, Uttar Pradesh, Maharashtra, and Gujarat.
3. SILK TEXTILE INDUSTRY:
The silk is named the 'queen of all fabrics' owing to its distinctive features. The Indian silk industry is the largest producer globally, with over 100 silk textile mills in India. India is also the only country that produces all the commercial silk variants, namely Mulberry, Tropical Tasar, Oak Tasar, Muga, and Eri.
The leading states in silk production include Karnataka, West Bengal, Andhra Pradesh, and Tamil Nadu. These states produce 90% of the total silk in India. The industry has high employment potential, low capital investment, and lucrative margins for the silk growers.
4. JUTE TEXTILE INDUSTRY:
The jute textile industry is second to the cotton industry in terms of production. It is prevalent in the country's eastern regions. Being an export-oriented industry, its survival depends solely upon its export performance.
The leading producers include West Bengal, Bihar, and Assam. West Bengal produces four-fifth of all jute in India. The industry supports the livelihood of 0.37 million workers in organized mills and several lakhs of jute farm families.
HISTORY OF TEXTILE INDUSTRY IN INDIA
For the last 4,000 years, India has been known for its textile industries. Even though the textile industry in India declined steeply during the colonial regime, it regained its charm again in the early nineteenth century.
The first textile mill was established in Calcutta in 1818; however, the real deal happened in Bombay when the first cotton textile mill was established after 36 years.
In 1861, Ahmedabad established its first cotton mill and emerged as a rival. The trading nature of the Gujaratis helped the industry in Ahmedabad to flourish.
An immediate growth in the textile industry was observed during the second half of the nineteenth century. By the end of the 1900s, 178 textile mills were operating in the country. Unfortunately, due to a large famine, several mills were shut down for a long period during the early twentieth century.
TRENDS IN THE FASHION AND TEXTILE INDUSTRY IN INDIA:
During the mid-twentieth century, Indian fashion started to grow sans celebrity designers or models or well-recognised brands. The garment was valued purely based on the fabric and its style instead of who made it or who wore it.
In the 1980s, with the first fashion store set up in Mumbai and with an influx of American designers, the culture of designer fashion was introduced. By the beginning of the twenty-first century, the fashion industry rapidly grew, thanks to new designers, models, and a vast collection of sensible designs.
The Indian ethnic designs and materials are still in high demand in the domestic and global fashion markets. The Indian garment and fabric industry's fundamental advantage over others is the lower cost and vast collection of designs.
The low cost is due to efficient production, easy availability of raw materials, and a skilled workforce. Adding to this, you have plenty of colleges that focus on fashion and designing.
The National Institute of Fashion Technology (NIFT) is a leading institute in fashion education, providing knowledge, academic freedom, critical independence, and creative thinking since its inception in 1986. It has 16 professionally managed campuses and makes sure that its prospective students from various parts of the country reach their highest potential in fashion education.
The sector has a solid growth from foreign direct investments for over a decade. The future of the Indian fashion industry is quite promising thanks to new material blends, new business models, and the growth of tech in this industry.
Nature of work, Skills needed and Earnings of labourers in the Textile Industry:
Textile manufacturing workers prepare natural and synthetic fibers for spinning into yarn and manufacture yarn into textile products that are used in clothing, in household goods, and for many industrial purposes. Among the processes that these workers perform are cleaning, carding, combing, and spinning fibers; weaving, knitting, or bonding yarns and threads into textiles; and dyeing and finishing fabrics. There are approximately 111,300 workers employed in apparel manufacturing and 18,060 textile, apparel, and furnishings workers, according to the Department of Labor.

Earnings of textile industry workers vary depending on the type of plant where they are employed and the workers' job responsibilities, the shift they work, and seniority. Workers at plants located in the North tend to be paid more than those in the South.
In May 2019, textile knitting and weaving machine setters, operators, and tenders earned median wages of $11.75 an hour (or $26,520 annually). Textile winding, twisting, and drawing out machine setters, operators, and tenders earned a median wage of $11.80 an hour ($26,130 annually). Textile bleaching and dyeing machine operators and tenders earned a median wage of $13.33 an hour ($28,670 yearly). Median hourly earnings for textile cutting machine setters, operators, and tenders were $13.72 (or $29,440 annually). Overall, textile, apparel, and furnishing workers earned salaries that ranged from $20,180 or less to $46,500 or more in May 2019. Inspectors, testers, sorters, samplers, and weighers who worked at textile and fabric finishing and fabric coating mills earned a mean wage of $15.04 an hour ($31,280 annually). Textile employees with supervisory responsibilities can make more than $50,000 a year. Most workers with a year or more of service receive paid vacations and insurance benefits. Many are able to participate in pension plans, profit sharing, or year-end bonuses. Some companies offer their employees discounts on the textiles or textile products they sell.
Work Environment:
Work areas in modern textile plants are largely clean, well-lighted, air-conditioned, and humidity controlled. Older facilities may be less comfortable, with more fibers or fumes in the air, requiring some workers to wear protective glasses or masks. Some machines can be very noisy, and workers near them must wear ear protectors. Workers also must stay alert and use caution when working around high-speed machines that can catch clothing or jewelry. Those who work around chemicals must wear protective clothing and sometimes respirators. Increased attention to worker safety and health has forced textile manufacturing companies to comply with tough federal, state, and local regulations.
Workweeks in this industry average 40 hours in length. Depending on business conditions, some plants may operate 24 hours a day, with three shifts a day. Production employees may work rotating shifts, so that they share night and weekend hours. Some companies have a four-shift continuous operating schedule, consisting of a 168-hour workweek made of up of four daily shifts totalling 42 hours a week. This system offers a rotating arrangement of days off. During production cutbacks, companies may go to a three- or four-day workweek, but they generally try to avoid layoffs during slow seasons.
Machine operators are often on their feet during much of their shift. Some jobs involve repetitive tasks that some people find boring.
GOVERNMENT SCHEMES FOR THE TEXTILE INDUSTRY IN INDIA
The government offers a lot many schemes for the textile industry in India to boom and to support this sector. There are several schemes that one can make use of if they are in this sector.
SCHEME FOR CAPACITY BUILDING IN THE TEXTILE SECTOR (SAMARTH):
To address the skilled manpower requirement across the textile sector, the scheme was formulated, under the broad policy guidelines of the "Skill India" initiative and in alignment with the framework adopted for the skilling program by the Ministry of Skill Development and Entrepreneurship. The scheme is approved for implementation till March 2024.
NATIONAL TECHNICAL TEXTILE MISSION:
The creation of the National Technical Textiles Mission for a period of 4 years (2020-21 to 2023-24) was approved with an outlay of Rs.1480 crore for developing usage of technical textiles in various flagship missions, and programs of the country including strategic sectors.
PM-MITRA SCHEME:
To attract investment for the 'Make In India' initiative and to boost employment generation through the setting up of 7 (Seven) PM Mega Integrated Textile Region and Apparel (PM MITRA) Parks in Greenfield/Brownfield sites with world-class infrastructure including plug-and-play facility with an outlay of Rs.4445 crore for a period of seven years up to 2027-28.
SPECIAL PACKAGE FOR THE TEXTILE AND APPAREL SECTOR:
Rs. 6000 crore package was launched in June 2016 to boost employment and export potential in the apparel and made-up segments.
SCHEME FOR INTEGRATED TEXTILE PARKS (SITP):
The scheme provides support for the creation of world-class infrastructure facilities for the setting up of textile units.
IMPORTANCE OF THE COTTON TEXTILE INDUSTRY IN INDIA'S ECONOMY:
India is the biggest producer of cotton in the world and contributes significantly to industrial production. It also gives employment to many people and in the foreign exchange earnings of India.
IMPORTANCE OF THE TEXTILE INDUSTRY IN INDIA:
The textile industry in India gives employment to crores of people which also includes artisans and handloom workers. It also contributes to national defense and supply. It brings major revenue from the export of materials.
CHALLENGES IN THE TEXTILE INDUSTRY IN INDIA:
Some of the issues faced by the textile industry in India are:
Increase in the cost of raw materials
Shortage in supply of raw materials
Infrastructure bottleneck
Environmental problems
CONCLUSION
India is one of the largest producers of textiles and apparels in the world. It is also the main source of foreign exchange earnings in the country.
With an abundance of raw materials, a wide variety of designs, a large pool of skilled workforce, and government subsidiaries, the industry is in a strong position and can catapult India to great heights in the coming days.
. . .