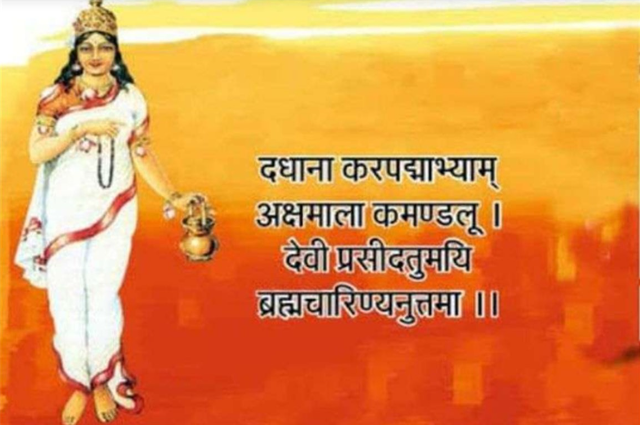 Navratri, also spelled Navaratri or Navarathri, is a 9 day long Hindu festival celebrated in almost every part of India. In most parts it is celebrated in honor of the divine Devi – Durga, a re-incarnation of Adi Shakti. In the southern and eastern states of India, the Durga Puja is synonymous with worshiping the Goddess – Navratri, wherein goddess Durga battles and emerges victorious over Mahishasura – the buffalo demon. In the northern and western states, the festival celebrates the battle and victory of god Rama over the demon king Ravana. In both cases, the festival celebrates the victory of the good over evil.

The 9 days of Navratri are dedicated to the worship of 9 forms of the Goddess – Shailaputri, Brahmacharini, Chandraghanta, Kushmanda, Skandamata, Katyayani, Kaalaratri, Mahagauri, Durga or ParaShakti. Here are the stories of each of these Goddesses.

Ma Shailaputri (Daughter (putri) of Mountain (shaila)) is worshiped on the first day of Navaratra. Shailaputri was the daughter of the God of Mountains, Himalaya. Popularly known as Parvati, her husband is Shiva and she has two sons – Kartikeya and Ganesha. In her previous incarnation, she was Sati – the daughter of a great king, Daksha. According to the legend, Daksha Prajapati was one of the sons of Lord Brahma.
Daksha did not want his daughter, Sati, to marry Shiva as he considered Shiva a dirty ascetic not worthy of marrying a girl from a noble family.

In some regions, Dussehra is collected into Navratri, and the entire 10-day celebration is known by that name. Whether throughout the festival or as the 10th day, Dussehra is a time to celebrate the triumphs of good over evil, such as Durga's victory over Mahishasura. In some parts of India, Dussehra is associated with the victory of the god Rama over the demon-king Ravana. In northern India the Ram Lila ("Play of Rama") is the highlight of the festival. On successive nights different episodes of the epic poem the Ramayana are dramatized by young actors elaborately costumed and masked; the pageant is always climaxed by the burning of huge effigies of the demons. Athletic tournaments and hunting expeditions are often organized. Some celebrate by erecting bonfires and burning effigies of Ravana, which are sometimes stuffed with fireworks. In many regions Dussehra is considered an auspicious time to begin educational or artistic pursuits, especially for children.
. . .