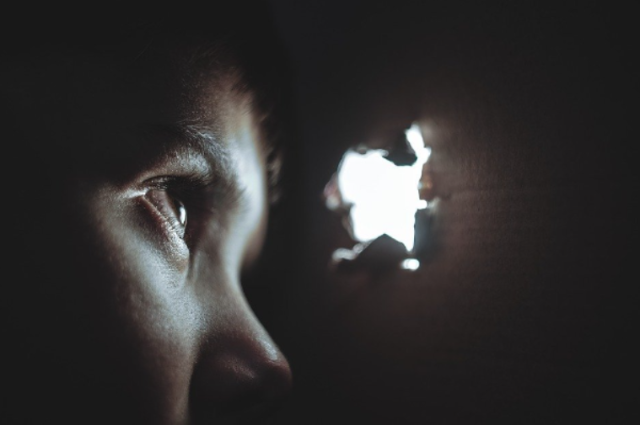 The bell rang. Tim ran to the door screaming, 'Let me open it, mom. I assume dad is back!'

When he opened the door, 'Not dad, your milkman again Tim' said the person standing there. Tim takes the milk packet, keeps it on the board, and walks back slowly to his room.
Seeing him ramble, his mother questions, 'Why does one still expect him to be back? It's been 4 years now.'
'Because Dad loves me!' said little Tim blissfully.
To which his mother didn't respond and asked him to urge for school. They both had their breakfast together and left for the stop. Gayatri was teaching within the same school where Tim was studying.
Both Tim and Gayatri were living an independent life while being hooked in to one another . They weren't friends with many people. Relatives hardly visited them and that they weren't in any contact with the neighbors too.
Gayatri was a reserved woman filled with principles and determination. She was a confident and bold soul. Nobody knew much about her husband and neither did anyone dared to ask her about it. Tim is whom she was vocal about with the colleagues. She was always trying to find things that would help Tim to urge better in his life.
On the other hand, Tim was a social, talkative, and happy-go-lucky quite boy. He had friends not only in his class but in other classes too. He was popular among the students. He had his achievements in sports, singing, and studying. Whenever he used to achieve something, he gave all the credits to his dad for teaching him all that.
Albeit he told everyone that his dad goes to return back soon but where did he go was never ever disclosed by him.
After School, that they had their fixed schedule of getting lunch together and taking some rest. Gayatri would then do some household chores while Tim went to study. At the dining table, Tim was the one doing all the talking then they went to sleep.
While on the bed, Tim could feel that his mother was feeling a touch lost in her thoughts, he said, 'Don't worry, Ma. He is going to be back soon.'
Gayatri kissed him on his forehead and wished him, 'Good night.'
She has lost the hope of seeing her husband back yet she never stopped her child from believing himself. It had been difficult for her to believe him but somewhere she didn't want to interrupt his heart.
She thought that, maybe with time he will know it too.
Every morning Tim rise up with the doorbell expecting to witness his father and instead find a milkman or newspaper on the door. Gayatri felt bad for Tim but it had been difficult for her to prevent him or convince him to lose his hope.
All his talks had his father as the protagonist. It appeared as if he was talking to his dad every day. But actually, it had been almost 4 years since once they have seen him.
As days were passing, Gayatri was a touch worried about Tim's behavior. She wanted him to believe that his father is gone and won't be returning. But Tim was reluctant to simply accept this because the reality.
So, she decided to speak to a counselor about an equivalent than taking Tim directly. Subsequent day, she took a leave from school saying that she wasn't well, and dropped Tim at school.
Then she came back home and sat at one place thinking to herself, 'Is it necessary? Should i want to consult a counselor?' and after brooding about this, she decided to meet the counselor.
Finally, she met Dr. Sushma. As they met, Dr. Sushma asked Gayatri to relax and trust her as Gayatri looked terrified and insecure. Then Gayatri began to open up and talked about her son.
To which Dr. Sushma asked, 'What happened to his Dad? Where is he?'
This is the question Gayatri was afraid to answer and that's why she wasn't sure of meeting the counselor. She didn't dare to spell things out which she has hidden from everyone for the past 4 years. But this point, it had been for her son.
She gathered herself and told Dr. Sushma, 'Ankit was a loving husband and an enthusiast father. He knew the way to make people feel special and happy. But one night, he got a paralysis attack and that we had to rush him to the hospital. We never knew what happened but subsequent moment doctor told us that he has gone into a coma. There have been no last conversations as we had no idea about him being unhealthy. It had been all so sudden. I was broke. It had been unimaginable and unacceptable! Tim was together with her grandmother and that we told him that his father has got to go abroad for a few paperwork. I didn't want Tim to ascertain his father in such a phase. He loved his Dad and seeing him like that might have broken him too. I was just being cautious and protective of him. Since then Ankit is under observation and doctors don't have a solution to any of my questions.'
Gayatri ended up in tears. She hasn't shared her emotions for therefore a few years and now she was finally mourning about it. Dr. Sushma didn't stop her. She wanted her to unburden herself and feel lighter.
After jiffy , Gayatri asked her, 'What should I do with my son?'
'You're his mother but he's his father too.'
Gayatri didn't say anything more but many thanks to Dr. Sushma and came back home. She felt relaxed and cheerful for the primary time after numerous years.
When Tim was back from school, she was more involved him than with the household chores. Tim was also surprised to ascertain her mom like that but was happy too. He didn't know the rationale but was enjoying the eye.
At night when Tim and his mother were walking on the balcony, Gayatri made Tim sit on her lap and asked, 'Will you forgive me if i might have lied to you within the past?' 'Mom, i really like you. I do know it might be for my good only.'
Gayatri hugs him tightly and says, 'I love you quite anything.'
The next morning, Gayatri got a call. After the decision, she was during a state of panic. She asked Tim to get ready as they need to go away for the hospital.
Tim was confused but seeing his mother during a rush, he didn't question anything. They got ready and took a cab to the hospital.
And finally, they reached the hospital, Gayatri asked the doctor, 'Is everything okay?' The doctor said, 'You got to see him.' He instructed the sister to require them to Ward Number-7.
As they walked to the ward, Gayatri's heart was sinking. She was thinking what would I tell Tim now? How will he react to this? All the negative thoughts have already crossed her mind.
As they entered the space, to Gayatri's surprise, Ankit opens his eyes and says, 'How are you, champ?'
Tim shouted in excitement, 'Mom see dad is back!!'
Sister standing nearby told Gayatri that Ankit responded this morning only and asked us to call you both here. Congratulations Ma'am, he has recovered now! And left the space.
Gayatri was in need of words and tears were rolling down her cheek. She hugged Tim and said, 'Yes Tim! This is often all due to you!'
. . .