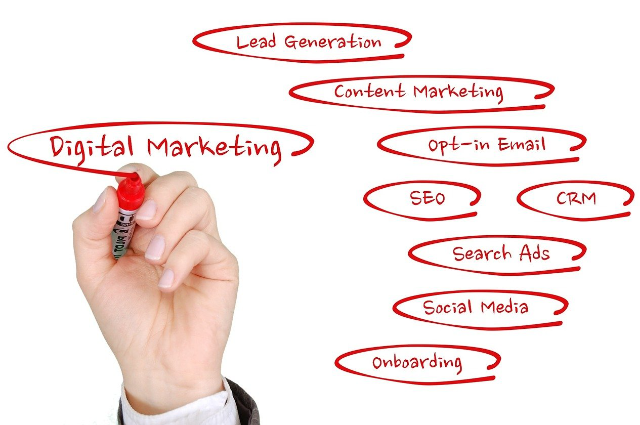 "Great execution is the ultimate differentiator"
- Margaret Mollo
In today's internet age when everything is sold and brought online effective digital marketing team has become the need of the hour and as digital penetration in India increase, we can see that about 622 million users are actively using the internet, and is expected to grow to 900 million by 2025 with annual growth of 4% thus it is reported that in every 60 Seconds 4.5 Million YouTube videos are watched, 3.8 million searches are done on google,87 thousand people tweet and the list goes on thus with this skyrocketing growth comes with a lot of data which can be accessed to grow a particular business thus this is where the different aspects of digital marketing are used. So what digital marketing is? What are the different aspects of digital marketing? How does it fit in the customer lifecycle?
Digital marketing is nothing but the branch of marketing where the promotion of products or services is done with the help of digital technology and tools so that the companies could rank their respective sites on the first page of the search engine to rank in the top searches, several tools help a company to achieve that target.
Digital Marketing:
SEO
SMM
Email Marketing
Online PR
Content Marketing
SEM
So the tools of digital marketing help in providing different metrics which help in determining how well the campaign of a business is running which is done by using Google analytics, It also helps in targeting users based on their actions and preferences. Now let's have a basic introduction to the above-listed tools
1. SEO
Search Engine Optimization (SEO) is the process of increasing the flow of organic traffic to one's website, by having it rank higher in the search engine results pages. Popular tools for SEO are Google Keyword, ahrefs, Moz, SEMrush.
2. SMM
Social Media Marketing involves creating content for a different social media platform to increase website traffic, user engagement, brand awareness and to achieve other marketing goals. Thus, to increase traffic through SMM one should provide interactive content, show infographics, videos and content with images. Popular tools for SMM are Hootsuite, Buffer, Sprinkler and Post Planner.
3. Email Marketing
Also, known as the father of Digital Marketing, Email marketing is used for personalized emailing to convert a prospective user into a customer. Email marketing is used at later stages of the customer journey because the customer at this stage is familiar with the product but is at the consideration stage thus the customer needs a push so he is influenced to buy the product.
Some of the popular tools used in email marketing are HubSpot, Mail Chimpo, Send in blues, Marketo.
4. Online PR
Online PR involves obtaining online coverage with digital publications blogs and other content-based websites. It works very similarly to traditional PR but the differentiating factor being online.
5. Content Marketing
Content Marketing is a form of marketing that involves simulating interest in a brand's product or services by creating and sharing material online. Some of the ways how content marketing is used are blogs, videos, Infographics etc.
6. SEM
Search Engine Marketing or SEM is an advertising model is used to direct traffic towards one's website by paying a fee each time someone clicks on the website link. These ads include text ads, image ads etc. and to facilitate the traffic using tools such as Google Ads, Bing Ads, AdDroll, and LinkedIn.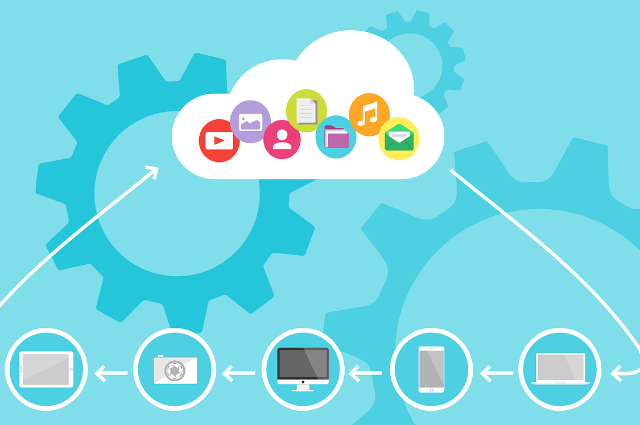 Unlocking the Customer Lifecycle through Digital Marketing
Now that we have a basic understanding of digital marketing now let's talk about how does digital marketing influences the different stages of the customer lifecycle.
Awareness Stage
Consideration Stage
Purchase Stage
Post Purchase Stage
1. Awareness Stage: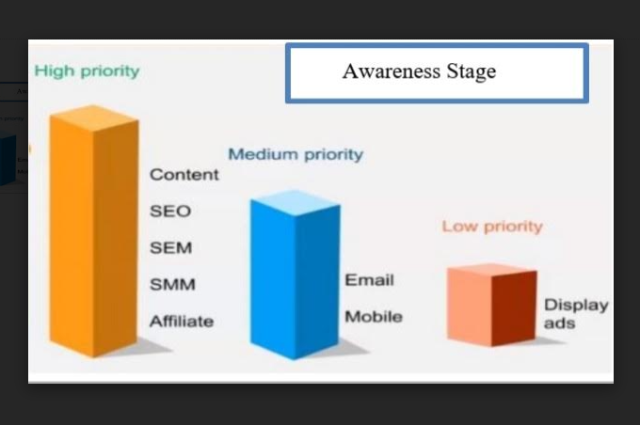 The awareness stage is where the product is introduced to the potential customer. Thus, we need to be very careful of what kind of digital marketing aspect we would use, thus the king of the awareness stage is content marketing because in this stage high-quality content is expected as people are searching for similar content and in addition to content marketing SEO, SEM and SMM would help in optimizing, visibility and promotion of the website. One of the most effective ways to increase awareness would be affiliate marketing inorganically.

2. Consideration Stage: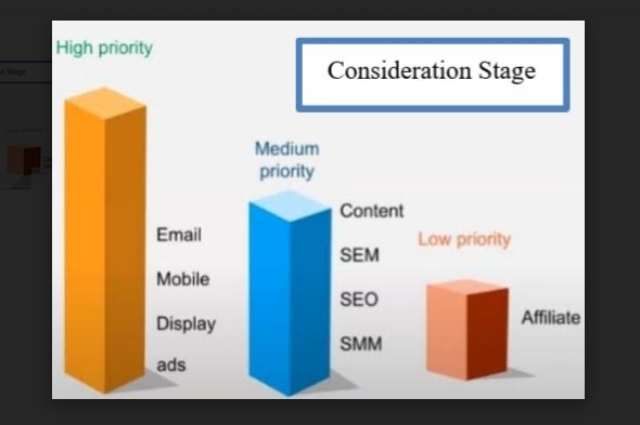 The Consideration Stage is the stage where the customer is now aware of the product and now that they are considering us, therefore, we have to help them understand how our product would add value to them and since the main objective is to increase customer engagement in the Consideration Stage the best tool is email marketing because the consumer is now aware, so to facilitate them and stay in their subconscious emails are used and in addition to emails mobile marketing and display ads could also fuel up the engagement among the potential customers.

3. Purchase Stage: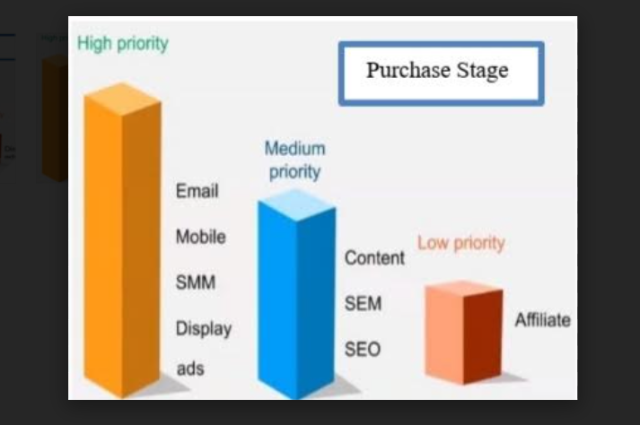 Purchase Stage is a stage where we find how our brand fairs with our competitor and how our price when compared to our competitors thus in this stage email marketing, is useful because it is always good to revisit your customers thus planning a campaign around cart abandonment emails and product recommendation emails should always be a priority. Other tools such as mobile marketing, SMM, and display ads also help to influence the customers in purchasing the product due to the constant reminders. Thus, this stage gives potential prospects and offers and pursues them to buy. Example- Zomato gives a 12-hour offer to make the purchase and get a certain percentage off.
4. Post Purchase Stage: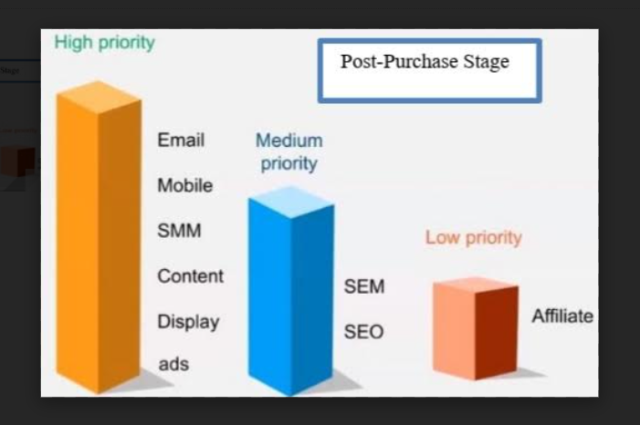 Post Purchase Stage is a stage where one nurtures one's identifies relationship with the customer to ensure they remain loyal and also promotes the brand through word of mouth and also how could he improve the customer buying experience and what additional product could he sell that the customer buys. Thus, the main player here is again email marketing as customers either good or bad could send their reviews and those could be used as testimony which could be used in the purchasing stage and with email marketing SMM, blogs etc. could be used. Therefore, the Post-Purchase stage is maximizing different channels to influence customers to buy more and also make them loyal customers at the same time. For example, it is estimated that Amazon's 25% sales come from recommendations/People also bought these together.

The benefits that digital marketing provides are immense. With a growing internet user base, digital marketing provides opportunities but a major issue is an adaptability has pushed the cause of digitization but it still a long haul if someone has to sustain/retain a customer through digital marketing tools one has to make sure that these goals set are specific i.e. one should know what is one trying to achieve, measurable through the use of analytics tools one could measure the traffic, attainable that is one should have achievable goals, the goal should be relevant and should align with what you want to achieve and lastly it should be time-bound because a word done late is no work done.

. . .