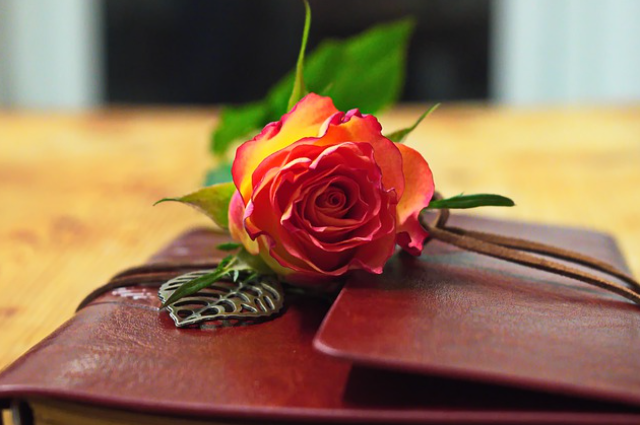 The deepest of human emotions are often unapproached by us. Expressing these emotions has always been toughest of tasks but when we write it down on paper and turn it to Poetry, a direct path to the heart is unveiled. Poetry has been one of the best traditions we can ever imagine of and amongst all forms of poetry, Urdu Poetry has set its branches high with the roots to the deepest in the subcontinent. A mass audience has now shifted back to Urdu poetry and social media has helped it to spread like never before. A mixture of modern e-romance, agony of unrequited love, helplessness and sarcasm can generally be seen in today's shayari and here we are with 10 of the most eminent Shayars of the modern time with their splendid couplets.

10. AHMAD MUSHTAQ
The following piece by Ahmad presents the dilemma that modern love has put in the form of lust and how it has impacted the the lovers of the age.

अहल-ए-हवस तो ख़ैर हवस में हुए ज़लील
वो भी हुए ख़राब, मोहब्बत जिन्हों ने की
ahl-e-havas to ḳhair havas meñ hue zalīl
vo bhī hue ḳharāb, mohabbat jinhoñ ne kī
Vocabulary:

ahl = people
havas= lust
9. AZHAR IQBAL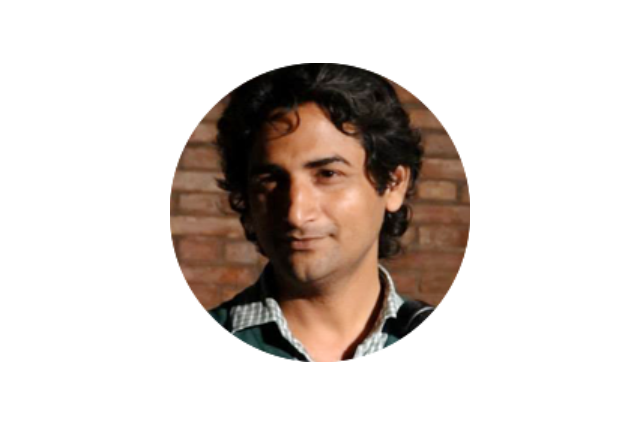 Another shade of modern Shayri shows its deepest essence by the poetry of Azhar.

गाली को प्रणाम समझना पड़ता है
मधुशाला को धाम समझना पड़ता है
आधुनिक कहलाने की अंधी जिद में
रावण को भी राम समझना पड़ता है
Gaali ko pranam samjhna padta hai
Madhushala ko dhaam samjhna padta hai
Adhunik kehlane ki andhi zidd mei
Ravan ko bhi ram samjhna padta hai
Vocabulary:

Madhushala = Wine Shop ;
Dhaam = Residence
8. CHARAGH SHARMA
This poet has great control over Urdu language which can be seen in his accent. Enjoy the following Ghazal by the writer enriched by multiple touches of love and wit.
ऐसे लब हैं कि जो इरशाद किया जाएगा
ऐ बी सी डी की तरह याद किया जाएगा
हाए ये फूल से चेहरे कि ख़ुदा जानता था
एक दिन कैमरा ईजाद किया जाएगा
याद भूले हुए लोगों को किया जाता है
भूल जाओ कि तुम्हें याद किया जाएगा
Aise lab hain ki jo irshad kiya jayega
A B C D ki tarah yaad kiya jayega
Haaye ye phool se chehre ki khuda janta tha
Ek din camera eijaad kiya jayega
Yaad bhoole hue logon ko kiya jata hai
Bhool jao ki tumhe yaad kiya jayega
Vocabulary:

Eijaad= Invent
7. AFKAR ALVI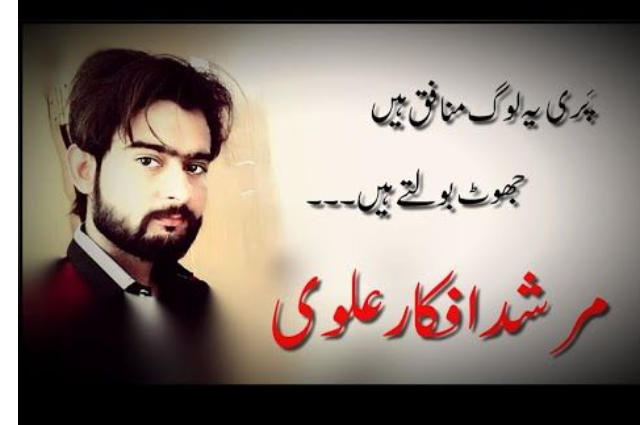 A poet who can make you feel the intensity of a heart and its emotions just by his voice. Here is a couplet by Afkar which truly defines the "Angst of Lost Love".

मैं तुम्हें बद्दुआएं देता हूँ
ताकि तुम मेरा दर्द जान सको
तुम जिसे चाहते हो मर जाए
और तुम उसके बाद ज़िंदा रहो
Mai tumhe badduayein deta hu
Taki tum mera dard jaan sako
Tum jise chahte ho marr jae
Aur tum uske baad zinda raho
6. ISMAIL RAAZ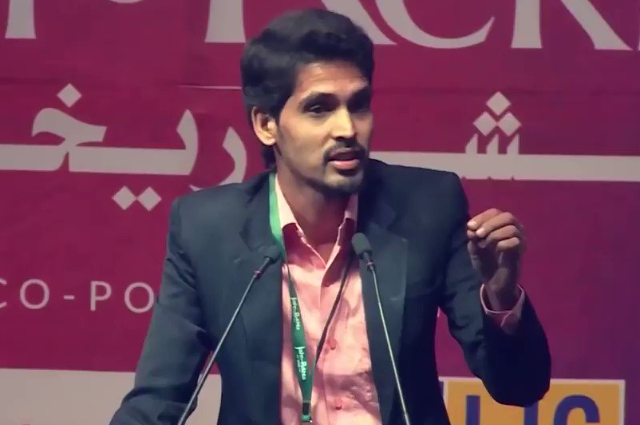 Ismail has been one of the poets who have recently come up and has acquired audience appreciations to a next level. Following piece will give you an idea which the above statement could not.

तेरे सताए हुए लोग जर्फ वाले हैं
हजार शिकवे है लेकिन​ लबों पे ताले हैं
दरअसल मैंने मशक्कत नहीं मोहब्बत की
हथेलियों पर नहीं मेरे दिल पे छाले है
Tere satae hue log zarf wale hai
Hazaar shikwe hai lekin labhon pe taale hai
Darasal maine mashakkat nhi mohabbat ki
Hateliyon pe nahi mere dil pe chhale hai
Vocabulary:

Zarf = Self Control
Mashakkat = Effort
5. VARUN ANAND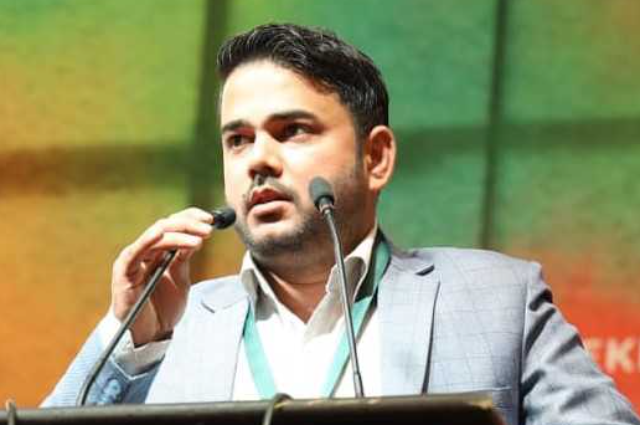 Being one of its kind poet, Anand has banged it at stages numerous times by leaving the audience with no choices other than a "Waah". A subtle couplet below, concerning Lust and Love will surely make you feel the depth of his poetry.
अपनी आंखों में भर कर ले जाने हैं
मुझको उसके आंसू काम में लाने है
देखो हम कोई वेहसी नहीं, दीवाने हैं
तुमसे बटन खुलवाने नहीं लगवाने है
Apni aankhon mei bhar ke le jaane hai
Mujhko uske aansu kaam mei laane hai
Dekho hum koi wehshi nahi deewane hai
Tumse button khulwane nahi lagwane hai
Vocabulary:

Wehshi = Wild
4. ABBAS QAMAR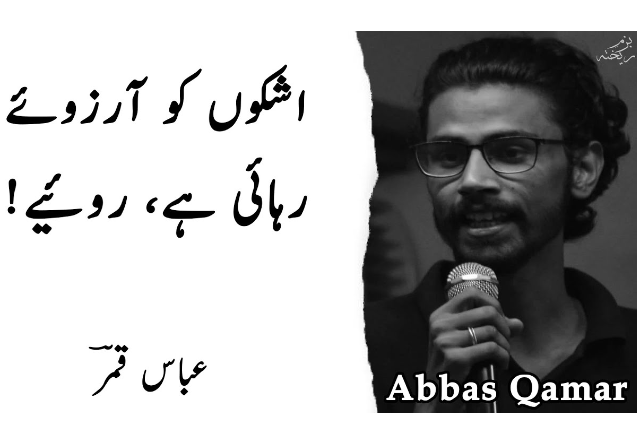 Quite a solemn writer, Abbas has won hearts by his style and mature poetry. Have a look at his work and cherish the blossom of emotions that follows.

अश्कों को आरज़ू-ए-रिहाई है रोइए
आँखों की अब इसी में भलाई है रोइए
हम हैं असीर-ए-ज़ब्त इजाज़त नहीं हमें
रो पा रहे हैं आप बधाई है रोइए
ashkoñ ko ārzū-e-rihā.ī hai roiye
āñkhoñ kī ab isī meñ bhalā.ī hai roiye
ham haiñ asīr-e-zabt ijāzat nahīñ hameñ
ro pā rahe haiñ aap badhā.ī hai roiye
Vocabulary:

ārzū-e-rihā.ī = wish for release
asīr-e-zabt = bound by tolerance
3. ALI ZARYOUN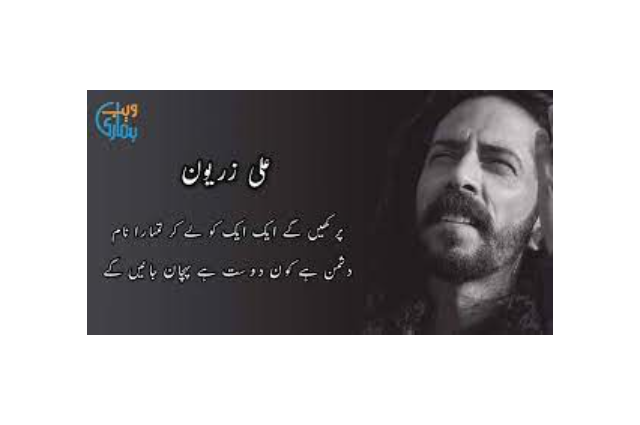 When it comes to modern shayari and usage of words words like "texts", "brand", "message" in Urdu Shayri, Ali has set his auora to define modern love and shayari in his own ways. Have a look at a delicate work of this artist.
कोई दिक्कत नहीं है अगर तुम्हें उलझा सा लगता हूं
मैं पहली मर्तबा मिलने में सबको ऐसा लगता हूं
जरूरी तो नहीं हम साथ हैं तो कोई चक्कर हो
वो मेरे दोस्त है और मैं उसे बस अच्छा लगता हूं
Koi dikkat nahi hai agar tumhe uljha sa lagta hu
Mai pehli martaba milne mei sabko aisa lagta hu
Jaroori toh nahi hum saath hai toh koi chakkar ho
Wo mere dost hai aur mai use bas achha lagta hu
2. ZUBAIR ALI TABISH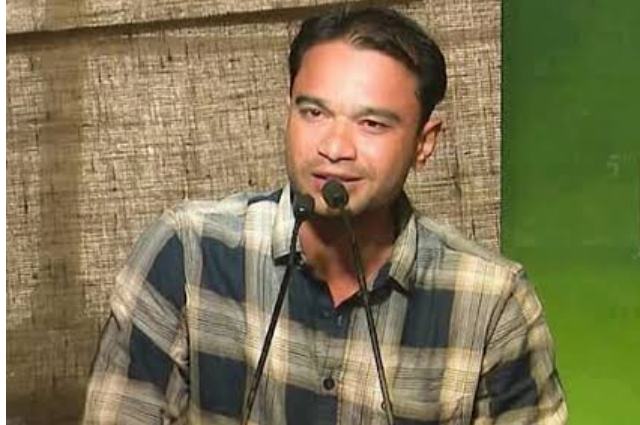 Simplicity to a great extent has helped the next Shayar on the list. Zubair has written couplets that make you think like even you can think of such simple thing but could not weave that into words. Enjoy this extraordinary couplet which may make you choose to fall for his shayari.

खाली बैठे हो तो एक काम मेरा कर दो ना
मुझको अच्छा सा कोई जख्म अदा कर दो ना
ध्यान से पंछियो को देते हो दाना पानी
इतने अच्छे हो तो पिंजरे से रिहा कर दो ना
Khali baite ho toh ek mera kaam mera kar do na
Mujh ko accha sa koi zakhm aata kar do na
Dhyan se panchiyon ko dete ho daana paani
Itne aache ho toh pinjre se rihaa kar do na
Vocabulary:

Aata = Perform
1. TEHSEEB HAFI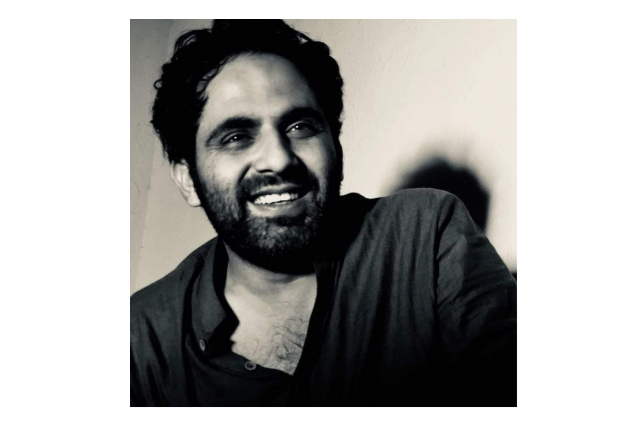 May not be wrong to call him the best of his generation, Tehseeb has been immensely popular in both India and Pakistan. With his diverse writing style he never fails to reach the bottomest of the audience's heart. Feel the beauty of his words with the following couplet.

तुम्हें हुस्न पर दस्तरस है मोहब्बत - वोहब्बत बड़ा जानते हो
तो फिर ये बताओ कि तुम उसकी आंखों के बारे में क्या जानते हो
ये ज्योग्राफिया, फ़लसफ़ा, साइकोलाॅजी, साइंस, रियाज़ी वगैरह
ये सब जानना भी अहम है मगर उसके घर का पता जानते हो ?
Tumhe husn par dastaras hai, mohobbat-vohobbat badā jante ho,
toh phir ye batao, ki tum uski aankhon ke bare mien kya jante ho?
Ye geographia, falsafā, psychology, science, riyazi wagehra,
ye sab jaanna bhi ehem hai!
magar uske ghar ka patā jante ho?
Vocabulary:

dastaras = range of authority or control
falsafā = Philosophy
riyazi = Maths
And if you have scrolled down to this point then I believe there's a little space still left.

Lag jae jo koi shayari Dil pe.. toh mujhe bata dena
Mai bhi ek shayar hu..Nahi lage toh mujhe bata dena
That's how Urdu poetry is. It accesses a different dimension that is mostly left alone within us. It opens up the door to let emotions flow from the point where they were kept locked from a time.