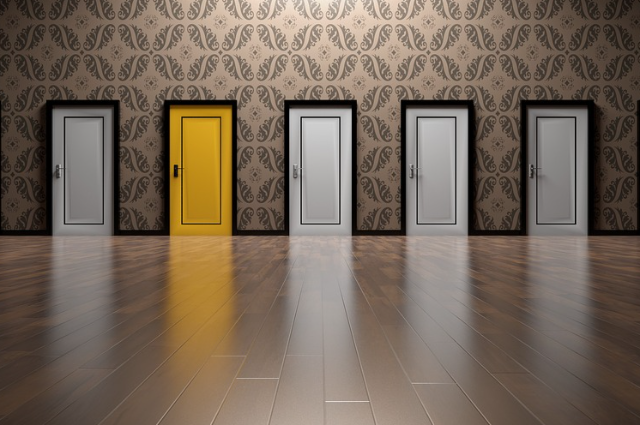 A question that perhaps haunts the minds of all young undergraduates is how to choose the right career. This one decision partly depends on one's own calling, yet largely on the herd mentality of the public. I was no different, as in 2014, I too struggled with the dilemma of which route to follow for professional excellence. Robert Frost's poem "Two Roads" never made more sense, and I was perplexed at the apparent complexity of career decisions. Yet, there are a few steps I took, thanks to my patient analysis and parental guidance, which has helped me shape a successful career that aligns with my aspirations and competencies.
Step 1: Self-assessment is the key
Assessing oneself is the first stepping stone to identifying the career of choice. Self-assessment involves identifying our fitment to the domain or industry of our qualification and understanding which role we align most with. This helps to understand what responsibilities we must prepare for and involves three levels of Role-Domain Analysis.
Level 1: Domain certainty
Being sure about which domain to pursue helps to identify the exact skillset to acquire and companies to apply to. I had taken an informed decision to grow stronger in the IT sector, which helped me to shortlist the companies I would love to work for and develop the exact competencies that they look for. Therefore, I undertook programming courses online and aimed for certifications that would get me good projects and visibility in the company. Similarly, you too can sign up for courses on platforms like Great Learning, Upgrad, or Coursera, where you get to learn technical hands-on skills that help you to be job ready from day one. Every company likes people who can start performing at the earliest with the least amount of guidance. Make sure to connect with college alumni and some new people working in the domain of your choice and try understanding what exactly does the domain demand from good professionals.
Level 2: Domain uncertainty, role clarity
Some of my friends were unsure about their target sector but were decided on consultant's role. This kind of clarity helped them to prepare for case-based interviews that has always been a norm for consulting companies' recruitment process. They specifically completed certifications related to Design Thinking and Scrum, while also sprucing up their aptitude in business problem analysis. Their consistent efforts bore fruit as they got placed in Deloitte, PwC and McKinsey. Similarly, you can sign up for role specific courses and certifications online, like Product Manager certification, Scrum master certification and Six Sigma certification. This will provide you an edge over other candidates in the much competitive job market.
Level 3: Total uncertainty
Being unclear about everything is also okay. Don't panic if you are clueless. Complete uncertainty makes you flexible and open to every opportunity that comes your way, and you can focus on interviewing for firms that have a well-recognized talent onboarding program and provide good on-the-job training programmes. This will help you to figure out your domain and sector of interest based on experiential learning. Check for company reviews on Glassdoor and see which one's work style and employee benefits align with your objectives. Don't forget to check the growth rate of the various industries you want to go for, and pick the one which promises high growth rate in the next 10 years. Also, check which company is present in the location – domestic and international – where you want to settle.
The following matrix will help you to chart your career journey.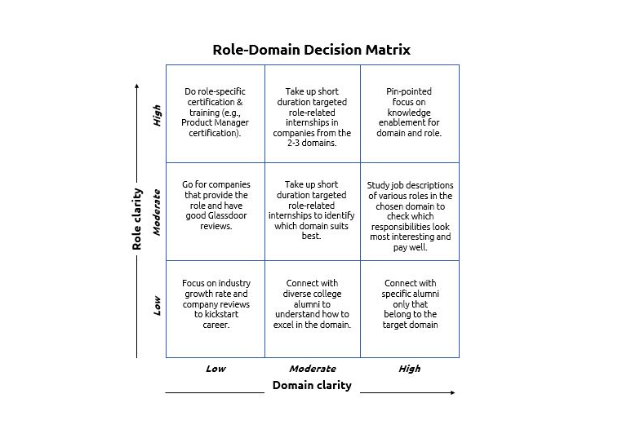 Step 2: Talk to alumni
While going for my first job, I made sure that I connected with my college seniors on call and LinkedIn to understand how they were finding their jobs, their roles and the industry and location they were in. Mixed response was an inevitability, but still I tried to find those IT companies where most of my seniors were happy with the work culture and employee training program. The alumni often don't mince words and are very honest with their reviews and suggestions. Moreover, it also helps to understand how a person with similar education and exposure as yours has excelled in his/her career. This again benefitted me while aspiring for business management studies, when I connected with students of IIMs that I had to interview for. It helped me to understand which college I would fit in and where my career goals will align with academic structure.
Step 3: Reevaluate and Retrain
Continuous improvement and learning are perhaps the 'talisman' of a successful career. One needs to have a continuous reality check on whether his/her career path leads to his/her long-term goals or not. I always keep checking with my colleagues and online career guidance platforms on what are the next skills that the IT sector is looking for – what are the next trends and what are new job roles that are opening up in the market. Many a times I have found myself lacking the crucial skills that are hot in the IT industry and my next step has been to reskill myself to stay relevant to the market.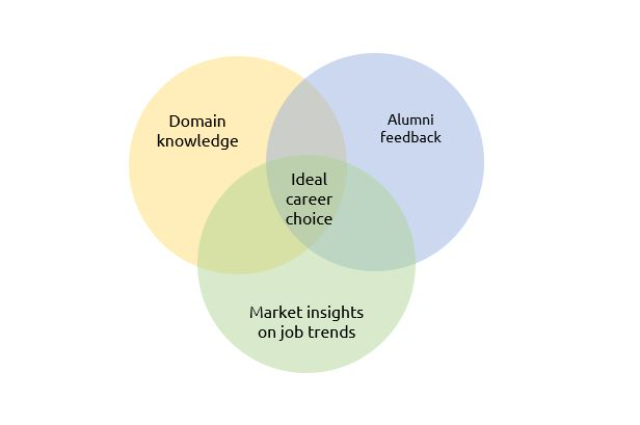 Final Steps
It takes a long to decide how to choose the right career. My personal experience of starting from an entry level job in IT sector to Manager's position within 7 years shows that it always best to heed to what college alumni, employees of the target companies and the market growth reports say. Always keep an open mind and never grow complacent with one's capabilities. One needs to keep retraining to stay ahead of the curve and sustain one's relevance in the competitive job market. A right step in the initial phase helps to plan for a fulfilling journey in the long term and ensures a meaningful experience for the most active years of our lives. Best wishes for your career choices!
. . .