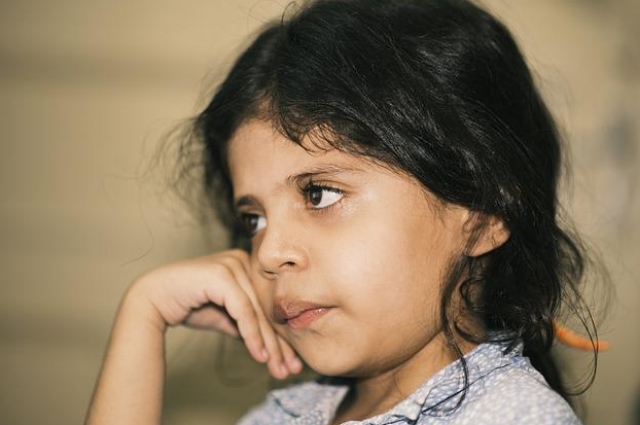 A cute girl named Pihu was seated in her room working on her dreams. She put on eyewear and a loose bun, from it some sections of her hair coming on her face which is irritating her as she blowing them off again and again with a cute angry look.

Suddenly she realizes it's very late and she should sleep for the next day's target for her dream but oops she felt hungry now as it's normal for her to eat anytime.. now also it is 3 am and she's okay with it as she can't control her hunger.. she ran towards the kitchen and bring her food to enjoy with any comedy show as she is a big foody and also these days it is the only thing which she enjoys.
After some while, she prepares to go to bed...packs up her books, opens up her bun, keeps her eyewear off, and puts the light off.
And gradually she remembers the older Pihu who was at times as cute n innocent as a child and other times a fighter when a so condition arises, for her family, friends and her honor too.
At times she is naughty and at other time enough mature girl.
She was as cute as a teddy bear.. who takes life as an interesting story n if she is playing a role in it.. for her everything will be like movies, stories, and her imagination.
She lives a life of fantasy, and imagination.. for her everything is beautiful and everyone is good n reliable.
In her fantasy world, she is also waiting for her hero to come.. suddenly a hand comes on her shoulder and pushes her.. hey Pihu... college has come Let's get down from the auto. Pihu comes to her senses and answers her friend--yes let's go, It was Pihu's first day in college, she was excited but also a bit nervous as everything was about to be new for her except for one of her old friend When she enters the gate and goes to her department she noticed that some 4-5 boys are looking continuously at them but they ignores and And start going forward, a boy stops them by giving voice to them.....And asks are you both fresher?
Both nod their heads in yes.. The boy passes the smile along with the rest of his friends and then says that Then both of you will have to obey our words and only after doing one thing, you will get entry in class. Pihu's friend asks what work, everyone says that both of you will have to kiss any one of us on the cheek. Both get scared and start leaving but they block the way and the boy ahead grabs Pihu's hand.. She gets angry and gives a slap. Then all the boys in anger start coming forward, suddenly the teacher is seen coming, then the boys leave after threatening Pihu. Both went to classes and the lectures continue and everyone introduces themselves. Slowly the days get passed and one day there were many new admissions but her focus was on studies only.... Then a boy comes to her and says your handwriting is very good: can I take your notes. She gives him the notes..... Because Pihu was a very cute smart and intelligent girl, many boys started liking her in the class but she did not talk much to anyone. Because she used to live in her fantasy world where there will be many twists and turns in her life and on that path she will find her hero. The one who will always be with her and do not let her face any problem alone and keep her just like a baby. One day Pihu gets a request from a boy on social media, she doesn't know why she accepts, then both of them start talking but Pihu does not want to trust that boy. But slowly that boy treats Pihu the same way as she sees in her fantasy world, she tries hard not to talk to him much but cannot stop herself from talking to that person. One day both of them decide to meet and fix the place. Pihu is very happy because both of them were about to meet in college, that boy said that he will come there. Next day she waits with her friend Come early in the morning that boy calls her and asks to look back
Pihu gets shocked looking back.. because all the same senior boys are standing there who were misbehaving with her on the first day. She gets even more upset now when the boy who used to talk to her comes forward and laughs. They all laugh together and make fun of Pihu. She was standing silent, she had no idea what to do, she was not weak that she could not answer their words, but she was all broken at that moment as she had started liking that person somewhere, and doing so by him was giving her a lot of trouble, as if she was broken. Tears start coming down from her eyes, that boy notices that she is crying, the boy tries to silence everyone but she leaves from there. After coming home, she used to think that how small the trust has been made nowadays, but slowly she normalizes herself and forgets everything and starts going to college again.. The date of their fresher party comes.. everyone gets busy in it. Sometimes the boy tries to talk to Pihu but she ignores it.. Then the day of the fresher party comes Pihu is dressed in a red colored gown. She looks like an angel, everyone is praising her, the party is going on, she has a dance, she performs with her classmate. That boy was also watching and he was getting angry. At the end of the party, when everyone is going to change, that boy comes to talk to her, but Pihu leaves, that boy keeps trying for a long time. But Piya ignores, One day Pihu gets late for some work and she is not getting auto, she is very upset and starts going on foot till some time then 2-3 bikes Starts walking her side, in which there are 5-6 boys, they make comments while singing songs and then stop the way, Pihu gets down her sandal and starts beating one, then those people Forcibly making Pihu sit on the bike, she tries to free herself from them. Just then, someone comes from behind, two people get down from the car and starts fighting with the boys. Pihu notices that it is the same boy, then those bikers run away from there. Pihu also starts leaving from there but the boy tells her that he will drop her home in the car but she refuses. That boy tries to convince Pihu a lot but she doesn't agree. Then leaving that car with a friend, that boy only comes after her all the way till she reaches home. Then everyone has exams and the days go on like this. That boy repeatedly tries to say sorry to Pihu... and one day Pihu talks to him and forgives him but just like a friend As time goes by, that boy becomes her best friend so that she can share even the smallest things with whom she can also become a child. But now she wanted to keep Paras ( the boy's name ) as her best friend and if Paras had said something, she would have said that now she just keeps trust on friendship. Time passed slowly and there was a farewell party to end everyone's colleges.
Pihu was looking for Paras but she can't see him anywhere, so she started leaving sadly. Then a hand pulled Pihu towards it, a big smile came on Pihu's face because it was Paras, Pihu started quarreling with him.. Why didn't he come to his own best friend's farewell party, Paras said that he could not see her with anyone else, even while dancing, she became silent. Then he kissed her on the forehead and proposed her the very next moment. Pihu did not understand what to react and she ran away from there.
Days passed like this, there was no talk of Pihu and Paras.. One day Paras's call came and both of them talked.. Both started talking like friends again. One day Pihu's mother's health became very bad, she had to be hospitalized, days passed Pihu's all friends started turning away from her. The financial conditions of Pihu's house also got worse and her mother's health also got worse. Doctors wanted blood for her mother. Everyone tried very hard to arrange. One day she asked Paras to give blood to her mother but he refused and made some excuses as all her relatives had made up. Now Pihu had understood everyone's reality but too late because she lost many loved ones from her family. She had come out of her fantasy world and the world of reality was giving her trouble every way where she could no longer trust anyone, Now Pihu knew that in the real world everyone is a liar, they are cheaters.. Now her life was only for her brother, whom she wanted to give a lot of happiness. Thinking about everything, tears were not taking the name of stopping from her eyes, then Pihu's eyes go to the clock and she sees that it is 6 o'clock in the morning. Now she has to wake up because the time to sleep has gone in all this.
She gets up and makes a bun of her hair, washes her face: and makes herself a cup of tea, opens her books and puts on her glasses: And towards her dream, she gets busy in fulfilling her next day's target. Because now she has changed, she has forgotten to laugh with her heart, she has come far ahead of the fantasy world.. Now she has seen many truths of life. Now she is not waiting for any hero: she is now the heroine of her story and the hero too.. Now she just keeps hope from herself and trusts herself, that crazy girl Now she is going on and on behind her dreams in the race of life.. don't know how long and till where she is just going on and on Just on n on......!!!!!!!
DEAR READERS,
Life is a never ending journey.. depends on how u will take it..!!
. . .