Mustafa Kamal Atatürk once said "A good teacher is like a candle - it consumes itself to light the way for others." More than a profession, teaching is a supreme art to be developed and practiced awakening joy in creative expression of knowledge. This same knowledge was applied by a primary school teacher of Zilla Parishad named Ranjitsinh Disale from tiny Paritewadi village in Solapur district who initiated his career at a school sandwiched between cattle shed and storeroom but the metamorphic time went on to spark the QR coded textbook revolution in India. One small invention which made an outstanding contribution in the education system of world.
A thinking process of a man from a village is up to the limit and so was of him. He decided to be an IT engineer and had enrolled in an engineering college but when things didn't fit for him and his father convinced him to pursue his career as a teacher. While Disale was initially reluctant about the decision, his time at the college of teacher training made him realize that teachers are those who possess the capacity to change a delinquent into a solid citizen.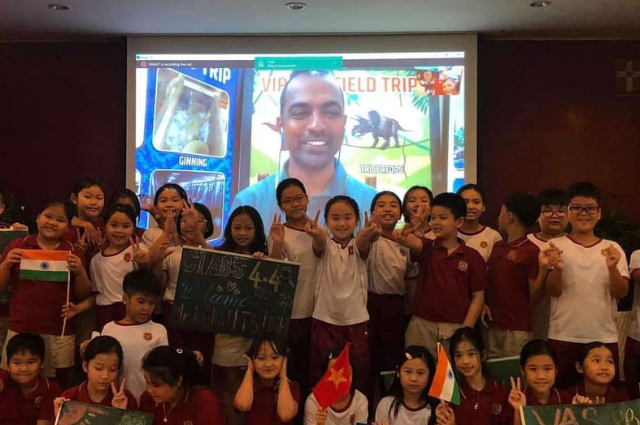 We all know Indian Education system is broken in its way but as Gandhi said "Be the change you want to see in the world.", so did he. Only few from the millions want to do something to change the system and same was his dream. After getting a job in Zilla Parishad in 2009, he was exposed to India's broken Education system with a school which was already decrepit. Only 56% of Indian Government schools have electricity, with student to teacher ratio so adverse that in a ranking of all countries India is 36th from the bottom. This does not bode well for a country who's half of the population is less than the age of 25 years. The blunder also lies in the low attendance also with few male students as majority.

This huge problem was resolved through our everyday gadget - Mobile. What students want is entertainment, and we aspire to give is education. He tried to entertain students through education by the putting QR code system on textbooks to help students to understand syllabus in audio-video manner. This not only helps them to visualize but also remember and understand for long time. Student can scan these QR codes and get the respective experiments, poems, stories, etc. in visual manner which satisfies them curiously to learn new things. His idea of adding QR codes into textbook which was adopted by National Council of Educational Research and Training and in 2017 Maharashtra government had started printing textbooks with QR code. Not only this but Microsoft CEO, Satya Nadella has praised Disale's work in his book 'Hit Refresh'. He also won "Best Project in India" in 2016 from Microsoft Corporation for his project "Virtual Field Trips". From 'Innovative researcher of the year' award in 2016 by government of India to 'Innovator of the year' in 2018 by National Innovation foundation, he proved that the best way to predict the future of Education system is to invent it not just to acknowledge.
Disale is also renowned for his innovative teaching perspectives, which also includes his demonstrations of various experiments from science lab built by him. He would conduct science experiments in a home science lab and would show this to students via video call. He proved very well that technology can be used to fill an infrastructure gap. Ranjit Sir always stands for girl empowerment and first step for it is of course education. He has worked towards eradicating teenage marriages in his village and promoting girl's education. This major step towards mankind had brought him to the prestigious award of "Global Teacher prize 2020", in partnership with UNESCO. He had not only made history by winning 1 million USD Global Teacher Prize but by deciding to share half of his money with his nine fellow finalists to support their Incredible work. He believed together we can change the world because sharing is growing. Our ears often hear that teachers are selfless Disale had again proved it. He used leftover money to start 'Teachers Innovation Fund' to help students bring creative solutions to their problems. He didn't want to come forward as a single Disale but was working to make enormous Disale's to make more identities. His aspiration was to level up students by the teachers as per their level.
The Covid-19 pandemic has exposed education and the communities in more hardship, although teachers are still giving their best so that students must access their birth right for good education. On the other side in lockdown, we had already come across the news of harassing teachers through zoom, abusive posts during online classes, mute yourself is the new keep quiet and what not. Think once may be not all teachers can do inventions but definitely work for development by adopting new technologies although by zoom, Google or WebEx. Once in your life, some words of teacher may come across to heal you so why didn't we respect their techniques to heal the deep injury caused to our Indian Education system. Ranjitsinh Disale had not only set an example of compassion in action but worked to build more peaceful and just societies. It also feels proud to say that the winner of Global Teacher Prize was not from any expensive private public school but from a government school contributing to the society. His belief on personalized learning turned a village where education was not priority to essentiality. It was correctly said that if a child can't learn the way we teach the way they learn should be learned by us. This unreal story of a real-life hero teaches us a great lesson of compassion, gratitude and a challenging attitude.
. . .