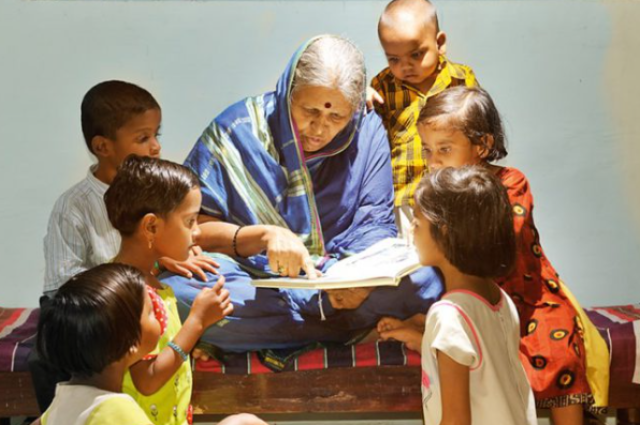 Childhood is a wonderful time in one's life. Parents adore and spoil their children, making them the centre of their universe. When a kid has no parents, though, the same adolescence might be terrifying. There is no greater sadness than being an orphan or living in a house without a roof over your head. However, the Divine sends humanity to Earth to make a difference. Sindhutai is one of these people; by adopting orphans, she became truly a gift to thousands of orphaned children.

A Glimpse of Sindhutai Sapkal
She is a well-known and dedicated social worker who values orphaned children's lives. Her own life experiences motivated her decision to care for orphaned youngsters. Sindhutai had moments in her childhood when she wished she had someone by her side. She stated in one of her interviews that it was at this moment that she understood what it meant to be deserted. As a result of her hardship, she has made it her life's mission to help underprivileged and homeless children.
One of her speeches reflects her grandeur and compassionate personality.
Early Years and Difficulties
Sindhutai was born on November 14, 1948, in Wardha, Maharashtra, to a cattle-grazing couple. Her father was interested in her education, but her mother was not. She married a man twenty years her senior when she was eleven years old. She had a rough life after her marriage, but she never gave up hope. In her new home, she battled against the forestry department's and landlords' exploitation of local women who gathered cow manure.
Things became much more challenging for her as a result of this.
She was beaten severely and left to die by her husband when she was twenty years old and nine months pregnant. In that subconscious state, she gave birth to a baby girl named Mamta while fighting for her life. To make ends meet, Sindhutai began begging on the streets and railway platforms. She often spent the night at cemeteries because she was afraid of being picked up by males at night. People began to refer to her as a ghost because she was frequently spotted at night around graves.
She ended herself in Chikaldara, Maharashtra's Amravati district, in this never-ending struggle for survival. 84 tribal villages were evacuated as part of a tiger conservation initiative. In the middle of the chaos, a project official seized 132 Adivasi villagers' cows, one of which died. Sindhutai decided to struggle for the full rehabilitation of the tribal villages that were defenceless. The Minister of Forests recognised her efforts and made suitable preparations for alternate relocation.
During these difficult times, she recognised how difficult it would be for abandoned children and orphans, and she resolved to help them. Deepak was her first adopted child, whom she discovered on a railway track. She adopted sixteen children in a short period.
So Sindhutai began looking after youngsters in exchange for food. Taking care of these children quickly became her life's mission. At Chikaldhara, she established her first ashram. People who gave her money demanded a receipt, which made her understand the necessity for an NGO.
So she founded and established Savitribai Phule Girls' Hostel in Chikaldhara, Amravati, under the Vanvasi Gopalkrushna Shikshan Evam Kreeda Prasarak Mandal. Her children now operate four NGOs, with the second one, Mamta Bal Bhawan, named after her daughter Mamta by Deepak, her first adoptive son who refused to leave her as he grew older. Sindhutai has also established Gopika Gai Rakshan Kendra, a cow shelter, to preserve aged cows from being slaughtered. She is the one who brings them to the shelter and looks after them.
Sindhu was renamed Sindhutai or Maai, which means "mother of orphans."
Many of her adoptive children have gone on to become highly trained professionals, such as doctors and lawyers. Some adopted youngsters have established their orphanages.
Sindutai was generous enough to forgive and forget when her husband returned and asked for pardon.
Sindhutai - An Example of Humanity and Love in Action
Sindhutai's life story is one of perseverance and determination. She demonstrated how suffering brings out the best in us by dedicating her life to orphan adoption and care. She also built more than six orphanages in Maharashtra, providing food, shelter, and education to orphaned youngsters. Her group also provided refuge to a large number of poor and abandoned women.
It is not simple to run these refuge homes, and she works tirelessly to raise finances for her orphanages. Rather than seeking financial assistance, she delivered compelling and inspiring lectures in which she shared her life's narrative. She pleads with people to aid the impoverished and forgotten members of society.
She said in yet another great speech that she wanted her tale to be highly publicized so that others might be inspired to overcome their challenges.
Her media image has never changed as a result of her celebrity. Sindhutai is happiest when she is with her children, achieving their goals and helping them settle down in life.
Sapkal has adopted over 1,100 orphan children despite several challenges she has experienced in carrying out her purpose. She currently has 207 sons-in-law, 36 daughters-in-law, and over 1050 grandkids in her extended family. The nicest part is that many of them are contributing to society in various ways. Some have gone on to become lawyers or doctors, while others have opened their shelters.
Recognition and Awards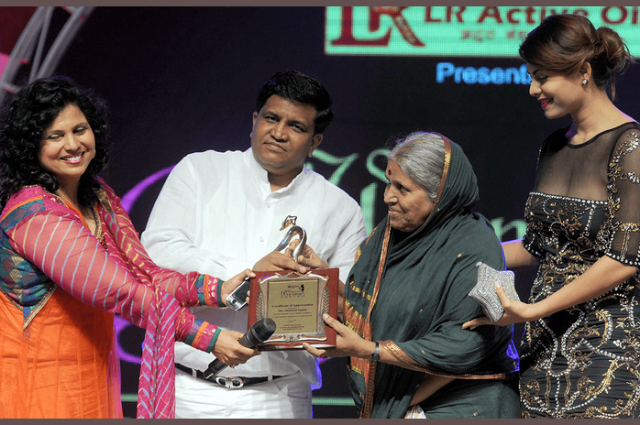 Sindhutai has received over 750 accolades for her huge social activities. In 2013, she was honoured with the coveted national Iconic Mother and Mother Teresa Awards for Social Justice.
In 2016, the DY Patil Institute of Technology and Research in Pune awarded Sapkal a doctorate in literature.
In 2010, she was also honoured with the 'Mind of Steel' award. Sindutai, as the award suggests, has a mind of pure steel.
In 2002, the Maharashtra government presented her with the coveted Ahilyabai Holkar award in recognition of her outstanding contribution to society.
Sapkal was also honoured with the Peace Prize at the 2014 National Peace Symposium in London.
President Ram Nath Kovind recently honoured women achievers with the Nari Shakti Puraskar on International Women's Day 2018. Sindhutai was one of the thirty-nine women who were recognized with this honour.
Her life was based on the Marathi film Mee Sindhutai Sapkal. The 54th London Picture Festival has chosen the film.
She has raised around 1,200 children in 42 years. Nothing is impossible for a dedicated individual, as her incredible path demonstrates. Sindhutai is the personification of humanity.
She has progressed from being a destitute wife to begging on the streets to becoming a 'Mother of orphans and helpless children. She still feels compelled to do something positive for society at the age of 70.

. . .