Did you know what the impecunious families of rural India do when they could not afford to keep themselves warm during the winters? The women of the households came to the rescue. How? They brought old sarees or dhotis together, cut them into equal pieces, placed them one above the other, and sew them together in parallel running stitches. And this is how Kantha making, the first recycling art, came into existence.
The name Kantha is believed to have originated from the Sanskrit 'Kontha' meaning rags. Kantha's origin dates back to the pre-Vedic period i.e., before 1500 BCE. Though the earliest written source, Sri Sri Chaitanya Charitamrita, records its genesis 500 years from now, its inception happened at a time when women had a lot of time to spend in leisure after completing their domestic chores and tending to their children. It originated in the Indian state of West Bengal but its variations are found in Odisha, Rajasthan, Bihar, Uttar Pradesh, and South India as well. In the beginning, only the running stitch was used for embroidering the designs. But, now stitches like the surface satin stitch, herringbone too finds a place in the designs. Every year new Kanthas had to be stitched as the old threadbare ones would no longer provide them with same warmth. Hence, the mothers and grandmothers in every household would start preparing fresh Kanthas long before the onset of winters so as to bestow a warm welcome on the winters.
Kantha embodies one's emotions. Whether it's gloom or light, it finds expression through Kantha. Whether its Flora, fauna, religion, region, or culture, everything influences Kantha which is evident in the diverse patterns being used in it. We often see flowers, wheels, birds, insects, plants, trees, etc. in the Kantha patterns. Nakshi derived from the Bengali word 'Naksha' meaning artistic designs is also applied in Kantha patterns. Motifs from religion, culture, and the lives of women stitching inspire Nakshi Kantha. Variations such as outlines, small or big fillings, geometric motifs, pinwheel fillings, aligned feelings, stepped fillings are used in Kantha. Often scenes from folk tales, mythologies, and epics are depicted in the aesthetic pieces that artisans create. As far as the fabric is concerned, cotton fabric is the most preferred one but now silk, chiffon, georgette, and crepe are also used. The fabric, colorful cotton threads, and needles of various sizes constitute the fundamental tools of Kantha embroidery. The topmost cloth used in the Kantha is generally light in color so that the embroideries done on it are visible.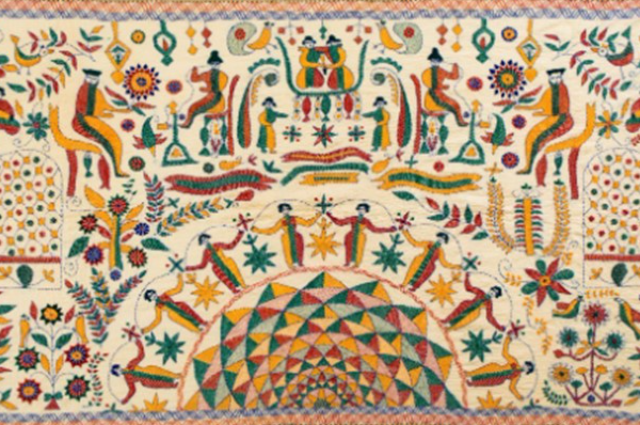 Kantha can be categorized into diverse stitch-types such as running Kantha, Lohori Kantha, Lik or Anarashi, Sujni Kantha, Padma Kantha, cross-stitch or Carpet Kantha, etc. Running Kantha includes the Nakshi Kantha and the par tola Kantha which employs geometric patterns. The Par tola Kantha is stitched from memory and not any aforethought pattern. Since everyone could not afford to purchase an ample amount of threads, they would untwine the threads from the borders of old sarees to stitch new Kanthas, and hence, the name par tola came into existence. There are numerous variations in an Anarashi Kantha and are widely practiced in the Jessore and Chapainawabganj districts of northern Bangladesh. Sujni Kantha is only found in Rajshahi, Bangladesh, and includes floral and vine pattern themes. Padma Kanthas or lotus Kantha are very popular and are decorated with lotus, its leaves, petals, and branches. Cross-stitch or carpet Kantha was introduced during British rule. The world-famous Jaipuri Razai(s) from Jaipur, Rajasthan, is similar to a Kantha(s) and is extremely light-weight, comfortable, soft quilts filled with cotton, and the outer covers are stitched with either cotton, velvet, or silk.

Each Kantha artifact has the ability to narrate a story and reflects the tradition of its maker. Hindu Kantha artisans use lotus as their central motif, some use the paisley or Kalka and some use Alpana or sacred patterns which makes use of conch shells, paddy, lotus flower, and many more to ornament their Kantha. Muslim artisans use gilaf embroidery, dastarkhan, jainamaz, etc. Each artifact is so skillfully crafted that the reverse is as beautiful as the obverse.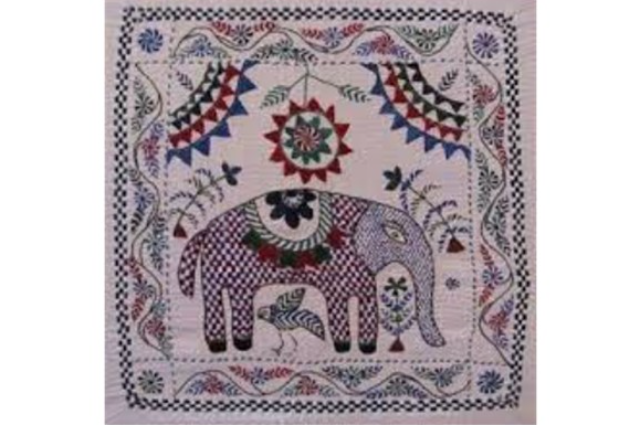 Kantha, then confined within the four walls of a household, is now a flourishing industry. Kantha industry, akin to that of other industries operates through several phases of production viz procurement of raw materials, analysis of existing market trends, fluctuating consumer preferences, etc. It is a prerequisite for the artisans to showcase their proficiency through the production of specimens before the middlemen, entrepreneurs, and at times directly to the consumers.

Someone rightly said that "quality is remembered long after the price is forgotten." Therefore, producing and maintaining the right quality is the key to unlocking good business. Kantha is a women-oriented profession developed over the years by the womenfolk with the skills acquired from their elders. To ensure that the final product is the finest, continuous scrutiny is done by the contractor or the middlemen so that they can safeguard themselves from bearing any loss.
Being worked on manually, Kantha creation is a highly painstaking activity. Therefore, recognizing the rigorous labour that the artisans endure and appropriate payment for it is of utmost importance. Since we are slowly and steadily moving towards digitalization, it would be appreciable if some local organizations with the help of banks and other monetary organizations can instruct the artisans about online payment platforms so that the intervention of middlemen and contractors can be eliminated to a significant extent with the intent that artisans can receive their dues directly. Kantha manufacturing, like that of any other textile product too, is influenced by external factors namely geography, availability of raw materials, climate, economic aspects, etc. The duration for the completion of each piece differs from one another, varying from some months to several years.
Kantha has some customary values attached to it. In every Bengali household, Kantha's presence is a must. It is used as a light comforter during the onset of winters and breezy monsoon nights. Moreover, Kanthas are stitched by expectant mothers as a belief that it would bring prosperity to their families and protect their children from diseases. Earlier, Kantha's were used as diapers for newly born babies in Bengali households but nowadays, it is not much common to see its usage in this form because of the high cost of handmade Kanthas.
Kantha occupies a special place in the writings of Srila Krishnadas Kaviraj. He wrote a biography of Sri Chaitanya Mahaprabhu titled Sri Sri Chaitanya Charitamrita, where he mentions that once Mahaprabu's mother, Mata Sachi Devi, had sent him a homemade Kantha in Puri, Odisha via some pilgrims. The same Kantha is on display at Gambhira, Puri. Gambhira is a small room in Kashi Mishra's house where Mahaprabhu has spent the last twelve years "of His earthly manifested pastimes". Inside Gambhira, there is a glass box which contains the Kamandalu, Paduka, and this quilt of Mahaprabhu. Kashi Mishra was the 'raj guru' of King Prataparudra, the Gajapati ruler of Odisha. Prataparudra was one of the greatest devotees of Chaitanya Mahaprabhu.
Niaz Zaman in her book, The Art of Kantha Embroidery, mentions the second earliest reference of Kantha. It narrates Abanindranath Tagore's confrontation with a woman in Srihatta in Sylhet, Bangladesh, who had documented her story beginning from her marital life till her old age in a Kantha. The art form of Kantha which had a humble beginning form an important part of the fashion industry now, where not only quilts but sarees, shawls, scarves, dresses, and other textile products are embellished with Kantha patterns. It is no more confined to rural households but practiced by millions. In the Bengali tradition, Kantha refers to both quilted blankets as well as stitch. Growing up, I have witnessed our mother giving her old sarees to one maker cum seller of puffed rice and assortment who is also a Kantha artist so that she could carve out beautiful Kanthas or quilted blankets out of those. Indeed, Kanthas are the best examples of how rejected clothes can be used to create the most beautiful artifacts.
Family heirlooms are one of the most cherished valuables and hold testimony to the strong bonds that different generations share with each other. In many Indian families, Kanthas inherited from the ancestors are treasured as fond memories and are passed on from one generation to the next.
During the 19th century, the Kantha artform almost reached the threshold of extinction. It was regained with the remarkable efforts of the Tagore family of Bengal in the mid-20th century. Rabindranath Tagore was a staunch supporter of the rural reconstruction program and believed that it would play an important role in our country's development. To upgrade the rural economy, it was important to ameliorate the conditions of rural women. Tagore felt that the revival of the endangered artform of Kantha can aid in the process. Therefore, at Sriniketan situated near Santiniketan, an initiative to regenerate the traditional handicrafts and rural life was set in motion.
The women of the Tagore family helped Rabindranath accomplish his dream by collecting heirloom Kanthas and uniting and involving the craftswomen in the revival process. This helped the women earn a living for their family which they contributed towards uplifting their standard of living. Pratima Devi, an eminent artist and author herself and Tagore's daughter-in-law, in the 1940s, headed the Kala Bhavan, the Fine Arts Department at Santiniketan. She trained the Santhali women of the area in the creation of Kantha work, thereby providing a new stimulus to Tagore's rural reconstruction program.
In the late 1950s and early 1960s, Sreelata Sarkar, one of the brightest students of Pratima Devi and a renowned artist herself, championed Kantha project in Kolkata. She is also recognized as the first Kantha revivalist to have introduced Kantha work on a single layer of tussar silk. In 1985, Shamlu Dudeja popularized Kantha work on sarees, dupattas and also used geometric patterns in single-layered Bangalore silk to create varieties of artifacts which adorns the walls of museums, art galleries as stitch art. They too beautify the drawing rooms and workspaces of the celebrities. Her costumes have been part of several ramp shows. And all these works take place under the non-profit organization named S.H.E. (Self Help Enterprise), run by Dudeja. The artisans who worked under her were successful in adapting the paintings of Jamini Roy and Warli art of Maharashtra using the running stitch in silk fabric.
Kantha is unaware of class differences. During the bygone years, even the women of the aristocratic class would use their leisure time to stitch intricately embroidered Kanthas out of not so worn-out cotton sarees. Similarly, a woman from an impoverished family would use the old dhotis to create a simple Kantha.
On a final note, it can be said that time-honored traditions and intangible heritage like Kantha should be encouraged more and more so that the daughters of India can continue to earn from this business and every new entrant can consider this as their profession without any second thought. On top of that, the more we promote such local ventures, the more we can preserve our traditions and pass them on to the upcoming generations. Hereafter, making our descendants aware of their rich culture and heritage.
. . .