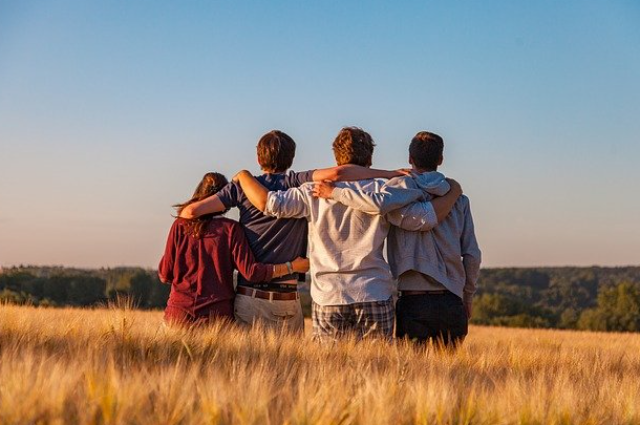 The list of students who could opt for science was put up on the green board of D.A.V Public school.

Shaurya with his best friend Rishi went up to check the list and were more than excited to see their names on the list! Rishi couldn't stop smiling while Shaurya grinned from ear to ear not only because he could now opt for science but also because while checking his name he saw this girl with beautiful jhumkas and the best smile anyone could have! She was wearing a pink coloured short kurti paired with grey jeans. "Her laugh is so infectious," Shaurya thought.
As Shaurya entered his class for the new academic year, he noticed rishi sitting in the middle row, the next thing he saw was the mesmerizing smile of that girl he met before.
After 2 days of confessing his crush to rishi and rishi pushing Shaurya hard to break the ice and initiate the conversation, Shaurya finally managed to have a small talk with the girl and was able to find out her name." hey Shikha here!" Messege poped on the screen.Shaurya and Shikha managed to exchange their phone numbers and infinite eye contact in the first two weeks of the class. They started chatting and got along well.
After the mid-sem exam, Shaurya asked out Shikha and they got in a relationship. They were like the typical teenagers falling in love but with them, there was something special, they believed in true love for real.
Shaurya wanted to join the army and serve for the nation. Earlier Shikha was a bit hesitant about it but then agreed and supported him. But her family members were really upset about Shaurya wanting to join the army. Shikha had a younger brother who was very close to her and supported her.
After 2 years of convincing, Siksha's family agreed to marry her to Shaurya. They were overwhelmed by the fact that they finally made it to their wedding day. Shaurya had a brother and sister-in-law. He had to join duty after 2 months of his wedding. So Sikha had to take responsibility for the house...Her sister-in-law, Rucha was very helpful and understanding. She treated Shikha as her younger sister and they got together like mac and cheese! Rucha's husband Virat worked at MNC. He too treated Sikha very well and soon they had a happy family, the only hitch was Shaurya being away from them.
Virat used to love the idea of being his own boss and had always wanted to start his own business. Due to family responsibilities and disapproval from his dad he decided to join a company and start working as a marketing executive. Because of his working skills, he got promoted to senior sales executive, and shortly after that, he was called by an MNC for interview. He got selected for the post of senior sales executive. Everyone rejoiced for his promotion.
But somewhere inside Virat still wanted to start his own business. Rucha wanted to be supportive but was a practical person and advised him not to take a risk. Virat thought she was right and worked hard for his company.
On Tuesday morning as usual Virat left for his office at 9 and Rucha and Shikha completed their daily chores. Rucha told Shikha she had to go visit her friend who was admitted yesterday. Shikha nodded and waved her bye. Shikha noticed the peculiar behaviour of Rucha as if she was hiding something from everyone.
At 5, Shikha woke up by her phone's ringtone, Virat had called twice and now the phone rang while Shikha figured out she was asleep from 2. Just after the lunch was done, she felt drowsy and Rucha went to visit her friend. She answered the call and Shaurya spoke with a heavy voice. The next thing she heard went all the way up to the spine and her eyes dwelled with tears. Shaurya broke the news that Virat was no more.
The police found Virat's dead body in a dump yard near his office. Rucha and Shikha rushed to the crime spot. The police investigation began while the 3 were still in shock. The police interrogated everyone as it was a homicide case.
The last call from Virat's cell was to his colleague Tanya. Shaurya was devastated by his brother's sudden death. He now had just 1 motive, that was to find the murderer. He started working on the case by himself. The police interrogated everyone including Shaurya, Shikha, and Rucha.
As interrogation continued, police came to know that Virat had borrowed money from a local dealer as a base investment for his startup which failed terribly. Only Rucha knew about this as she gave him her jewelry to sell and return the debt using that money.
Later they found it fishy that Virat used to talk a lot with his colleague Tanya. Shaurya was desperate to unfold the mystery and went to meet Tanya at a cafe. They talked and finally, Tanya spilled the beans that she was having an affair with Virat. Shaurya was in complete shock. He felt sorry for Rucha. Suddenly a thought crossed his mind, "no that can't be true! No no". Maybe Rucha found out about the affair of her husband and confronted him. They might have gotten in a fight and Virat accidentally got hurt. He went home and talked to Sikha about everything. Shikha didn't look that shocked which was of course unexpected. Though Shaurya didn't pay heed about that because he was nervous about telling Rucha about the betrayal.
Shaurya and Shikha disclosed the facts to Rucha and she broke down into tears. She felt betrayed and heartbroken. Looking at her condition Shaurya didn't have the guts to interrogate her. He decided to inform the police about it and let them do their work.
The police went on to interrogate Tanya and Rucha. Tanya accepted that she had an affair with Virat and that she knew he was married. Rucha on the other hand told that she was unaware about Virat's affair. The inspector had ordered for the call records of all the suspects and a call entry caught his attention; Rucha had called Tanya the night before Virat's death. On interrogation, Tanya confirmed that Rucha suspected that Virat was involved with her though Tanya denied Rucha sounded furious and hurt.
Now Rucha was the number 1 suspect of the police and they kept looking for more proof and traces. Rucha confessed in front of Shikha and Shaurya that she knew about Virat's affair. Now even Shaurya thought that Rucha might have killed Virat. Shikha still believed that Rucha was innocent. She wanted to prove it and therefore started gathering proof of Rucha's innocence.
She went to the cafe Virat was last seen and asked them for the CCTV footage but unfortunately, they didn't have the record. She then went to every nearby shop and buildings in search of CCTV but none of them caught Virat in the frame, Instead, she spotted something unusual. Her younger brother was captured in one CCTV footage. Shikha didn't tell the inspector about it. She called Veer, her younger brother, and asked him to meet her at the nearby cafe.
They sat in the cafe with 2 cappuccino resting on the table with his feet rocking continually and his hands fidgeting the coffee mug. Shikha noticed his body language and understood his nervousness. She started the conversation on a lighter note. Once he was in his comfort zone, she confronted him, and the next thing she could see was his guilty face, he confessed that coincidentally he went to the same cafe that Rucha and Virat went to. He overheard their conversation and was pumped with anger towards Virat. He cheated on his sister, Rucha, and wasn't even sorry about it. When he looked Shikha in her eyes he had to unfold everything, so he continued."I know it's unethical but I read your dairy when you came for summer vacations and found out that Virat dada was misbehaving with you. I wasn't strong enough to read further and so I shut the book. According to your nature, you would never tell Shaurya jiju about it and would silently play your battle. I could not let it happen. When I saw Rucha di and him fighting in the cafe, I got triggered and took him to the dump yard confronted him and he was still proud about it. I slap him twice and the next thing I saw was a knife in his hand. While protecting myself I accidentally hurt him but I don't regret it".Shikha's eyes dwelled in tears. A hand nudged her from behind.
It was Shaurya standing behind. It took her a few seconds to digest the fact that her brother accidentally murdered Virat and now Shaurya was there, he might have heard the whole conversation! Shaurya broke the silence and said there are officers dressed as customers and waiters here. The police had a doubt that Shikha was hiding something from them and so they started tracking her cell. Shaurya and Rucha were informed about this by the inspector. Just then Rucha appeared, she hugged Shikha and said, "I'm sorry Shikha, I didn't know Virat misbehaved with you! Even if I had known, I wouldn't have the guts to expose him and take a stand. Thank you Veer for standing up for your sisters!".Shaurya apologised to Shikha for doubting her and of not being able to protect her. The inspector took Veer for the official record and gave Shikha advice that if Veer pleads not guilty in court and says that he did it in self-defense he wouldn't be punished.
. . .