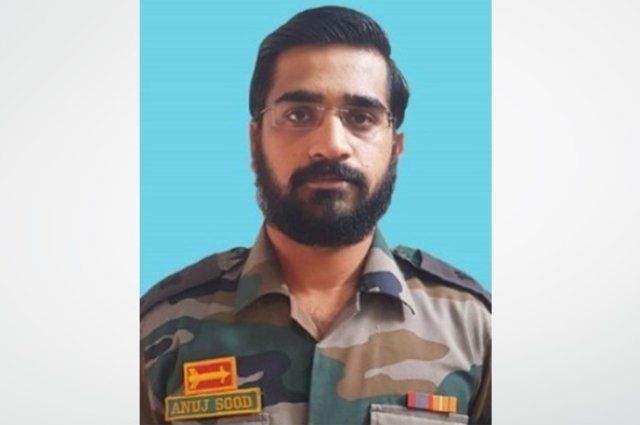 "When you're older, you will realise the only thing that matters, the only thing is that you had courage and honour. Lose those things and you won't die any quicker, but you'll be less than the dirt from your boots. You'll still be dust, but you'll have wasted a short time in the light."
These were the inspiring lines said by Major Anuj Sood in one of his social handles. Major Anuj Sood of 21 Rashtriya Rifles who laid down his life for the Nation was awarded Shaurya Chakra posthumously. The life of this young officer is highly motivating for youngsters across the country. At a time when most of his friends dreamt of a high package salary job, Anuj had only one dream and that was to adorn the olive green uniform.
As a child when he saw men saluting his father, there was nothing more he wanted than a life with the uniform. Being the son of a Brigadier, serving the nation and feelings of Patriotism came almost naturally to him. If covid restrictions had not stopped his move from Kashmir to Jalandhar, this young officer would have been alive today serving the nation with full Josh and patriotism. Nevertheless, as a soldier, he served the nation till his last breath.
It is highly disappointing that every year many young officers end up losing their lives while combating the militants in the valley. This is exactly what happened to Anuj whose only calling was fauj. Anuj's life motivates me to be passionate about whatever I intend to do. I may not become an officer like him but I am surely going to do my job with full dedication and passion.
He was known to be a very systematic man who planned out little things in life even on a daily basis what a wonderful characteristic of personality that is! He had a passion for the work he did; the army meant everything to him. It is rare to see someone truly love what they are doing but that's what Anuj did. He was rare and brave. Most of us can't even imagine what he did without getting chills.
On May 2, 2020, as he led the operation Chanjimula (Kashmir). He showed his brave front and without thinking twice about putting his life on the line, he rescued the civilians held hostage by the militants. Showing utmost grit, valour, and bravery, he made the supreme sacrifice of laying down his life for the country.
What exactly happened on May 2020, the fatal day we lost our precious jewels?
Major Sood along with his commanding officer Col Ashutosh Sharma and other three personnel had taken on militants who were hiding in a house in a village near Handwara. These 2 officers along with three personnel lost their lives in the fatal encounter. The supreme sacrifices these brave hearts made for the motherland in this hostage rescue mission will never fade away. They have left their imprints on our national flag.
Brig CK Sood, father of Major Sood was filled with immense gratitude towards the nation to acknowledge his son's brave deeds.

"It is very gratifying to note that his actions in the face of adversity have been recognised. This is no compensation for his loss but it does make us proud as parents knowing that his actions have as per the highest traditions of the Army," said Brig Sood.
The major had already completed his tenure in J&K and was all set to join Gurdaspur, but due to covid restrictions he could not travel and it led to his fatal death. Due to peak covid family couldn't grieve together, Anuj's sister Shruti who was in Australia at that time kept waiting to get a flight to reunite with other family members. Grieving in isolation was miserable. She mentioned that she kept wondering how brave he was to do all this.
A day before his encounter with militants, he talked on a group call with his wife and sister. That same day in the afternoon they went out to rescue hostages from a house and gave up a supreme sacrifice for the motherland, keeping the nation ahead of anything and anyone. She received a text from Anuj, stating that he is going on a mission and would return and text her later. His wife kept waiting for the reply and after no response, for such long hours, she kept looking at her phone and sent messages on Anuj's phone which was switched off.
The family which has deep-rots within and has been serving the nation received no respect from the union government. The letter received from MLA of Haryana even had the wrong name mentioned, it read "Alok" instead of "Anuj". Anuj has an aadhar card from Maharashtra but the family received no acknowledgment from that state. They have made no attempt to connect to the family.
Martyr's family only needs respect and no false ovations of any kind!
The Sood family began an online petition with a motive that, the elected officials ought to at least send a letter to the kith and kin of the martyrs, acknowledging and gratifying their sacrifice. At least this much-delayed gratification can be expected. There should be a nationwide treaty, which should apply to citizens, public administrations, representatives, etc.
Brig C.K Sood says the martyrs are only special people, in the country or any other country. He leaves no stone unturned when it comes to jawans getting their dues. Martyrs need respect, not politicians and bureaucrats making propaganda out of their sacrifices. His act of bravery can't be repaid or repeated, this will remain imprinted in our hearts forever. There will be no other like him!
The country will proudly recall his ultimate sacrifice for years to come and today as I pen down his story I promise to myself to be passionate and patriotic like him.
. . .
Reference: