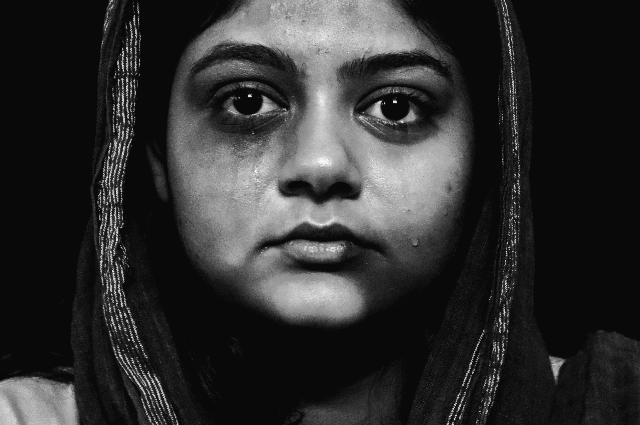 The fingertips imprints; darker greenish-blue at the edge, then receded into a blue tint at the end. She hid the marks under her bangles, which I supposed she wore on occasions.

I gaped at the bruises on the lady's wrist. She stood in front of me on the bus. People crushed in the bus exuded sweat, heat, and in whispers of breaths scorned the Monday morning.
Where she got them from? I defied the thought. You didn't ask such questions to strangers on a bus. I gazed away through the bus window. I peeked again, scrutinizing her ceased golden skin. It accentuated the marks more. She had an inappreciable scar on her lip too. The scar, so insignificant, she didn't even bother to hide it. Maybe she fell. She tumbled on the stairs while running to catch her son's school bus, who woke up late again today. Or maybe not. I got down on my stop.
*****
My body, weighing down, struggled to focus in the clamoring crowd. The cream walls of my office suffocated me, and clattering keyboards annoyed. I was struggling. An expected promotion slipped from my hands again. At the coffee machine table, hunched over, I squeezed my eye, rubbed my temple, avoiding making my disappointed existence visible like the lady's scar. I poured coffee into my mug, the third cup today. The next promotion would be mine. All I need to keep working. My crisp shirt, formal pants didn't impress them, but my dedication, my work would, but was it actually the matter? Or this was because I supported Martha. Maybe or maybe not.
"That's a lot of caffeine for a day," said Martha as she approached me.
"I guess. When is your maternity leave starting?" I asked.
"Next month, Boss, is not much onboard with the paid maternity leave."
"Oh, that's actually unfair, boss is kind of.."
"Jerk, that's the word you are finding,"
"I planned to say irrational, but jerk will do," I said. Martha chuckled.
"Stop working overtime every day get some sleep. Your under eyes are scooped," Martha said.
The day ended. I did overtime, the promotion announcement were near. And walked towards the bus stop.
I was saving for a car, but with no appraisal and promotions. It was not on track. Not the right thought. It's just a minor delay. Gaze at the sky. Distract yourself.
The sky with no clouds was quite serene for a monsoon month. In fact, the place had a hostile storm two days before. Serenity follows turmoil. It is arguable fact. I sat in dirty bus stop chairs; the place stunk with rotten food under the seats. The wall cracks were bigger than the chairs. One could be more comfortable seated in the cracks than the rusty chairs. It could fall on people someday. Nobody bothered about its maintenance, cleaning and no one complained.
The lady approached the bus stop, her bangles were losing the shimmer. The marks persisted, but I ignored it. I didn't know her. A man in a car waiting at the stop approached her. He yelled pulling his window down, "I called you twice can't you just pick up."
The lady didn't reply and plonked in the car.
*****
Martha got fired. I stood beside her and tried to convince my boss. It didn't work. The promotion got announced, the legacy of overlooking me took over again. I grabbed my laptop and typed my resignation letter, seized my companion coffee mug, and barged out.
I sat at the bus stop, aghast. What next? I'm jobless. The lady walked in again, with a plaster on her left hand. I gawked at her. What was happening to her? Maybe she fell again, maybe not. I can't help her, nobody can. She can.
I leapt up and yelled, "Madam, if this wrecked bus stop fell on us. Who's a fault is this?"
With a baffled expression, she craned her neck, and her eyes juggled through the stop. "Huh?" she replied.
"Ours, because after looking at it's a condition we never complained, we are numb, waiting for the doom day. What are you waiting for to get killed?"
The lady creased her brows, gaped at me, gulped a few spit lumps, and bolted towards the bus as it arrived. I left the bus. She would get scared. It was harder to believe she didn't swing her purse to hit me.
A stranger yelling at you at a bus stop that the least someone expects from their day. I would have given a better context if I had ever planned to say anything to her. I sighed.
The phone buzzed. It was Martha.
"Hey, guess what! Many others in the office left their job as a revolt. The local news covered it too. Boss under pressure permitted my paid maternity leave and has called everyone on at their job. You are coming, right?"
*****
I left the Job, and got hired in a new company within a month. I didn't use the bus anymore. The company had car pool. They paid me better and appreciated me more here. The monsoon was long gone, but the sky was cloudy today. I walked towards the bus stop with no intents.
The lady seated on the new chairs at the bus stop. I filed a complaint about the stop condition, not once but many times for weeks. They did their work at last. I scurried through the stop to avoid the uneasy encounter. The lady leapt up when she saw me and yelled.
"Bhaiya, you should return it's going to rain."
I gave her a perplexed look. Her plaster was gone, nor she was wearing bangles. I smiled at her and darted towards my apartment. The bruises were healed. So was I.
. . .