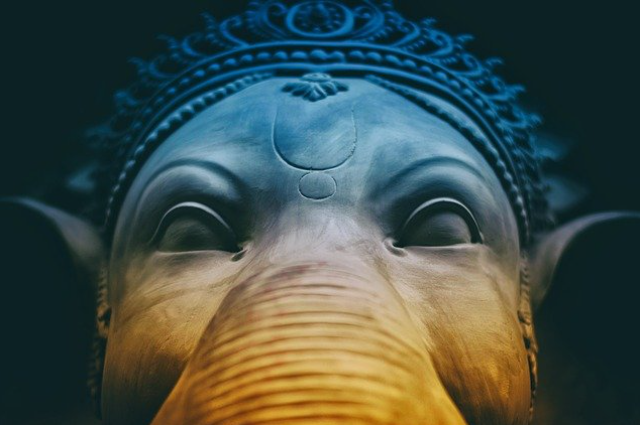 This is the story of the elephant who sacrificed his head for Ganesha...
The children were sitting on the balcony, munching yummy modaks, and watching the Ganesh puja celebrations.
'I love modaks! They are so yummy! I can eat every day, but it's made only on this day, lamented Shreya.
Four-year-old, Esha asked" why does Ganesha have an elephant's face?'
Grandma, who heard the children, sat beside them saying, 'I will tell you the story.'
God Shiva and Goddess Parvati lived in Kailash.
One day Goddess Parvati wanted to take a bath. As her husband was not at home, she asked Nandi (who was Shiva's vahan-vehicle) to stand at the entrance and guard the house and ensure that no one entered.
'Why does she need a guard. Can't she close the bathroom and bathe? Esha asked her Granny.
Granny continued... In Kailash, there were no doors or a separate bathroom to close or lock while bathing. So, someone had to stand at the entrance of the house and prevent others from entering. While Parvati was bathing, Shiva returned home.
Nandi told Shiva not to enter, as Parvati had instructed him.
But Shiva told Nandi, 'How can you stop me from entering my house?'
Nandi kept quiet and allowed Shiva to enter the house. By then, Parvati had bathed and was coming out when she saw Shiva entering. She asked Nandi how he had allowed Shiva to enter when she had given a specific order.
Nandi told her that though she had instructed not to let anyone come, he could not stop Shiva, as he was his master.
'I too should have someone who will be as loyal to me as Nandi is to Shiva', thought Parvati. The next day, she took some clay and created a small boy figure. But a clay toy cannot do anything, so being a Goddess, she used her divine powers and put life into the clay boy.
Lo and behold! A cute boy stood in front of her. Parvati fell in love with him and told him, 'From now, you are my son, Vinayak! I am going for a bath. Please don't allow anyone to enter the house till I come out.'
'Yes, mother', the son replied. 'I will ensure no one enters the house, as you instructed.'
After some time, Shiva returned home and was about to enter the house.
'Stop! You cannot enter the house. Ma Parvati has forbidden anyone from entering the house', Vinayak announced.
Seeing a strange little boy stopping him, Shiva explained that he was Parvati's husband, and it was his abode so he could enter.
But Vinayak did not allow Shiva to enter. He did not know that Shiva was his father.
Lord Shiva got very angry that a small boy was stopping him from entering his home.
'Who are you? How dare you stop me from entering my own house!' he roared.
'I am Ma Parvati's son and, I forbid you from entering the house', said the boy, blocking the entrance and preventing Shiva from entering.
Shiva was super angry. He did not know that Parvati had created a son out of clay. Furious at being stopped by a small boy, Shiva threatened to kill him if he did not allow him to enter his own home.
But Parvati's son was determined to obey the orders of his mother. She had told him that nobody, nobody, should enter the house. He stood resolute and blocked the entrance.
Lord Shiva was angry that a small boy was defying him.
In a fury, Shiva pulled out a sword and severed his head.
Hearing all the commotion, Ma Parvati came out running and saw her son lying on the ground, bleeding and lifeless.
'Why did you kill my son?' Parvati questioned Shiva.
Shiva was surprised to know that the little boy was her son, she had created just some time back.
Parvati cried and shouted at Shiva for killing her son and told him to use his divine powers and bring her son back to life. Shiva apologised but, he could not put life back in the boy.
Crying and adamant, Parvati threatened to destroy the whole universe if her son was not brought back to life.
Now, Shiva was sorry for what had happened. He apologised that he was not aware that the little boy was her son. But as Parvati did not relent, he had to appease her by reviving the slain boy immediately.
Shiva approached Brahma, the God of creation. He told Brahma what had transpired and told him to bring the head of the first living being he found.
As Lord Brahma began his search, he saw a baby elephant crossing his path.
Lord Brahma was perplexed and thought. 'Should I take an elephant head? How will an elephant head be fixed on a small boy?'
He recollected Shiva asking him to bring the head of the first living being he met.
He thought, 'Shiva said living being, not human being. As the elephant is a living being and this elephant crossed my path first, I must take this elephant head to Shiva.'
He did not wish to waste time searching for a human being's head.
Brahma severed the baby elephant head and gave it to Shiva.
Shiva attached the elephant head on Vinayak, and brought him back to life.
A cute, chubby, smiling boy with an elephant head stood before them!
Shiva was happy he had revived the boy.
But Parvati was worried. 'Everyone will make fun of my son. He looks so different with an elephant head, a trunk, and big ears.'
Shiva and Brahma explained to her why they had to replace it with an elephant head.
But Parvati was not convinced. She wanted to ensure that no one teased or ill-treated her son.
So Parvati asked Shiva to bless the boy with a boon.
'Bless my son that he will be the Chief of the three worlds,' she requested.
Shiva blessed that the three worlds would treat Vinayak as their head. He would be the chief of all the Ganas i.e., living creatures.
Shiva also blessed Vinayak that he would be foremost among the Gods and everyone would pray to him first.
'That is why Vinayak is called Ganesh or Ganesha-meaning the chief of Ganas. Now you also know why we perform Ganesh puja before any other puja.' Grandma said.
'Thank you! Grandma. That was an interesting story,' Shreya said.
'I am feeling sorry for the baby elephant, whose head was cut and put on Ganesha,' Esha added.
'There is a fascinating story about the elephant whose head severed and put on Ganesha,' said grandma. Listen:
Gajasura was an elephant demon and an ardent devotee of Shiva. He did penance for many years, so Shiva was pleased with his devotion and offered a boon. Gajasura asked Shiva to live in his belly!
Having granted the boon, Shiva did not wish to disappoint his devotee, so he entered Gajasura belly and lived there.
Meanwhile, Parvati was searching for her husband. When she came to know that Shiva was in the belly of Gajasura, she asked Lord Vishnu for help.
Lord Vishnu and Nandi went on the mission to bring Shiva out. They disguised themselves and sang and danced before Gajasura. Pleased, Gajasura asked Nandi what he wished. Nandi asked for Shiva. Gajasura agreed and Shiva came out.
But Gajasura was sad at being separated from Shiva. Seeing him sad, Shiva promised Gajasura that he would fulfill his wish to be always near Shiva. He also assured to make him immortal.
'Oh! I got it! Gajasura head was attached to Ganesha! This is a story within a story!' exclaimed Shreya.
'Yes, the baby elephant that Brahma noticed was Gajasura. By putting his head on Ganesha, Shiva fulfilled Gajasura wish to be near Shiva. Also, he became immortal as the head of Ganesha,' Granny replied adding, 'in our scriptures, the stories are all entwined with one another.
'Granny, please tell some more stories,' Esha requested.
'Have you noticed that Ganesha has a broken tusk? There are many stories on that, but I will tell one that you both would enjoy,' Grandma began.
'One day, Rishi Ved Vyas asked Ganesha to transcribe Mahabharata as he dictated it to him. Ganesha agreed, but on the condition that Ved Vyas would recite the Mahabharata uninterrupted, without pausing.
Rishi also wanted Ganesha to understand the dictation and to write without stopping. Both agreed and started the epic poem.
'In the olden days, there were no pens or pencils. People wrote using a feather.' Granma clarified to the girls.
Midway, when Ganesha was writing the Mahabharata, the feather broke.
What was Ganesha to do? He could not wait for another feather as Ved Vyas had conditioned that Ganesha wrote continuously. So, Ganesha broke his tusk and started writing with it. That is why Ganesha has a broken tusk. That is the reason he is also called Ekdanta- one tusk.
It took Ved Vyas and Ganesha nearly three years to narrate and write the story of Mahabharata! Imagine writing continuously for three years.
'OMG!!' the children squealed.
Wow! We have heard today such fascinating stories! The children thanked their grandma, who added.
'Let's end this story session by saying,
'Ganapati Bappa Morya! Mangal Murti Morya'
I hope you all enjoyed this not-so-popular story of Ganesha and Gajasur. Thank You!!!
. . .