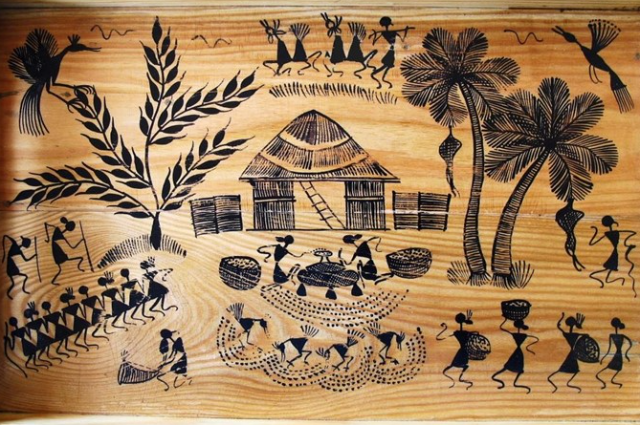 "All art to me is an empathetic act. Whoever is telling a story is trying to transfer emotion into someone else" – Elliot Ackerman
Art is not just a painting, a song, or a sculpture. Art is helpful to humans in a variety of ways. Out of which, the most important one is figuring out history through ancient art. The deeper you dig, the curious you get. And, I promise every time you dig deeper the more surprising it will be. We get to know so many things through art. The ancient people's lifestyle, their clothing, culture and so much more. It isn't a surprise that if we look at some Indian art forms like madhubani, pattachitra, Mysore painting, Tanjore painting, etc. we cannot take our eyes off those masterpieces. And, the good thing is Indians are now curious to learn Indian art forms. People want to develop painting as a hobby.
Any art or painting we see; we learn that tribal people play an essential role in enlightening us about the various art forms. In fact, tribal people have helped India in being a diverse cultured country. Warli is one of the most beautiful tribal art of India. It was created by the tribal people of Northern India specifically in the state of Maharashtra. Warli is a simple yet elegant art form which enlightens us about the various occupational benefits humans get from nature and wildlife. Example: farming, fishing, hunting, etc. Warli is also considered as a sign of good events like marriages, festivals, holy occasions, etc. The tribal people painted the inner walls of their hut during marriages, auspicious occasions, or any such happy event.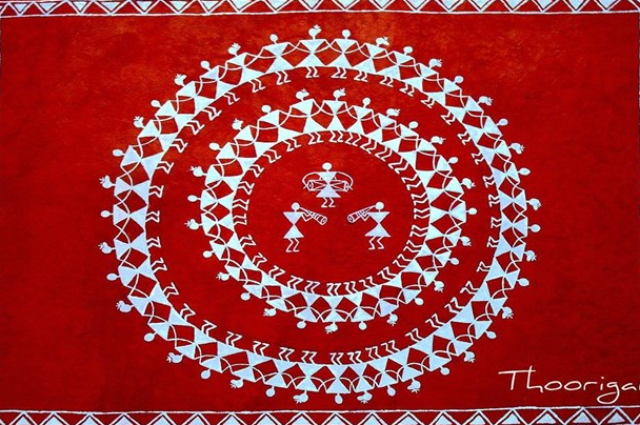 The inner walls were made of red ochre (earth clay cement made up of ferric oxide and various amounts of clay and sand) which acts as a background and the white paint to draw on it was made of rice flour and water. Can we ever imagine creating white pigment through rice flour and water paste? This shows their creativity skills. The Warli art surrounds itself with mainly three geometrical figures – circle, triangle and square. Circle and triangle represent the nature elements. Circle as in sun/moon and triangle as in mountains, peaks, valleys, etc. Square represented the findings of the human race like a piece of land. The central motif in each ritual painting is the square, known as the "chauk" or "chaukat", mostly of two types known as Devchauk and Lagnachauk. Inside a Devchauk is usually a depiction of palaghat, the mother goddess, symbolizing fraternity. Other than ritualistic depiction, Warli also includes daily activities of village people.

The Warli art took a turn when Jivya Soma Mashe and his son Balu Mashe started to paint and they introduced elements of their own to add embellishments to the Warli art. They didn't just follow the old Warli art tradition but also became passionate to use their own creative skills to enhance Warli art and popularize it among people especially, youth. Art gives the freedom to modify. Just keep the base the same and you can add your own creative embellishments. Warli art is performed even today by the tribals residing in Maharashtra. This shows how Indian culture is being passed on from generations to generations.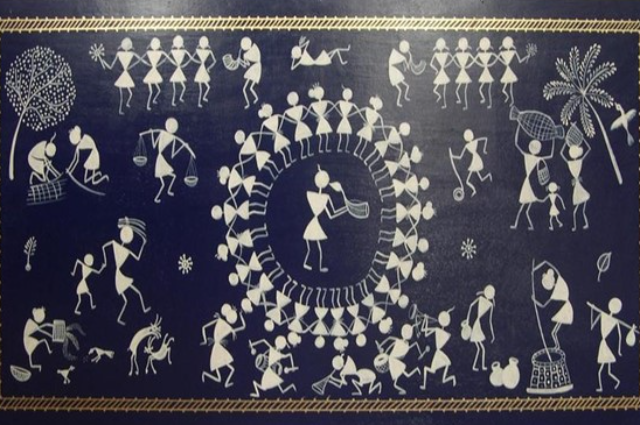 The famous soft drink company has used the age-old Indian Warli art form to add more value to their esteemed company. Coca-Cola India launched a campaign featuring Warli painting in order to highlight the ancient culture and represent a sense of togetherness. The campaign

was called "Come Home on Deepawali" and specifically targeted the modern youth. The campaign included advertising on traditional mass media, combined with radio, the Internet, and out-of-home media. The director of the Coca-Cola company used Warli art to give out a message to the youth to stick to their roots while in search of new opportunities.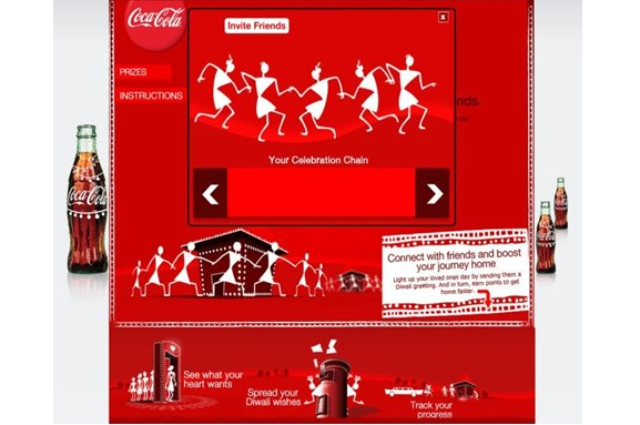 Apart from nature Warli painting covers day to day activities of village people. They paint various activities like dancing, playing, and performing puja. Tarpa dance is one of the central aspects of every Warli paintings. In this, both men and women entwine their hands and move in a circle around the Tarpa players. Warli artists represent togetherness and their ancient culture in their paintings.

Warli art didn't actually come from a specific religious culture and instead, the tribal people painting the Warli art represented the most significant yet ignored culture/religion – HUMANITY. Warli art deals with the practical life of humans and signifies mother nature and its resources. It enlightens us all about the essence of the presence of natural resources and wildlife. And, brings the most important message through its art form i.e. togetherness. After all the tiring things we do during the day, we get home with a sense of satisfaction to meet our loved ones and feel warm and cozy. Tarpa dance is a symbol of togetherness. Togetherness not only among family members but togetherness among fellow humans – the community, the neighbourhood.

Different art forms give different messages but a great artist brings the audience to the same meaning and conclusion through their art. We find different arts we sometimes cannot relate to but Warli art is something we relate to and we can feel the art.
Warli is an example of a "simple yet elegant remarkable masterpiece." And, this was just one art form we got to know but if we research, observe, and dig deeper, we will find many such fascinating art forms, sculptures, and paintings. Embrace the art you discover, relate to it, and make a good change in yourself. We all should appreciate the ancient culture India preserves and we should be a part of contributing to a greater, diverse, and better India.
JAI HIND!
. . .