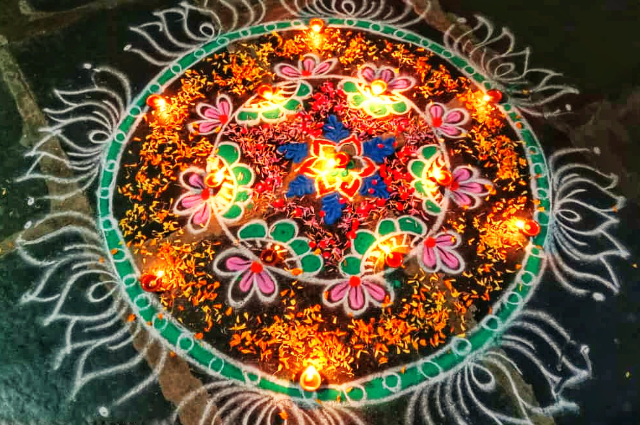 let us imagine a new world full of flowers and lamps ...

I am going to share some points about my art - FLOWERS WITH LAMPS.
During pooja, I usually decorated my home with flowers and lamps to make my place like heaven. I decorated it with simple flowers and leaves. Also, I added lamps with colourful flowers.
WHY DID I CHOOSE FLOWERS AND LAMPS? THIS IS BECAUSE...
FLOWERS - Queen of the world and LAMP - King of the world.
When both the king and queen were mingled together, the fragrance and light flourishes everywhere. Without light, the world is in darkness. Light destroys the darkness of the world such as cruelty, ignorance, poverty, diseases, evil, unhappiness, hungry, etc. Without Flowers, the world does not have fragrance. Fragrance makes us happy and wealthy. Different colours of the flowers depict the different nature of women.
Every flower has its own fragrance and in the same manner, every woman has their own talent in different ways. That's why the poets have always compared women with flowers. Flowers make us happy by their appearance and colour. Like every woman in the world makes others happy and strong through different roles such as mother, mother-in-law, daughter, daughter-in-law, wife, friend, tutor, guide, scholar, doctor, banker, etc.
Flowers and lamps are the two important common things in everybody's life from their birth to death. Both are always accompanied together. Flowers and Lamps are common to all and they were easily utilized by everybody. So, we must always decorate our home with beautiful flowers and lamps. In the olden days, our elders are always decorating their homes with beautiful flowers and lamps.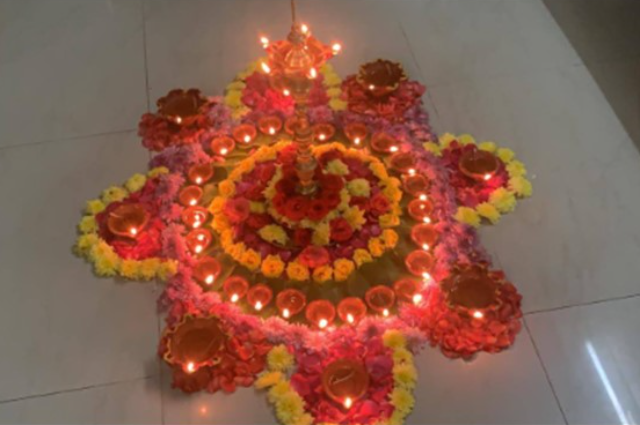 WE HAVE TO LEAD OUR LIFE WITH FULL OF FLOWERS AND LAMPS WHICH GIVE US SUCCESS AND HAPPINESS.

FLOWERS and LAMPS never DIMINISHES...
Our homes should not be made up of walls and muds, bricks and stones but they must be created out of colourful flowers and wonderful lights which give us more hope and confidence. Home with flowers and lights is heaven to stay ever.
. . .