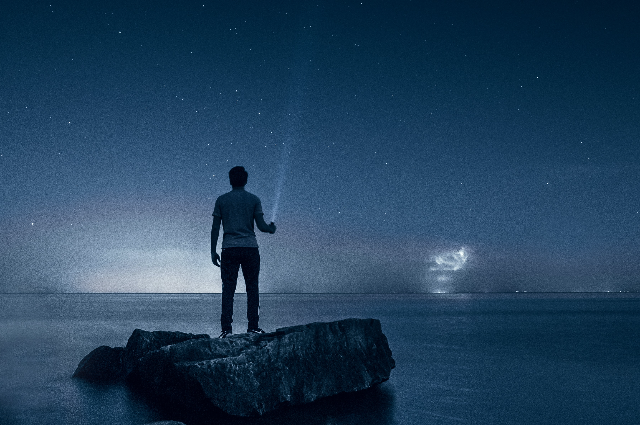 If you are a morning person, I understand your plight. You get up every morning to ram your alarm clock frustratingly into your teak side table, that smells like 'sunshine'. And at night, you, you shamelessly sleep on time. People boast to you about how they see the firmament of the dark sky filled with stars and the scar-faced moon every night. People boast about the night's beauty and its liveliness. But the last time you tried to stay up at night, you failed.

I was like this until I found that crumpled piece of paper lying on the dusty pavement of 21st street. I had left home at 7:oo am to take a walk because I was up early. My roommate and my best friend, Brian had asked me before I left the house, "It's 7 in the morning, the entire world is sleeping, can't you just go back to bed?!" No, Brian, I cannot go back to bed. Brian isn't exactly the brightest kind. And I am not saying this because of what he asked me today, but also because once I asked him what he does for a living and he said he "talks to animals". I still don't know what he does.
I was wearing my dusty ochre-colored overcoat and black track pants. I wasn't concerned about my apparel because let's be realistic. People awake at this time were minimal. After running a few kilometers, a sheet of paper hit my shin and I picked it up before another gust of wind blew it away. It was crinkled, coffee-stained, and shabbily written. The title read ' THE INSOMNIAC'S POTION'. I gulped saliva down my throat as if I had found the secret of the universe as if this paper would solve all my problems as if this was destiny. But as my eye scanned through the paper, I realized it wasn't going to be easy.
Follow these instructions carefully :
When you pull the trigger of the smuggled gun, make sure the aim is accurate.
Hide the body near a graveyard. You can leave a bunch of roses too.
Take a souvenir home. Lacerate the flesh with a dagger as you take out the heart. Don't forget to convene the blood.
Don't hide the weapon. Keep it in your possession the entire time.
Store the souvenir in a glass case. stain your canvas with the blood you brought home and frame this masterpiece on your wall.
Grow the same roses you left near the victim in your garden. Don't forget to water them or maybe let them die just as those near the victim's corpse.
Surround yourself with everything that reminds you of that day.
You close your eyes, you're exhausted. When those nightmares come …don't wish for them to end …bear the same excruciating pain your victim felt.
You can't sleep anymore …can you? If you make it till the end, see you on the other side.
You'd think it would be demented and lunatic to follow these instructions, but I had no choice.
I live alone now. I write this text as the smell of a rotten heart fills my room. The white roses that replaced my alarm clock on the teak-table lie there, with blight on the petals. In one hand I hold a pen and in the other a revolver. The watch around my wrist reads 2:32 am, and I write this as a text of hope - to all the people who have never experienced the 'delights' of the night. THE INSOMNIAC's POTION changed my life, I hope it changes yours too.
. . .