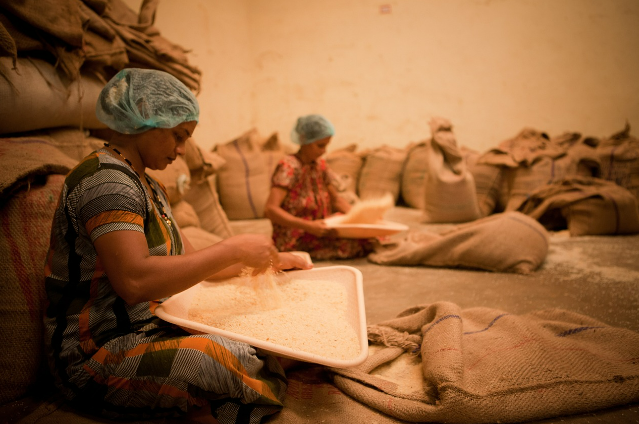 This is a story about an unstoppable woman with extraordinary initiative. She has beaten the odds to run businesses, and it's a variety of businesses she operates in different parts of the country it has not been easy but she has made it.

Nandu Ben, who was married at the age of 16 today. She has interests in dairy farming in the event business and has managed to build multiple sources of revenue and they all began with a little bit of microfinance. 60-year-old Nandu Ben belongs to a village named Coobo in Gujarat. She daily has to travel around about twenty kilometers from Baroda city. Nandu was married at the age of 16 into a farming family, within a few years of marriage Nandu Ben had two sons the family's only source of livelihood was farming on rented land and for many years they eat out a living on 600 to 800 rupees a month. In fact, Nandu Ben's elder son had to drop out of school to work as an agricultural laborer. At present, Nandu Ben is an organized businesswoman.
Her business journey began when she joined the self-employed Women's Association or Siva. Her life was hard finances were stretched, but she managed to save for 14 years and there's been a dramatic change in her circumstances at present.
She works with other women and encourages them to join Savi with the aim to work, educating themselves, and empowering themselves. The self-help groups that she formed helped poor women to save and ensure their lives take loans get involved in various activities like permaculture. For example, these self-help groups cover a whole range of activities but in the majority, they work in the production of compost and other natural manure. They are also involved in the production of various indigenous herbs and follow the agenda of self-sustenance.
However, the turning point for Nandu Ben was the day she joined to save the self-employed Women's Association. She heard about savir from the island bodyworkers in her village and signed up. Nandu Ben helped save her and formed the first women's self-help group in her village herself with one of the 20 members each of them saved 10 rupees a month over the next three months and formed two more self-help groups in the village encouraging the women to save and take small loans from their groups rather than pay huge interest to local moneylenders.
Over the next few years, Nandu Ben took loans from Zila banks to free the mortgage and agricultural land that her father had owned after that there was no stopping for her. Her constant efforts and determination made Ben's turnover from her agricultural holdings up to seventy thousand rupees a year. The annual profit from her business is twenty thousand rupees. Nandu Ben continues her work as she manages 32 women's self-help groups and eighteen villages for which she gets three thousand rupees a month. Saiva has loaned 20 lakh rupees to various women in these villages true. Nandu is responsible for the timely recovery of these loans to top it Nandu ban has bought some cows and there's another business opportunity waiting to be scaled up.
Thus, her story inspires us and taught us a very valuable lesson "The most difficult thing is the decision to act, the rest is merely tenacity." It was her actions that help her to grow and become a successful micro-entrepreneur.
. . .