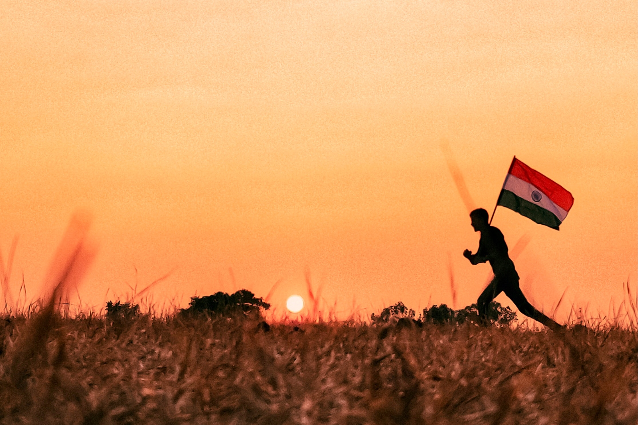 From our mesmerizing landscapes to our rich heritage, from unique culture and diverse history to joyful festivals, India is a gorgeous amalgamation of traditions, languages, and people. Being a multi-cultural, multi-lingual, and multi-religious society, India has seen steady progress in various spheres over the last century after being free from the slavery of 200 years of British on 15th August 1947. India is currently celebrating its seventy-five years of independence where Azadi ka Amrit Mahotsav is being observed to celebrate the glorious history of its people, culture, and achievements.

India, the golden sparrow, always believed in "Unity in Diversity". Dr. A.P.J. Abdul Kalam, the former president had a vision for India 2020, in which he visualized India as one of the most advanced and developed countries in the world.
After 25 years from now, India will be celebrating its 100th anniversary of independence in 2047. This will be the landmark year to look at India through the prisms of development, growth, gender, equality, employment, and peace.
"Ask not what your country can do for you — rather ask yourself what you can do for your country." - JOHN F KENNEDY
The empowered youth from diverse backgrounds like food to fashion to finance are the forerunners of assessment, awareness, action, and advocacy for sustainable development. They are the main stakeholders, policymakers, powerful resources in handling responsibilities, revolutionizing fellow men, and a catalyst for change being the change you want to see in your country
I envision India of 2047 as:
EDUCATED INDIA: A country with the highest literacy rate where education becomes a mandatory birthright to everyone through various initiatives by the government to promote education like "each one, teach one"
CLEAN INDIA: Swach Bharat Abhiyan, the cleanliness drive program with the mantra of "NA GANDAGI KARENGE, NA KARNE DENGE" (neither litter nor let others litter) should evoke a massive change in the country's outlook and citizen's attitude. As there are a quote "Clean people and healthy people can make a wealthy country."
ECO- FRIENDLY INDIA: From simple habits of planting trees, switching lights, conserving water, driving less, walking more, using CNG buses, India can be a pioneer for climate change and stop global warming and protect its species. Green revolution and sustainability are the future.
HEALTHY INDIA: A healthy and fit India that honours Yoga, a healthy diet, and Ayurveda as a chief mantra. Medical facilities should be easily accessible to each and every one. Each of us should pledge to donate organs and encourage others to do this noble work.
WOMEN EMPOWERMENT: A country that sees women as its assets, not as liabilities. The self-reliant and empowered women have equal rights with men and there is no discrimination in the job based on gender. Where a woman feels safer to walk alone in the night.
CORRUPTION FREE INDIA: Where an honest man will not have to pay bribes and will combat corruption by refusing to pay and by reporting about corrupt officials to the higher authorities. Speedy disposal of cases in courts and greater accountability in the judiciary. Better governance, a transparent and accessible media that would unmask the corrupt
EMPLOYMENT: A place where the deserving candidate will get the job first rather than reserved candidates. Where there are government job opportunities for every deserving youth
DISCRIMINATION: True independence is freedom from the clutches of religion, caste, colour, gender, race, social and economic status.
POWERFUL ECONOMY: India would be self-sufficient in food and where no one is dying of hunger and poverty.
TECHNOLOGY: A country that is technologically developed with modern infrastructure with Rocket Science, Missile Technology, IT, Electoral Reforms and Development of Industrial Sector
HAPPY AND PEACEFUL: A kind country that values international relationships and ties and believes in "ATITHI DEVO BHABA" and BASUDHAIBAKUTUMBAKAM and VISWAGURU
How we visualize India of 2047 will determine the revolutions we will adopt over the next twenty-five years making it a powerful and self-reliant country.
We need to join hands so the spirit of unity invokes us and get involved in rebuilding the new India of our dreams.
TO SUMMARISE:
India where
Poverty and Illiteracy are history,
Education becomes the priority
Agriculture and Health work in symphony,
Women and Children live in harmony,
Wildlife, Heritage, and Technology live with integrity
"Swach Bharath, Swasth Bharath,
Shresht Bharath, Samrudh Bharath"
. . .