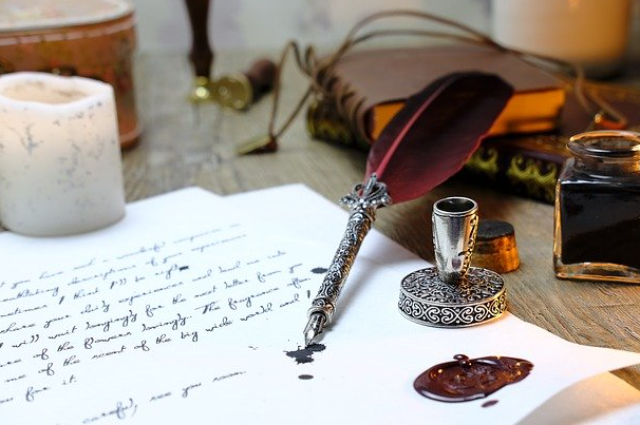 Dear Daniel,
I shall be delivering a speech about my company's recent successes on 24th October, 2017 (time 11:30am) at the Kwintosh Towers, Eastern Metropolitan Bypass, Calcutta. I'll be glad if you can be present, as I'd like to discuss a rather uncanny occurrence after the event. I'm sure it will appeal to your interest and I might need your help. Looking forward to seeing you.
Arjun Shrivastav 19th October, 2017'
"Who is he?" I asked, as Daniel put the letter down on his table.
"An old acquaintance," he replied, resting his head as he leaned back on the couch, "he's a CEO of the MacInster Company. They deal with artificial intelligence and other software stuff, which I'm afraid I don't take much interest in!"
"Well, I hope his matter does interest you!" I replied. But his thoughts had wandered off into the depths of oblivion, by then.
*******
We reached the venue on that day, well within time. The success was indeed major, hinted by the grandeur and pomp of the celebrations. Quite ironically, the building wasn't a tower, as it's name suggested. In fact, it was far from it. A whitewashed, two-storeyed mansion, I should suggest, with a colonnaded balcony in front where the stage had been made. However, the unique feature was a twin-towered fountain on the approach to the building, which was supposedly made by a renowned Tibetan sculptor by the name of Kwintosh. 'What a ridiculous way to name a building!' I thought.
My thoughts about the etymology of this name were interrupted by the sudden noise of impatient reporters, rushing towards the temporary ramp. A middle-aged gentleman who had just walked in, was greeted with garlands and bouquets. "That's him," remarked Daniel. The sound of applauds faded soon after he alighted onto the stage. A 25-minute speech about the company's international reach, recent developments and new endeavours was concluded by another round of applauds, and the reporters once again rushing up like a swarm of bees.
"There's absolutely no way he's going to notice us here," said Daniel, keeping an eye on his friend as he walked down, jostling through the crowd. "Let's go wait in the parking area," he continued, "he seems to be leaving."
It took about a quarter of an hour, before the man actually arrived with a couple of others. I finally got a closer look at Mr Shrivastav. He was a man of sturdy build and fair complexion. His neatly trimmed and combed hair was showing signs of ageing, as was his mildly wrinkled face. He was clean shaven but with a small stubble below his chin, which however was completely grey.
Recognising Daniel at once, he said, "Oh man, its really good to see you! Would you mind coming over to my office now? I shall attend to you immediately. But another minute over here, and these reporters are going to kill me!"
Daniel politely agreed, as we got into our car.
"Any leads?" I asked.
"Not in the least".
*******
A ten-minute drive brought us to the entrance of a skyscraper which was the regional office of the company. A security officer screened us, before we followed Mr Shrivastav to his cabin on the fourth floor.
"Would you like anything?" he asked, as we walked in. At that moment, I would've sacrificed everything for a glass of water, but Daniel's refusal to his proposal didn't really give me much of a choice.
"Alright then," said Mr Shrivastav with a look of apprehension, "straight to the point. I must tell you that it is indeed a matter of grave importance." We helped ourselves to the chairs at his desk as he switched on his desktop, and turned the towards us. There was an email on his screen:
'Last warning. Do as we say. Hand over the papers. Your indifference shall cost you, your life.
Regards A well-wisher of yours'
"Details and location of email ID," said Daniel standing up, " Did you try to find out?"
"Deactivated. Was accessed from a Cyber Café in Saltlake, but that guy has no clue who it was."
"Of course… also this doesn't seem to be the first time you've been threatened."
"Well, there was one more message a few weeks back, but I thought it was a hoax."
"And what made you think that this one isn't?"
"The specificity, Daniel. The first message seemed to be hanging in air. This one mentions papers, which makes me believe that they're well-informed pursuers."
Daniel turned around with a curious look on his face. "What are these papers?"
Mr Shrivastav looked at him for a few seconds, with an expression of hesitation.
"I'm asking you again," said Daniel, with a more authoritative voice, " what is it?"
"Daniel," exclaimed the former, walking towards the window on the rear wall of his cabin, "I'm afraid I cannot disclose that. It's a matter of utmost secrecy."
"Well, then let me tell you something, Arjun," replied Daniel, "their intention is certainly to kill you. Otherwise they would've been much more specific with their instructions, instead of these threats. Mr Shrivastav clearly seemed to feel much uneasy now.
The former continued, "If you refuse to furnish me with complete information, I'm afraid there's not much that I can do. From what you've told me, my only advice would be for you to stay on your guard. Good day, until you change your mind!" Daniel walked out of his office.
Little did we know that this matter was really far from being over.
*******
Next morning, I was reading the newspaper, and proudly glancing at my column which had been published. I had worked extensively on social issues in some remote tribal areas and was appreciated by the chief editor along with a pay-rise. Daniel was reading something on his laptop, which I have no clue about when he received a call.
"Yes, speaking," he said, clearing his voice, "Oh yes, Good Morning!" He continued after a pause.
"When did this happen?" He waited for a reply. "Right. I shall be there at the earliest." He signalled to me to get dressed, while he sprung to his feet and put on a jacket.
Daniel took to the steering wheel, which hinted an emergency. My belief was reinforced his words that followed.
"Arjun is dead. Probably murdered. Inspector Roy is at there at the company office." He took the turn onto the Bypass Connector and continued, "they've been informed that I met him yesterday, but again I don't know anything of the matter – what it was, whom did it concern, who was to benefit… lets hope they don't conceal anything now at least."
People had gathered in front of the building. There were discussions and gossips of all sorts from what I could hear. Guided by a police constable, we made our way through the crowd.
A few, white-uniformed men stood in front of one of the elevators – some of them speaking to the people in the office, while others busy in what seemed to be, the crime scene. Ins Roy walked up and greeted us. "Over there. In the elevator."
The two of us walked up to the front of the open elevator. Our acquaintance from yesterday lay on his back with an expression of mild pain on his face.
"Was he alone in there?" asked Daniel, inspecting the place.
"Oh yes," replied Ins Roy. Bending over, and pointing to the body, he continued, "His left palm has turned mildly blue. Seems to be poisoned. Although I don't have any lead on how it happened."
"Must be coming down to the lobby to meet someone," said Daniel, "did you check his office?" "Searched thoroughly," replied the former, "nothing that seems strange."
"There is something going on in this place which is certainly not a regular occurrence. Have to find that out first!" Daniel was speaking to himself, but Ins Roy inferred it to be meant for him.
"Weren't you here yesterday?" he asked, "I thought you might be able shed some light onto the matter."
"I was aware of a threat on his life, which I warned him about. However, nothing else was disclosed to me. So at this moment, even I need to start from scratch."
Just then, someone had walked up behind us and called for Ins Roy. A short, young man in his thirties. Tanned complexion and wore thin-rimmed spectacles. "This receptionist found this at her desk," he said, handing over a postcard. It read: 'Warned you. Goodbye.'
"Clever man," said Daniel, "each letter has been cut-out from a newspaper to prevent any traces." "Who are you?" I asked this young man, standing in front of us all this while.
"Oh, my name is Rajesh," he replied, "Mr Shrivastav's secretary."
"Do you have any idea who he might've been coming downstairs to meet here?" asked Ins Roy.
"I don't know, sir," he replied at once, "I was quite certain that he didn't have any prior appointment this morning."
After a couple of questions to the receptionist, Ins Roy turned to Daniel.
"Alright, I shall be sending the body for post-mortem. I do not see any reason to detain you over here Mr Daniel, unless you wish to investigate independently. However, I would like to be informed in case of a breakthrough."
"Sure," replied Daniel, engulfed in some deep thought, "I'd also like to know about the post-mortem report. So please be kind."
Daniel walked up to the receptionist and had a brief conversation with her. I was making notes about the crime scene and the corpse, when he tapped on my shoulder and asked me to follow him. We took the stairs to the second floor of the building.
"Where are we going?" I asked, following him from the lift lobby into the corridor.
He seemed to be looking for a particular nameplate, as we walked down the corridor adjoining several cabins which were larger than that of Mr Shrivastav's.
"Need to delve deeper into this matter, Sid," he said, still looking for his name, "the tragedy couldn't be averted. Now I need all the information." There was pause in his last words, as his eyes suddenly fixed on the name – Mrs Kanika Sharma, Asst Director of Operations.
A knock on the door, was followed by a 'yes' from inside. Daniel walked in, handed her his business card. A woman in her late 40s, I thought. Fair skin, with a rather round face and curly, greying hair which had been dyed recently. She greeted us both and showed us the chairs.
"Now," spoke Daniel, "I don't suppose the police have had a conversation with you this morning?"
"You're right, they haven't," replied the lady, "although I don't understand how I'd be knowing anything about this."
"Mrs Sharma," began Daniel, "Arjun Shrivastav was an acquaintance of mine who had informed about some threat on his life. The threat messages had a mention of certain papers, which however, Arjun didn't disclose to me and it was termed as rather confidential. I'd like to know about these papers and the whole matter, Mrs Sharma. You must consider it to be an act of goodwill towards your fellow colleague and not hide it anymore."
There was a pause for few seconds. She then looked up at him from her desk.
"Well, if Mr Shrivastav trusted you to get involved in this matter, I don't see a reason why you must not know the whole thing. However, I shall expect the utmost secrecy from your side. This can't become a public affair." After the assurance from both of us, she continued.
"We are working with the scientists of our defence forces to develop some program-based machinery that is a part of their latest nuclear mission. Mr Shrivastav was supervising the project and was in constant dialogue with them. Some of the blueprints have been finalised and are almost ready to be sent to our clients. Those must be the papers you mentioned. As you would understand, this was being executed as a confidential project. But from what it seems now, the worst has happened – someone not involved in this has been informed about it. Fortunately, the papers are still in our possession."
"And you're absolutely confident that this matter was never discussed in the presence of a non-involved person?"
"Most certainly."
"Now that Shrivastav is dead, who is heading this project?"
"Well, at the moment, no one. A board meeting has been scheduled on Friday. Someone might come in from our headquarters in Mumbai, as no one here has the credentials that he did. Plus, disclosing it to a new person now might again be risky."
"Well then, thank you Mrs Sharma for your time and confiding in me this information, which certainly would be of great help!"
Daniel and I came out of her office, and slowly walked towards the lift lobby.
"What do you make of it?" I asked.
"A few connections are still missing," he replied, "the murder needs to be solved first of all. I need some information on that. Anyway, come along with me, to his office. Need to have a look."
Mr Shrivastav's office on the fourth floor had certainly been searched by the look of it. The police seemed to have indeed done a thorough job, but Daniel was convinced that something somewhere had been overlooked.
"Sid," he said, "he has been poisoned through his palm. Try to observe and notice any abnormality in all the things that he might've touched or used with his hands – computer, writing desk, pens, everything."
A few minutes into this search, Daniel got a call from Ins Roy. It was a brief conversation which sent him into deep thought.
"What is it?" I asked.
"From the traces of the poison that has been found, the forensic doctors say he would've died within 5 seconds of its injection. How is that possible?" His last words faded into the cloud of doubt in his mind. "Come with me," he said. We walked up the end of the corridor and stopped in front the elevator shaft which Mr Shrivastav had taken.
Getting a hint of his line of thought, I said, "Daniel, that walk from his office would've easily taken more than 5 seconds."
He probably ignored my remark, and kept staring at the sky from the curtain wall of the building. His indifference suggested all kinds of possibilities in his mind.
Suddenly, he turned to me with a smirk on his face, and spoke in mild tone of excitement.
"Sid! What do you do when you enter an elevator?!"
I was puzzled initially but I said, "well, I walk in and then I-". I couldn't complete the sentence. My right arm was in an outstretched position as I looked at him with shock. There was a cunning smile on his face. We ran down the stairs to the ground floor lift lobby.
The crime scene was much emptier now, with the body having being removed and other people having gone their own ways. A police constable was still strolling around the place.
"I hope no one has been here," said Daniel, rushing towards the elevator.
"No, sir," replied the constable. He walked up behind us to have a look at whatever was happening.
Daniel walked into the elevator and knelt down, scrutinising the floor buttons on its wall.
"Sid," he said, "take that ball-pen in your pocket and slowly push the ground floor button from one of its corners. And be careful, your hand should be as far as possible from it."
I followed his instructions by the word. Quite to my amusement, as the floor button slowly moved backwards in its place, a long and slightly discoloured pin-like element came out projecting from the centre of the button. It had been fixed rigidly onto the seat on the button, to go straight into one's finger if it were pushed.
Daniel pulled it out with a bit of force, and examined as much as he could with the naked eye. He then said to the constable, "Inform Ins Roy that the murder weapon has been found. I shall keep it safe until he collects it from me."
For all this while, neither of us had taken notice of the day passing by. It was already half-past three in the afternoon when we stepped out of the office building. We hadn't eaten anything for several hours, and the scorching sun was shining right on our faces. To the best of our interests, both of us headed home.
Later in the evening, as I sat with a cup of coffee, I remarked, "poisoned with a dart and the pursuit of those papers. What do you make of it, Daniel?"
"If I am on the right track, you should be having your answers by tomorrow afternoon." Saying this, he picked up his phone.
"Ins Roy. I might be onto a lead, and I need a favour."
"Tomorrow at around 9:30 in the morning, could you send one of your men to my place? I shall need him for a couple of hours. Oh, two things – someone who hasn't already been to the crime scene today, and this person shouldn't be in uniform."
"Sure, thanks."
"What's going on?" I asked, as he put the phone down.
"I shall be going there with this guy in the morning. I have some things to find out, for which I need a companion who won't be identified by anyone. You needn't come in the morning. But if my plan is fruitful, keep yourself free in the afternoon."
Daniel shut his eyes, and leaned back on the couch. While he put his calm and calculative mind to rest, my apprehensions for the next day knew no ends.
*******
As informed, Daniel left with a young police constable in the morning. I sat down at my desk, reviewing some draft articles sent in from the newspaper office. After sometime, I glanced at my notes of this case. I picked it up to connect the threads, and start developing a story but put it down soon. The excitement about the conclusion of this case would've made me too restless.
Daniel came back at about 1pm. He had a look of satisfaction on his face.
"I hope you're free," he said, "Let's leave in about half an hour, so we can reach the office by quarter past two. Ins Roy should be waiting for us."
"So… does this mean you've solved it?" I asked, with a look of amusement.
He smiled and went into his room.
*******
We reached the office of MacInster Company in the afternoon. As expected, Ins Roy was waiting for us with a couple of constables. The constables were instructed to wait near the fourth floor lobby while we headed for Rajesh's office. We walked into his office. He was checking some documents, but sprung to his feet on seeing us.
"Oh what a pleasant surprise, gentlemen," he said, "any progress?"
"Pleasant indeed," said Daniel, "so Mr Rajesh, on the day of the incident, who came to meet your boss in the morning?"
"No one. As I said, there were no appointments for him that morning."
"Really? Then why did ask him to come down to the ground floor lobby that morning?"
"I've no clue what you're talking about. I didn't do anything as such!"
"In that case, for whom did you place this thing?" Daniel pulled out the pin from his pocket, and handed it over to Ins Roy. "The murder weapon," he said.
"Mr Daniel, this is a ridiculous allegation. You're just making this up. I did nothing as such!"
Daniel smiled at him and continued. "I'll tell you exactly what happened. On that morning, you took the elevator from the ground floor till the top, and again back to the fourth which gave you all the time in the world to fix that thing. Upon reaching the fourth floor, you informed Mr Shrivastav that someone wanted to see you urgently, and you were holding the elevator for him. However, when he came you smartly avoided going down with him, so that your plan wouldn't fail. Every word of what I said can be accounted for by the footages of the surveillance cameras. You thought your plan was fool-proof, because no one would ever guess that your little setup was inside the elevator!"
Rajesh realised he had no way out now. He glanced at Ins Roy and me – he seemed agitated.
"You should really be tidier with your work!" said Daniel, in a sarcastic tone walking towards the shelf. He pulled out a thin, paperback book from the shelf – 'Poisons: Natural and Unnatural'.
"I don't think that's a hobby of yours, is it?" remarked Daniel, in a tone of ridicule and amusement.
"But where is the poison?" asked Ins Roy, "and how did he procure it?" "Mr Rajesh, do you wish to…?" said Daniel.
"Yeah, I disposed it. It was anyway a 20ml container." "And how did you get it?" asked Ins Roy.
"Oh, come on," said Daniel, "obviously the person who he's working for." "There's someone else?" asked Ins Roy. He was in a state of disbelief.
Daniel looked at Rajesh and continued, "Now would you kindly hand over the note in the top-left drawer of your desk?"
He pulled out a paper, quite similar to the one found on the receptionist's desk the previous day. Ins Roy took it from him to have a look. It read:
'Get it as soon as possible. Willing to negotiate. But shouldn't take longer than two days now.'
Similar note as the previous one, as I mentioned. The words had been cut out from newspapers. Ins Roy kept it safely and was about to the call the constables, when Daniel interrupted.
"No. Don't arrest him just yet. I have a feeling that it might alarm the kingpin of this whole matter." "Then what do you suggest?"
"Rajesh," said Daniel, "there's no way out for you now. Charges of murder are severe enough, let me warn you. And there's more to your case. However, if you cooperate with us to capture this person, it might be of great help to you."
"Alright," said Rajesh, now a defeated man, "What do you want me to do?"
"Call him. Tell him that you've managed to lay your hands on it. And ask him to meet you to negotiate.
Speak confidently and I'm warning you – no tricks."
Rajesh picked up the landline handset and dialled a number. Few seconds later, there was voice at the other end.
"Hello, this is Rajesh here."
"Yes, I managed to get them. I need to hand it over before they find out that things have been tampered with. I need to meet you and negotiate."
"Thanks. When and where?"
"Alright."
Rajesh put the handset down. Daniel put it to his once again, to verify that no one was on the other end of it now.
"Go on," he said.
"He's asked me to meet him tomorrow morning at 11. There's an old, unnamed warehouse of a retail glass company at 17, Brabourne Road."
"You better not be fooling around. What's his name?"
"I'm not, Sir. Believe me. He was furious when I asked him before. Then he just asked me to refer to him as Ibrahim."
"False, I'm most certain," said Ins Roy.
Daniel nodded his head and spoke, "Ins Roy, I want you to keep an eye on him until tomorrow. Don't officially arrest him. Let him go and meet this person tomorrow. We need to get that man as well."
He had a few more things to discuss with Ins Roy before we left from there. On the way back, I asked him, "How on earth did you find all of that? That was splendid, I must say!"
"When a confidential matter hasn't been discussed with any outsider, the involvement of an insider becomes pretty obvious. Neither of the directors could've revealed it due to the company protocols. Nor would've Arjun, but due to the presence of a secretary I always had this suspicion that through his constant accompaniment, Rajesh might've indirectly learnt about this matter. But, he had nothing to benefit out of this, unless an outsider promises him good money in return of it. Eliminating Arjun was inevitable – without that he would've never gained access to the data. So you see, every argument just strengthens the accusation."
"Right," I said, "but what about the book in his office, the note in his desk and camera footages?"
Daniel heartily laughed. "What on earth do you think I was doing today morning? The police officer was an imposter pretending to be a potential client. He detained Rajesh in the ground floor lobby for about ten minutes, giving me the time to sneak in and do my work! The footages, of course – were available with the security."
*******
Next morning, we reached Brabourne Road about an hour early, to prevent any suspicions. Both of us parted ways, strolled around the old market and walked into the warehouse at No 17, at different times. To my surprise, a swindler I came across just before entering, walked into the place. I was under the impression that I was alone, so I quietly followed him. He disappeared behind some wooden crates, stacked at a distance. Upon turning around the corner, I discovered Daniel sitting with my presumed swindler – Ins Roy.
"I hope everything is ready, Inspector," said Daniel.
"As planned," said Ins Roy, "the constables will drop him at the end of the street and follow him from a distance. Rajesh should be here without any trouble."
"Great. Now Ins Roy, since both of us are armed, we shouldn't be together. Sid, hide yourself somewhere here and come out only when he has surrendered." Daniel made a good hideout for himself between the crates while Ins Roy paced across and positioned himself behind a wall.
The wait seemed to be endless. I hadn't realized how early we were. After what seemed to be several ages, Rajesh walked into the warehouse. It was 10:58. Any moment now, I thought. Rajesh had a bunch of papers quite well dressed to look like blueprints, tucked under his left arm. As Rajesh waited for the man, all sorts of thoughts crossed my mind – maybe we were spotted? He might not even turn up, who knows.
However, soon the moment arrived. A lean, bearded man in a black jacket walked in from the entrance. He was carrying a briefcase. And from a distance, he seemed to have a mild limp in his walk. 'If he can't run, he must be armed', I thought. At this moment, Daniel gave a nod to Ins Roy who marched out from his hideout. Daniel got up to follow.
"Stay where you are, and drop your belongings," shouted Ins Roy, "on your knees and hands behind your head. You're under arrest."
I quickly came out of my place and walked up to Daniel. One of the constables guarded the entrance while the other screened our man. "He's clean," was the reply, as he handcuffed both of them.
"Ibrahim, I suppose," said Ins Roy, "what did you intend to do with those papers?"
"You aren't getting anything out of me," said the man, in a broken voice, "I ain't no traitor like this one over here!" He gave a murderous look to Rajesh, and looked up at Ins Roy.
"You're working for someone, aren't you?" said Daniel, putting his revolver back into the belt. Ibrahim stared at him but didn't utter a word. Even we were surprised. We thought we had got our man.
Ins Roy asked the constables to take them away, and turned to Daniel. "What do you mean?"
"Inspector," said Daniel, "these documents… unless they go out of the country, they're of use to none.
You must be knowing that."
Ins Roy looked dejected after realising that the matter might still be far from over. "We do have our ways to make them speak," he said, "let's hope we're able to get to something. I shall inform you if I find any further leads. And as always, I'm most grateful to you. This case might've remained unsolved in your absence."
*******
Later in the evening, Daniel got a call from Ins Roy. As he put it down, there was a smile on his face.
"What's the update?" I asked.
"The police have their ways, you must be aware," he said with an amusement in his voice, "after several hours and finding himself in a near death situation, Ibrahim mentioned someone with a nickname Chris."
"And where is he?"
"Hanoi," he said with a laugh. "Legitimacy yet to be confirmed, but I shouldn't be wrong in saying its one of our neighbours, who is behind this."
"So now what?"
"Nothing," Daniel replied, shutting his eyes. "It'd require lot of permits and connections for me to extend my investigations abroad. Now, we can only sit back and trust the efficiency of our police forces!"
. . .