Krishna Janmashtami festival is celebrated as the incarnation day of Shri Krishna, the eighth avatar of Lord Vishnu. It is related to the Vaishnava tradition of Hinduism. The scenes from the life of Lord Shri Krishna under this festival are accompanied by mediums such as drama, fasting, Bhagavata Purana Katha, Ras Leela, and Krishna Leela, as midnight is considered the incarnation time of Lord Shri Krishna. Janmashtami is one of the most important Hindu festivals that celebrate the birth of Krishna. It is celebrated on the eighth day of the Hindu month of Bhadrava, which is usually in August or September.
According to mythological texts, the birth of Shri Krishna was on the Ashtami of Krishna Paksha of Bhadrapada month at midnight in Rohini Nakshatra. During this festival, Ras Lila is mainly organized in Mathura-Vrindavan, the birthplace of Lord Krishna. 'Raas' means beauty, emotion, or sweet, and 'Leela' means drama or dance or more widely it is called the dance of divine love.
Krishna Janmashtami is also known by the prominent names Krishnashtami, Gokulashtami, Kanhaiya Ashtami, Kanhaiya Aath, Sri Krishna Jayanti and Shreeji Jayanti.
Rituals & customs
On this occasion, people fast until the sighting of the new moon, followed by a full moon vigil that marks the birth of Krishna at midnight. People perform ceremonies and prayers at temples, as well as rituals that practiced in different areas such as bathing the idol, dressing it in new clothes and jewelry, and then placing his image in a silver cradle with toys.
Performing Folk art
In some parts of the states, people perform folk plays that depict scenes from Krishna's life in Mathura and Vrindavan. Other areas have rituals that include pots that have money, curds, and butter that are hung high over the streets, and boys form a big group of pyramids to try to break the pot. There are 108 dishes to be made on this special occasion. Traditional processions held as part of the celebrations.
Tales to hear
You may hear many stories about Bal Krishna that how mischievous he was as a kid, pranks such as tricking people out of their freshly stir butter or stealing clothes of Gopi's while they bathed in the river. There are many paintings, classical dance, and sculptures that depict the life of Krishna, which typically show him as a child dancing and holding a ball of butter. He showcased playing flute and surrounded by adoring women.
There is a tradition that women draw patterns of little Krishna's footprints outside their house that are walking towards their house to symbolize the entry of the Krishna.
Among the deities, Lord Shri Krishna is the only incarnation of Vishnu with different colors appearing at every stage of his life. In the Mahabharata, Lord Krishna has taught the lesson of devotion from the teachings of the Gita.
There are many exciting stories from the birth of Lord Krishna to his entire life. To get the blessings of Lord Krishna, devotees fast on this day and offer prayers to Shri Krishna.
Janmashtami is an official holiday in India. It is not a nationwide public holiday, but few countries follow the procession such as Australia, Canada, the United Kingdom, and the United States, and some of the other cities hold large celebrations for the Janmashtami festival.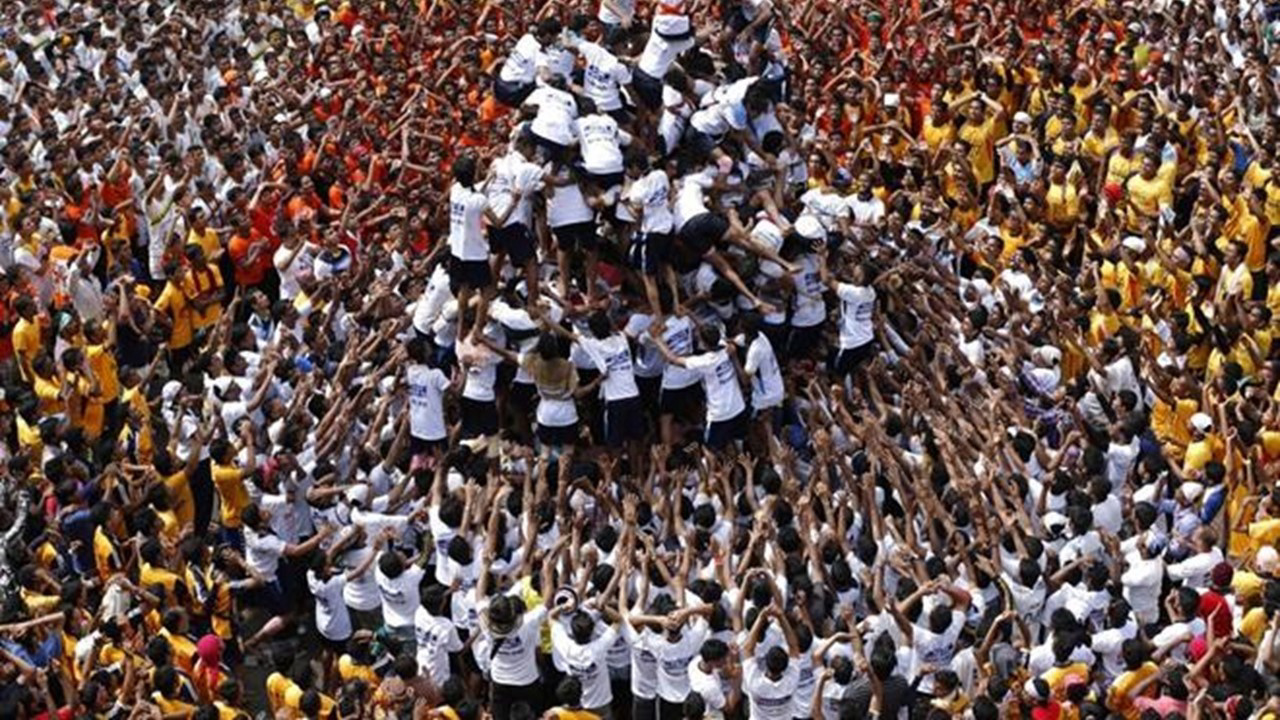 Image Credit: The Financial Express
Popular places to celebrate
Maharashtra: This event is popularly known as Gokulashtami in Maharashtra, it is observed by the celebration of Dahi Handi every August or September, a day after Krishna Janmashtami. In Maharashtra and other western states in India, boys form a big pyramid to break the pot; these teams of youth called the 'Govindas'.
Gujarat: It is also known as Makhan Handi where people in Dwarka, Gujarat celebrate this festival most effectively. People also perform folk dances at temples, sing devotional songs, visit Dwarkadhish Temple, or Nathdwara to celebrate the day.
North India: Janmashtami is the largest festival in the Braj region of north India. Vaishnav communities here and in Rajasthan, Uttarakhand, Delhi, Haryana, and Himalayan celebrate Janmashtami vibrantly.
South India: In Tamil Nadu, people decorate the floor with kolams, while Geetha Govindam and other such devotional songs are sung in honor of Krishna.
Northeast India: On this occasion, people performance arts such as Ankia Naat, Sattriya, Borgeet, and Bhakti yoga are celebrated in West Bengal and Assam while people in Manipur perform Manipuri dance form known for its Hindu Vaishnav themes.
Other countries: Places like Fiji, Nepal, Bangladesh, and Pakistan too celebrate Janmashtami, ISKCON temples around the world also celebrate the day.