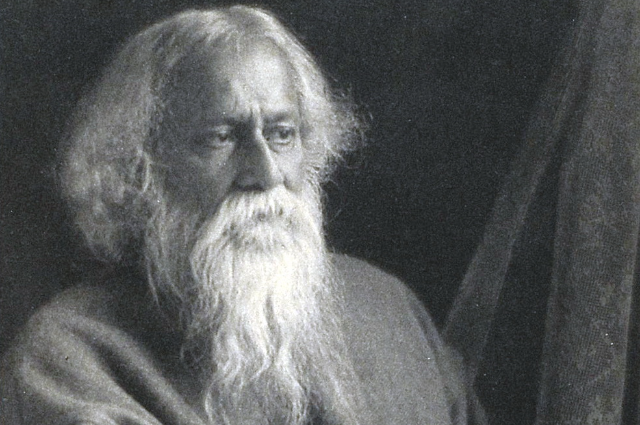 Art… Art is immortal, man is not. But the man becomes immortal in the form of his art. One such artist, I remembered as soon as I decide to proceed with the essay, is the greatest poet and philosopher Rabindranath Tagore. Being a progressive thinker, his writings often were based on bold subjects that were far ahead of time. I enjoyed delving deep into his works and hope you too will enjoy his perception and representation of the world he lived and loved.

Tagore was born in 1861 to Debendranath Tagore and Sarada Devi. He started writing at the age of eight. Known for his varied collection of poems, plays, stories, and novels, Tagore instilled women in the forefront in his works and conveyed feminism strongly. Also, he painted over 3,000 pictures. His early life was an interesting one. He had no formal education. Tagore's father was a landlord and a social reformer. Under the care of his father, he gained aesthetic knowledge of Bengali, Sanskrit, and English by private tutors. He spent a few months with Prof. Henry Morley at the University of London studying English literature.
About 1902, he lost his wife, younger daughter, son, and loving father. He was disconsolate for a long time. In his artworks, one can see the combination of personal sorrow and commentary on social and political scenarios in colonial Bengal in the early twentieth century.
In 1913, he received the Nobel Prize for Literature for "Geetanjali" (Song Offerings). He was the first Indian and first Asian to receive this award. His lines became the National anthem of India. One of Tagore's songs "Amar Sonar Bangla" (My Golden Bengal) was chosen as the national anthem by newly independent Bangladesh in 1971. Rabindranath Tagore's legacy is also with Shantiniketan. Tagore also laid the foundation of co-education. He eventually developed it into Vishva Bharati University.
Tagore's first short story on women was Beggar Girl (1877). Rabindranath grew up in the heart of Calcutta. He came of age in the presence of three movements in India; the religious movement headed by Rammohan Roy, the literary movement by the charismatic writer Bankimchandra and the nationalist movement against British rule. The poet's attitude and approach were moulded by these influences.
Tagore's writings can be divided into three phases.
In the early phase (1881-1897), social injustice against women was the main area of concern. The vigour of a woman was depicted through mythological female deities. He stressed that women should not be passive.
The second phase (1893-1913) was regarded as the most imaginative phase. The Indian woman was depicted as an urban and educated woman, coming up with a new fervour in Bengali society to fight for human rights.
In the third phase (1914-1941), highly educated women started speaking against the ills of society, like untouchability and religious pretence. So, the portrayal of women in his work can be regarded as one of his most important contributions to the society.
The very first novel Bou-Thakuranir Haat (1883; The Young Queen's Market) was written when he was only twenty-two. At age twenty-six, Tagore wrote his second novel Rajarshi (1887; The Royal Sage). While describing the monk nursing the suffering Pathans, Tagore wrote, 'I am a monk. I have no caste. I am only a human. Who cares about castes when people are dying? When God's creation man is asking another for love, how does the caste matter?' in 1887, when our society was tainted with casteism and other superstitions. From these two novels he realized that historical plots were not his arena. It cannot be said that Tagore intentionally kept his narration untouched by background details as he wanted his story to be for all times and all ages. Except for the love crisis, the reader gets no hint of other crises in that period.
God is and can be apathetic to some of His children but the writers have no such allowance for the characters they create. Even certain inconsistent ages, livelihoods or relationships of the characters would cause unrest. Good literature usually does not tolerate it. Poets can follow Gods but the novelists must be worldly. Tagore maintained his poet-like approach in his novels too. It is sure, during the period of reading his poetic novel, the reader lives in different world, sometimes, for certain period even after reading the novel.
Tagore took up the deprived life of an educated widow – Binodini – and her sexual emancipation in "Chokher Bali" (1901; Grain of sand). A story of distrust, adultery and lies, highlights a patriarchal society where young girls were married to much older men and left to become widows at an early age. It is the very first psychological novel in Bengali literature. His take on a topic which is still a taboo explains his highly liberal thinking.
Within the next few years Tagore finished his next novel Noukadubi (1906; 'The Wreck'). When Ramesh and his Brahmo neighbor Hemnalini fall in love, Ramesh's father married him off to a little girl. After the sinking of the boats, Ramesh discovered that the young bride was not his wife. A doctor, Nalinaksha is Kamala's husband, lost in the same storm. In this story, Tagore brings us women who find the courage to stand up for their own rights.
The character of Gora is unprecedented, so is Anandamoyi. Initially, it is revealed that Gora was not Anandamoyi's biological son. He was a white, European boy adopted by this Brahmin Hindu family. He was born at the time of Sepoy Mutiny. At that time only those born as Hindus were accepted as Hindus. Gora is Tagore's most significant writing because its perspectives are not limited but encompass the entire nation. It is a restatement of the self-respect of every Indian. It is the first portrayal of a national perspective in Bengali literature.
In between, he also wrote Chaturanga. This is the first time Tagore introduced an atheist whose religion is humanism, above all other religions. He does not show repugnance to a prostitute and can nurse an untouchable tanner. He even tried to marry his nephew to the prostitute.
In "Ghare Baire" (1916; The Home and the World), Bimala, despite being high-spirited, has to remain subdued in the role of a traditional housewife. She finds a hope for fulfilling her aspirations and falls in love with her husband's friend Sandip, disregarding social norms besides tug of war between love and trust. After facing criticisms on Ghare Baire, Tagore did not write any novel for a long period of twelve years.
The next novel "Jogajog" (1929; The Relationships) was on economic conflict, about the fall of the old-rich generation of landowners and rise of the new-rich businessmen. Two rivals Bipradas and Madhusudan. The boastful, avaricious, arrogant Madhusudan would be the winner. Between Bipradas and Madhusudan stands Kumu. The issue of marital rape is highlighted. Not only this, but many social issues were picked up by him, such as child marriage, dowry, wife burning, etc. At the time of writing Jogajog, the post-Tagore era had started.
Tagore wanted to have some fun with modern young writers, he wrote down Shesher Kobita (The last poem). With this book he proved how 'modern', how youthful his pen could still be. Shesher Kobita is still fresh and enjoyable today. One could almost read it up in one sitting. Labanya is a strong-willed, free-spirited and highly educated women who begins a relationship with an Oxford returned man, Amit. But she wonders why to marry and why it isn't enough even if there is love. Tagore questions the idea that the very institution of marriage is always the ultimate goal of a love affair, too much to take for the readers. The novel Char Adhyay (1934; 'Four Chapters') too created much noise. Tagore could never completely support the armed resistance movement; he rejected those actions.
In 1938, Tagore wrote "Chandalika," on the sensitive subject of the caste system. In 1881 at the age of twenty, Tagore wrote his first dramatic piece "Valmiki Pratibha" (The Genius of Valmiki). In Charulata of "Nashtanirh", Tagore brought into the forefront the sexual desires of a woman, reflecting his liberal approach to the topic. He explores the concept of women taking the reins of their desires and ambitions and making a choice out of her own volition. Pointing at the patriarchal rules that still persist, "Strir Patra" voices the struggle of self-identification of Mrinal and reflected how a woman's life was meant not to be restricted within the inner walls of a home.
The heroines of his short stories are famous like those of his novels. To quote a few are Giribala in Maanbhajan, Mrinmoyee in Samapti, Kalyani in Aparichita and the girl in the famous Kabuliwalah.
Tagore's stories and novels have been brought on celluloid by Satyajit Ray, Rituparno Ghosh and by other directors. In almost all Bangla movies, there is one dialogue or scene discussing Robi Gaan or Robindra Sangeet. What will be remembered forever about Tagore is his contribution to literary society and his attempt to create a world "where the mind is without fear and the head is held high".
The short story Laboratory, few months before his death, shows a new woman of that time. He recommended women to find their own identity besides wifehood and motherhood. India's journey from the period of head-shaved illiterate naive white saree clad young girls in teens to the period of emancipation, literacy, employment of women in all fields is not smoother ride. It demanded revolutions both at home and social levels. Many such stories, articles, silent literary movements by many male and female honest bold writers in all corners of India, helped people realise their ignorance, mistakes/sins and also to correct the mistakes/sins, thereby allowing girl education, reduction in child marriages, widow remarriages and women employment. This is the power of education, power of words, power of pen and the power of Art. People like Tagore will always be role models for the generations to come and to those who wish to hold pen and change society for good and betterment.
Tagore owns the tag Viswa Kavi or poet of the world because of his universal ideology. When India was struggling to find the right language of freedom movement, Tagore professed the idea of global integrity. This aspect made him stand out from all other national leaders and I personally admired him since childhood for this specific attitude of his. This changed the way Indians viewed at the world. The purpose of the freedom struggle changed from protest to progress as Tagore put forth the universality of man. The identity of India after independence was closely based on his ideology of peace and universal brotherhood. We are peace loving nation; we never initiate any war, vote for world peace and the first to send vaccines abroad during pandemic.
Tagore's last pilgrimage ended on August 7, 1941. He was eighty years old. His poem "A Farewell" speaks poignantly to the themes of death and departure:
Look out once more with tired eyes, and see
How, where the sun has set, the sea and sky
Merge in the darkness, then will you see the trace
Of shining light left by my parting gaze.
. . .