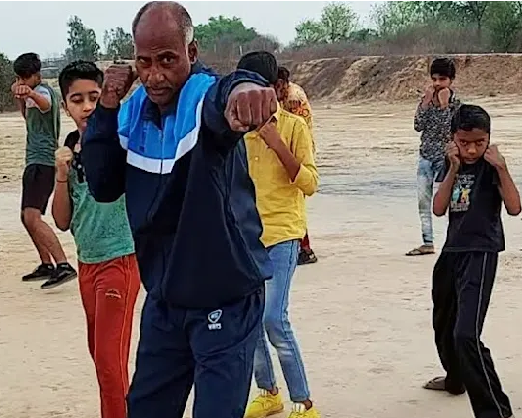 In current times, social media can make anyone's life and we all have seen it. At times news is shared so much that it gets everyone's attention changing the lives of people for good. And from the last few days, the video of national boxer and NIS qualified coach Abid Khan has gone viral on social media. Still, this video has upset several people linked to sports because one realizes that things cannot be taken for granted, and that is the story of Abid Khan. In this video, national-level boxing champion Abid Khan can be seen driving an auto in order to earn a living. The video has formed a debate among people about the negligence and disrespect handed down to countless Indian sportspersons. This topic is not new to social media, yet every time a story like this finds its way on the internet, it rages the debates.
Abid Khan's latest video has gone viral in which he drives an auto, and shares his journey from a national level boxer to an auto driver on social media. Abid Khan is not only a trained professional, but he has also served as a coach for the boxing teams of the army for 5 years. After watching his video, the Indian business tycoon Anand Mahindra took notice of Abid Khan's miserable journey and tweeted on his official Twitter account, "I especially appreciate he is not looking for a handout. In any case, I prefer investing in people's talents & passion rather than offer charity. Please let me know how I can invest and support his 'start-up' boxing academy…"
Anand Mahindra who is acknowledged for his charitable nature and compassion has constantly offered support to the less privileged in the most decent ways. He often gives a helping hand to those who need or deserve it the most. A few days ago, Mahindra had also bought a house for Idli Amma, originally named Kamalathal, who sells Idli Sambar for 1 rupee. He wanted to support her growth and make work easy for her. Idli Amma expressed her wish to have a house and Mahindra Group's Mahindra Living Spaces worked hard to construct a house for her. Every time you read Anand Mahindra's name in headlines; it is mostly for some noble work. And he is one of the few people who make you believe that wealth does not change a person, rather sometimes it makes one humble enough to do good for the world.
When the video went viral on social media which showed Abid Khan, a glorified boxer, who now drives an auto to survive and make ends meet, Mr. Mahindra tweeted to provide him some help. Abid Khan has represented Punjab University back in the 80s, coached the boxing team for the army for 5 years and even studied at the Institute of Sports in Patiala back in the day. In the video, Abid Khan spoke about how he discouraged his own kids to not join sports but he dreams of returning to coaching one day. This video sparked a whole debate on the treatment of sports in India and the huge gap between the incomes of a selected few sports personalities and others. However, this caught the attention of Mr. Mahindra, who has quite generously offered help and investments for Abid Khan.

Unfortunately, we all have often come across stories about national sportspersons who once brought honors to our country and are today living a life full of struggles. In India, very few sports gain all the glory, and cash as well. This is the reality of Indian sports that has been known for an extended period of time. In an interview with Indian Express, even Abid Khan said, "All these years made me believe that in this country, poor sports-persons only suffer". And India has numerous forgotten athletes who once were all too familiar.
The recent case of Abid Khan perfectly describes the reality of Indian Sports. The intense arguments have always been about how the continued rise of one particular sport has destructively affected other sports in India. It is a concrete fact and it becomes more vibrant if you look at how badly athletes from other sports are treated. And time and again, we have heard and saw athletes who have been forgotten after their golden days in their particular sport are ended.
____________________________
Reference:

www.olympicchannel.com
www.news18.com