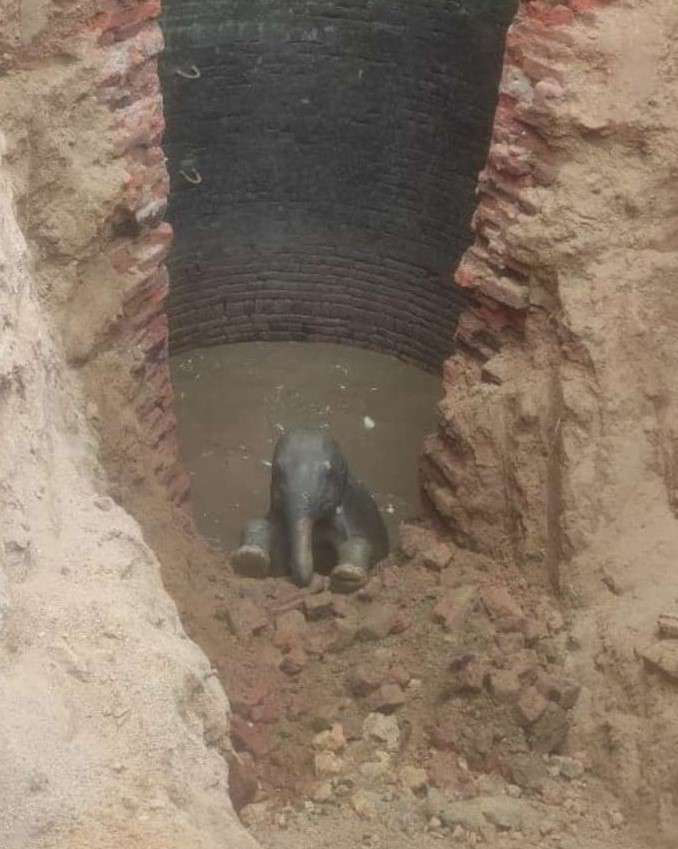 As the largest of all land mammals, elephants play a very crucial role in balancing the natural ecosystems of the world. Yet the elephant-human conflicts are an outcome of the ecosystem and habitat loss and exploitation of nature by humans. However, elephants are very important ecosystem engineers and there are numerous good people on earth who try to support these animals. And one such positive situation occurred at the stunning state of Jharkhand. An elephant calf that accidentally fell into a 30-feet deep well in Jharkhand was rescued by forest officials. And now pictures and videos of this awesome rescue mission are going viral on various social media platforms.
According to some reports, the incident took place when a herd of elephants was passing along the Nimatand village at night and the calf slipped and fell into the well. This baby elephant's little journey in the area turned into his worst nightmare and a rescue mission in this small Indian village. Around 2nd May, the herd entered Nimatand village from the nearby forest, in Giridih district in the eastern state of Jharkhand, and the calf was among the herd of elephants. The villagers somehow shooed away the herd, but they soon discovered the calf at the bottom of the well the following morning. The local government official Shashikant Verma who photographed this rescue mission told CNN that, "Unfortunately, in the dark of the night, roughly around 9 pm local time, an elephant calf fell into the well". Some multiple backhoes were used to demolish one side of the well and excavate a dugout for the elephant to walk out of the well.

It was the locals of Nimatand village who spotted the calf the next morning and alerted the local forest department. The officers soon responded and reached the spot with several excavators and launched a rescue operation using three backhoes. Officials demolished a whole side of the wall of the well, eventually cutting a ramp into the earth to allow the calf to walk out on its own instead of being lifted vertically. "The water level wasn't high enough, but the calf got some buoyancy after falling and didn't get any injuries", Shashikant Verma said. After a rescue mission of 8 hours, the baby elephant stumbled out of the wall, covered in mud and dust.
In another similar incident in February 2020, near Landarasika hill in the Ganjam district of Odisha, when forest officials rescued a calf, aged around five years, from a ditch dug up for a well. These elephants are often perceived as gentle giants, and they have fascinated humans all over the world for generations. However, when elephants and humans interact, there are conflicts from crop-raiding, injuries, and deaths to humans caused by elephants, and elephants being killed by humans for reasons like habitat degradation. These gentle giants always help maintain natural habitats and ecosystems for other species and are integrally tied to rich natural biodiversity.
Presently, the pictures and videos of the rescue mission of the cute baby elephant by forest officers in the village of Jharkhand are going viral on different social media platforms. Jharkhand has always supported these massive animals. Even the first elephant reserve of India, the Singhbhum Elephant Reserve was created in 2001 in Jharkhand. Under the Project Elephant, the area of this Reserve comprised of 13,440 sq. km. in east and west Singbhum and Saraikela-Kharsawan old districts for scientific and planned management aimed at the conservation of elephants' habitats and viable population of wild Asiatic elephants in Jharkhand. And with the recent amazing rescue operation of a baby elephant, Jharkhand has set another great example. And even the baby elephant who got rescued will perhaps remember this because as they say, an elephant never forgets…
_________________________________________
Reference:
www.indiatoday.in
www.msn.com