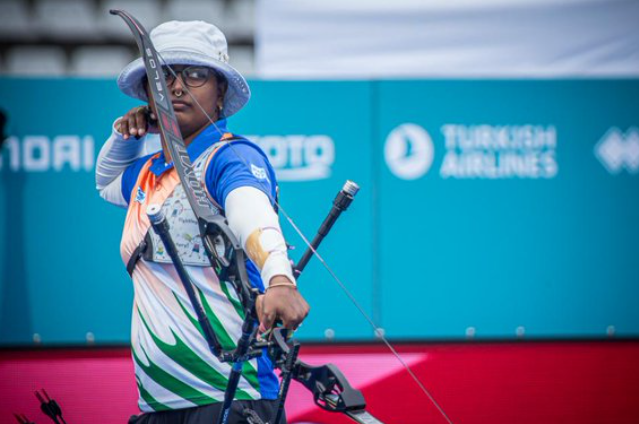 Indian women athletes are winning hearts by claiming more and more medals and championships. And recently, India's ace archer Deepika Kumari made India proud with her game. Deepika reacquired her number one position in global rankings after her hat-trick of gold medals at the Archery World Cup. Now Deepika will be the only Indian woman archer to represent India at the Tokyo Olympics next month. Citizens of India are showering praise on this 27-year-old for her great achievements.

At the Hyundai Archery World Cup in Paris, Deepika Kumari claimed gold medals in 3 recurve events, women's individual, team, and mixed pair. It turned out to be an exceptional day for Deepika as she claimed 3 gold medals at Stage 3 of the Hyundai World Cup, the last big tournament before the Olympics. Deepika Kumari has become the only woman contender from India at the Olympics. And Hyundai world cup is just another dream-run that Deepika Kumari required before she heads to the Olympics, which is the only medal missing from her career for now. The Summer Olympics 2020 was postponed in 2021 due to the COVID-19 outbreak. Now it will be held in Tokyo and the games are programmed to take place from July 23 to August 8, 2021.
Deepika Kumari will be seen as a remarkably mighty contender for both the individual and the mixed team events. However, India will not have a complete women's team going to the Olympics for the first time since 2000, and it is passing despite the trio of Deepika Kumari, Ankita Bhakat, and Komalika Bari winning gold medals in 2 of the 3 World Cup Stage events in 2021. At the Hyundai Archery World Cup, archer Deepika Kumari dominated her game and opponents in the individual event, and she was prominent in her win over the higher-ranked Mexico women's team. Wining the Recurve individual event by 6-0, Deepika also defeated Russia's Elena Osipova in a thumping manner. Deepika coupled with her husband Atanu Das to win the mixed team event. The recurve archer won a medal in every event she competed in. And according to World Archery rankings, Deepika has become the number one archer in the world.
Deepika Kumari has reclaimed her number one position almost after nine years. She had likewise achieved the top spot for the first time in 2012. Presently, she has 9 gold, 12 silver, and 7 bronze medals in the World Cup. She had similarly become the second Indian woman after Dola Banerjee to grab the Numero Uno status in June 2012 after winning her first individual recurve World Cup gold medal at Antalya, Turkey. Possibly, not many people know about the significance of the Olympics better than Deepika Kumari who has been seen as the one to finally get India a medal in archery. However, at the biggest competition of them all, Deepika has struggled a lot.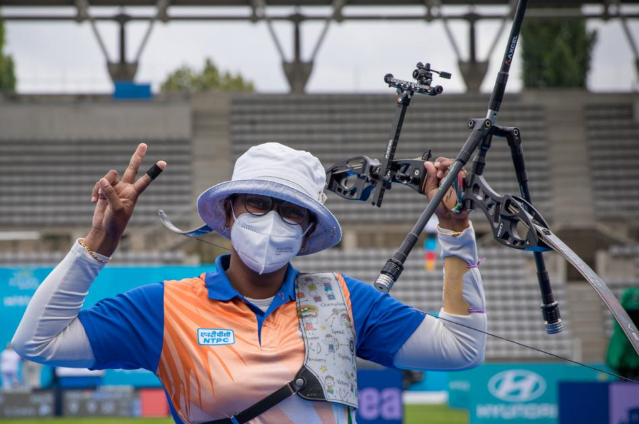 In London 2012, she ranked number one in the world. After 4 years, Deepika was able to reach only the third round in the Rio Olympics. And now when she is going to Tokyo Olympics as a veteran, she has a lot of experience, the momentum and she has also been working on her mental strength. With her true spirit, Deepika has likewise won individual gold in two of the three stages of the World Cup, one in Guatemala followed by Paris. However, it is also important to note that her biggest rivals are also giving their best in the game.

The Korean players have dominated women's archery and they are winning the individual event on eight occasions since archery was introduced in the 1972 Games in Munich. Deepika's biggest rivals in the Koreans are Kang Chae Young and An San. They remain unbeaten in women's team events, and if there is someone who can truly challenge them, it is Deepika Kumari, who has the full competitive experience that many athletes in the year of the COVID-19 pandemic have not had. And now when Deepika Kumari has become the world's number one archer, she has to ensure that she performs with her full potential in the upcoming Olympic event.
_______________________________________________
Reference:
www.sportscrunch.in
www.olympics.com
www.sports.ndtv.com