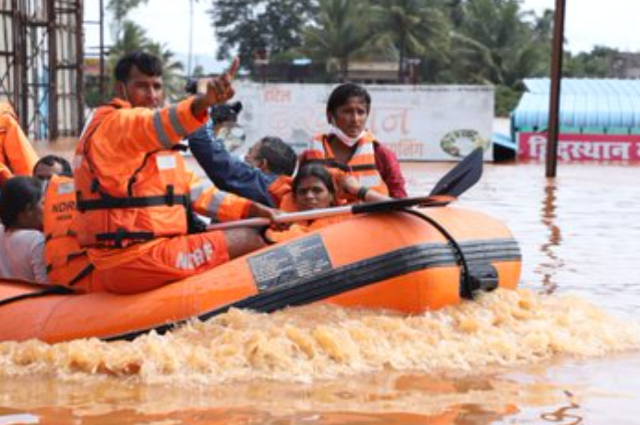 Floods are one of the most devastating and recurring natural disasters. Every year, it seems to bring times of extreme disasters. Currently, Maharashtra is facing some disastrous flooding situations. Floodwater has entered the roads and different areas, sinking many regions of the various parts of Maharashtra. The death toll in Maharashtra has also climbed over 150 as heavy rains have flooded parts of the state and its neighboring areas.

Several frightening visuals from the villages highlighted the severity of the condition. Numerous people were waiting and living on the roof of their homes as they waited anxiously and desperately for help. Social media was full of horrific pictures which represented the unfortunate situations at the distinct places in Maharashtra. Netizens additionally urged people to assist and support in any way possible.
As per the data by the Relief and Rehabilitation Department of the state government, above one lakh people have been relocated from the flood-affected areas. Above 150 deaths have been recorded, around 100 are missing and above 3221 animals have drowned. Among all the destruction in the different parts of Maharashtra, the Raigad district has the most leading death toll with around 60, followed by 41 in Satara.
The Maharashtra government has stated that rescue teams have evacuated 2,29,074 people so far with the highest number of 1,69,968 rescued from Sangli followed by 40,882 from Kolhapur. Presently, around 25 rescue units of the National Response Disaster Force (NDRF), four of State Disaster Response Force (SDRF), five of the Navy, three of the Army, and two of the Coast Guard are engaged in rescue operations in the state of Maharashtra.
The Maharashtra Chief Minister Uddhav Thackeray visited affected places like Guhagar and Chiplun. He examined the flood situation and all other rescue operations. Talking to reporters after a few inspections, Thackeray stated, "The government will do everything to make them stand on their feet. Assistance such as food, clothes, medicines, and others will be provided to flood-affected people immediately. The district administration has been instructed those technical issues should not come in the way of providing assistance". The CM has announced that he would declare a relief package after carrying a comprehensive survey of the flood-affected districts.
Former CM Devendra Fadanvis and Union Minister Narayan Rane have also visited a landslide site in Raigad. The union minister claimed to report this condition to the Prime Minister Modi. They communicated with the flood-affected people and assured them of rehabilitation and relief from the government. Deputy Chief Minister Ajit Pawar also toured various rain-hit villages. He used a rescue boat to reach out to flood victims in some areas and stated that a primary decision on giving relief to the people affected by floods in Maharashtra will be taken in the next couple of days.
Even common people can support during these difficult times through donations. The donated money is utilized to swiftly obtain resources, giving a constant line of relief services and goods. This is the most active form of relief that even ordinary people can begin to help the people who are in need. And if you are interested in donating to those who are affected by floods in Maharashtra you can also donate to the Chief Minister Relief Fund, and the link for the same is given below:
https://cmrf.maharashtra.gov.in/CMRFCitizen/DonationOnlineForm.action

_______________________________________________________
Reference:
www.floodlist.com
www.news18.com
www.timesofindia.com