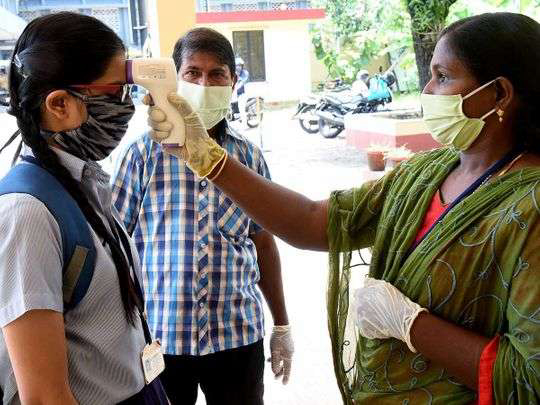 Today, even the most developed and urbanized nations are reporting a massive load of COVID-19 cases. In India, more developed states like Maharashtra are facing a COVID-19 outbreak on a huge scale. On April 10, the state of Maharashtra recorded 55,411 COVID-19 cases taking the state's COVID-19 tally to 33,43,951. At present, there are 5,36,682 active cases in Maharashtra. With 53,005 COVID-19 patients discharged in the day, the number of recovered people ascended to 27,48,153. Maharashtra Chief Minister Uddhav Thackrey has directed that the strict imposition of a lockdown in Maharashtra, considering the frightening rise in COVID-19 cases, underlining the need to save the lives of people and holding of strict restrictions to break the chain of transmission. With Mumbai recording 9327 cases in the day, it remains a major COVD-19 hotspot in the state. And by considering this situation, the Maharashtra school education department is considering over postponing the Class 10 Secondary School Certificate (SSC) and Class 12 Higher Secondary Certificate (HSC) board offline examinations in a surge in the COVID-19 cases in Maharashtra.
The Maharashtra State Board of Secondary and Higher Education (MSBSHSE) and CM are expected to reconsider holding board exams and might consider to try other options to continue the exams. Last year also several boards had assessed students based on internal assessment and previous year performances. Every year, about 30 lakh students take the Maharashtra Board Exams, including both HSC and SSC. In 2020, over 15.75 lakh candidates had appeared for the SSC exams and 14.13 had appeared for HSC exams. Of these, 90.66% of students passed the HCS exams and 95.3% passed the SSC exams. The Maharashtra Board had announced to conduct HSC and SSC or classes 10 and 12 exams beginning from April 23. Due to the second wave of Coronavirus, there has also been demand from a section of students and parents regarding postponement of exams.
Earlier, the MSBSHSE had given many relaxations to students for the board exams. To ensure students do not have to travel large distances amid the pandemic, the board has decided to allow students to take exams from their own schools and junior colleges as board exam centers. In case of not adequate seating, nearby centers will be allotted. Board had similarly decided to vaccinate staff and those on exam duties before the exams. Recently, the State Education Minister Varsha Gaikwad took to social media to release a video message saying, "I have a clear idea that some parents and students are uneasy for the board exams due to growing contagion of coronavirus. Protecting the health of students is our first responsibility, we are reviewing the situation. A decision in this regard will be taken in the next few days after discussions with the Chief Minister."

The Education Minister of Maharashtra Varsha Gaikwad said that she could not say anything at this moment. But yes, a final decision will be taken this week itself. According to a report by the Times of India, Varsha Gaikwad said that the rising number of cases is a major concern. We have to take into consideration the board exams of the CBSE which will be held in the state's jurisdiction. Hence, we are addressing all these concerns, she also said. The state school education department likewise said, "We will conduct a discussion with the Chief Minister of Maharashtra Uddhav Thackeray regarding postponement of SSC and HSC board offline examinations". The department also clarified that a final decision regarding SSC and HSC board exams will to taken only after the meeting with the chief minister is concluded.

Earlier, the Maharashtra government had promoted class 1 to 8 students, later it was decided to promote students in classes 9 and 11 without exams too. Now, only the decision related to the SSC and HSC students is pending. The distressing rush in the novel coronavirus cases has panicked the parents and teachers, with a number of them demanding from the government to delay the SSC and HSC board exams for the current academic year, by at least a month. Students have been staging repeated online protests in different parts of Maharashtra demanding that SSC and HSC board exams should be conducted via online mode to avoid COVID-19 risks. Likewise, #CancelBoardExams2021 was trending on different social media platforms. Numerous students used various platforms to demand the cancellation of exams. However, the final decision on HSC and SSC exams will be taken soon by the government.
______________________________
Reference:
www.timesofindia.com
www.dnaindia.com