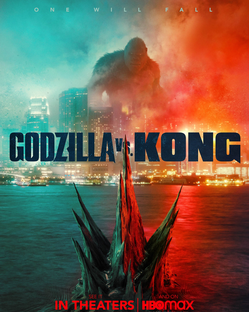 Godzilla vs Kong is a science fiction monster saga arriving soon in the cinemas, and it is the fourth entry in the Monster-verse, following 2019's Godzilla: King of the Monsters. This new movie will stand as a sequel to both King of the Monsters and Kong: Skull Island, and it will be one of the best sci-fi fiction films with a lot of action and thrill. Godzilla vs Kong will be released on March 26, 2021, globally including India, and March 32 on HBO Max in the US. The film is directed by Adam Wingard and written by Eric Pearson, and it features Alexander Skarsgard, Millie Bobby Brown, Rebecca Hall and Kyle Chandler among others. The film will be arriving in March, but it is creating a massive buzz among the cinema lovers after its trailer was out.
Godzilla vs King is the next chapter in the cinematic Monster-Verse, and it portrays two of the greatest monsters in the history of cinema against one another, the massive King Kong and the powerful Godzilla, with entire humanity trapped in their balance. These two monsters will walk on Earth and decide humanity's fate in the movie Godzilla vs King. There is also a destructive mission into a desolate region and it unearths clues to the origin of the monster, and a human conspiracy threatens to wipe the creatures, both good and bad from the Earth, and only a war seems like an option. And one more war is similarly going on between the fans of Godzilla and King Kong. Numerous Monster-verse enthusiasts are speculating who will win between Godzilla and Kong. Both the gigantic monsters have a tremendous power, and thus it is quite hard to decide who will gain a victory in the battle of monsters.
Now, plenty of the monster-verse fans are intrigued by both the monsters, and everyone is excited to make some self-made theories about who will win the battle. And almost everyone knows that Godzilla vs Kong will take place in a world where entire humanity is vacated to coexist with the Titans like Godzilla and Kong and include a subplot about a conspiracy that could have apocalyptic consequences. Only Kong can give an equal fight to the Godzilla, and no other Titan would like to tackle this legendary killing machine. Godzilla's whole body is a weapon, he has got a thick body and a huge tail with spiky back and powerful jaws, and he can toss his body for a massive tackle as well. For now, Godzilla has a clear size advantage against Kong. Godzilla's true strength lies in his endurance, but the King Kong is moreover established to be extremely fierce and largely brutal when triggered, tossing huge trees and smashing helicopters, he can smash anything in this world, with his exceptional powers. Kong similarly has a relatively gentle side, but many times, he has also demonstrated his capability to understand and adapt to his opponent's combat style, identify and exploit flaws in an enemy and use his environment to arrange pitfalls and traps. Thus, it is incredibly difficult to predict who can win the ultimate battle between the monsters.
Both these Titans will strike this year in Godzilla vs Kong, and this epic saga has been on the list since the Legendary began its Monster-Verse back in 2014. However, the fans are unfamiliar with the explanation behind the Godzilla and Kong's battles, until now. Godzilla vs Kong will be the grand occasion that all the fans have been waiting for since the release of the Godzilla reboot in 2014, however, it is speculated that even the new movie won't show the end of the Monster-Verse. But Kong and Godzilla will surely cross paths very brutally, beneath the Kong's homeland Skull Island. And some more monsters and Titans will join the main characters of the movie for sure.
The Legendary will keep this franchise going, so it is uncertain to be the final time we behold these gigantic monsters in the cinemas. There is a huge excitement to catch a glimpse of these monsters combat on the big screen after the trailer was released, with some fans siding either Godzilla or Kong. Some engaging memes on Monster-Verse are also taking over the internet, and below are some of the amazing reactions by the Monster-verse fans. No one knows who will gain a victory, but at least the fans are certain to be presented to some amazing monster battles this year with Godzilla vs Kong.
_____________________________________
Reference -

www.hollywoodreporter.com
www.digitalspy.com
www.in.mashable.com