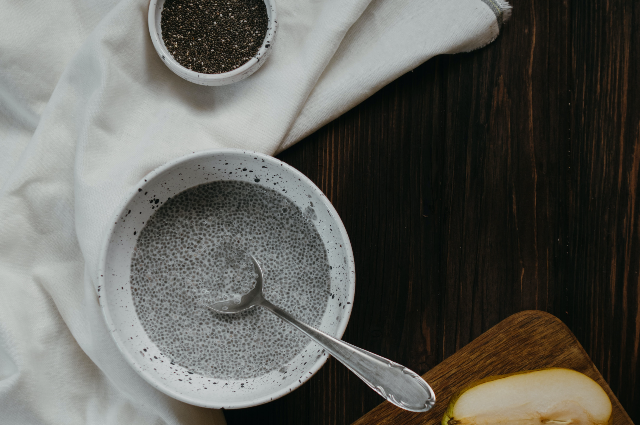 Chia seeds are one of the recent superfoods which are an easy nutritious addition to many meals. This super-healthy food item helps to improve digestive health, blood levels of the heart and decreases the risk factors for heart diseases and diabetes. The origin of Chia seeds is believed to be in Central America where the seeds were essential in the ancient diet. These seeds come from the desert plant Salvia Hispanica, a member of the mint family, and they are often sold under its common name chia. They are oval and grey with black and white spots on them and they generally have a diameter of 2 millimeters.
Chia seeds contain massive amounts of fiber and heart-healthy omega-3s, with plenty of high-quality protein, and many essential minerals and antioxidants. Just 28 grams of chia seeds contains 11 grams of fiber, 4 grams of protein, 18% Calcium, 27% Phosphorus, 30% Manganese, 30% Magnesium, 9 grams of fat, and 5 of which are Omega-3s. The seeds also contain a decent amount of zinc, vitamin B3, potassium, vitamin B, and vitamin B2. They are also naturally gluten-free.
In recent years, chia seeds have gained exceptional consideration for being a source of nutritional factors. So, many people try to add chia seeds to their regular diets. One of the simplest ways to include chia seeds in your diet is by just adding them to water. To make these chia seeds water, 40 grams of chia seeds are soaked in 1 liter of water for 20-30 minutes. The chia seeds can be eaten raw, drenched in juice, and they can be sprinkled on vegetables as well. There are many other ways to add Chia seeds to your diet, and some of them are given below.
1. Smoothies with Chia Seeds:
You don't need to grind the Chia seeds to extract their nutrients. And if you love vegetables, and you want to make them healthier, you can simply add Chia seeds to your green smoothies. The seeds do not change the flavor, but adds a lot of nutrition. To make a simple green chia seeds smoothie, blend 2 cups of any green vegetable like spinach, 1.5 cups of water, and 2 tablespoons of Chia seeds. You can also add one peeled orange and blend again. To give it some more flavor you can make it with some other vegetables and fruits too.
2. Chia seeds mixed in Puddings:
If you have busy mornings, you can make Chia seeds of pudding overnight and keep them in the fridge. This type of pudding can be made by soaking chia seeds in liquids like milk, nut milk, or juice for at least 2 hours or overnight. The tiny Chia seeds absorb the liquid and become gelatinous. And once the Chia seeds have swelled up after 2 or more hours, you can simply add some fruits and nuts and eat them. You can also try different variations of puddings by adding other flavors or fruits.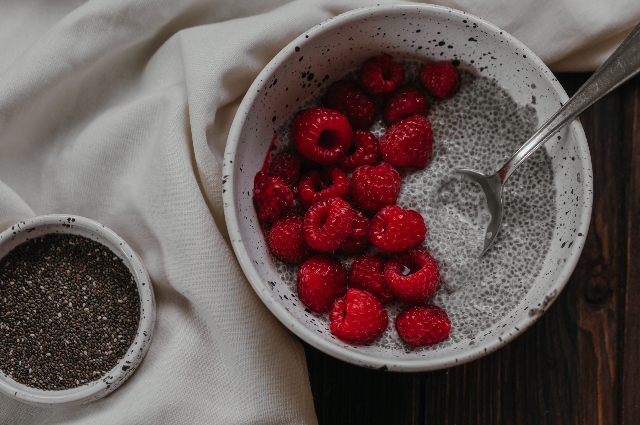 3. Crunchy Biscuits:
The mix of chia seeds and coconut can make delicious dairy-free and egg-free biscuits that everyone can enjoy. You just have to take flour and bicarbonate soda into a large bowl. Stir in some pistachio, sugar, coconut, and chia seeds. Add cooked coconut oil mixture and stir until it is well combined. Bake it for 15 minutes or until they are golden. You can make these healthy and delicious chia seeds biscuits of any size and flavor.
4. Smooth and Healthy Pancakes:
Pancakes are delicious, nutritious, and easy to make. You can simply add some chia seeds to your regular pancakes, which is a thin, flat, circular piece of cooked batter made from milk, flour, and eggs. You can roll up, fold and eat them hot with some chia seeds toping. You can bake them in different ways and can also freeze them to take them out whenever you need a quick and healthy breakfast.
5. Chia seeds in vegan baking:
Chia seeds have more calcium than most dairy products that we consume, and if you are a vegan and you don't eat dairy, chia seeds can be one of the best food options for you. You can use this super-healthy food as an egg substitute in baking. Try mixing 1 tablespoon of Chia seeds with 3 tablespoons of water, then let them sit for a few minutes. A gel will form that can be used instead of eggs in baking. Similarly, they can be sprinkled on cereal and yogurt, and with baked items like bread, and muffins as well.
___________________________________________
Reference:
www.hsph.harvard.edu
www.healthline.com
www.webmd.com