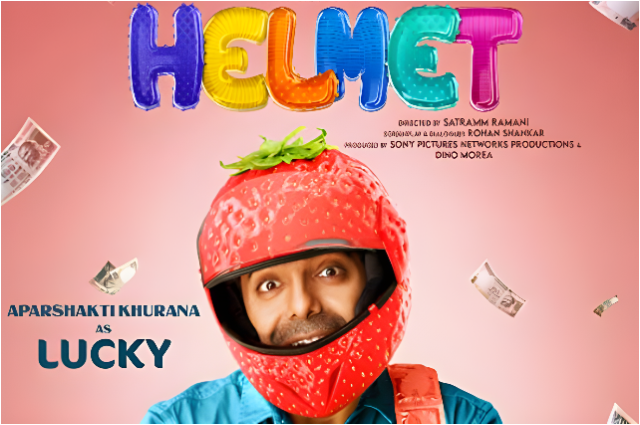 Bollywood has come up with quite bold, gutsy, and challenging topics in recent years. It has escaped the immature idea of smirking at anything connected to subjects like sex. And now, one more Bollywood movie has come with a bold attempt to weave a story around condoms and the overpopulation crisis in India. Without moralizing about it, the new film Helmet acts as a powerful socially relevant comedy. The movie humorously tackles society's hatred towards sex, birth control, and condoms.

The Helmet is a comedy film with a strong and much needed social message, which has been released on ZEE5. And apart from its fearless message to the society in a laughable way, this film is likewise about some great performances and captivating dialogues, with lead actors like Aparshakti Khurana, Pranutan Bahl, and a remarkable supporting cast with Ashish Verma, Sharib Hashmi, Abhishek Banerjee, and a few others. This Satram Ramani-directed film has pitch-perfect comic scenes, backed by thoughtful dialogues and hilarious situations. The most fascinating thing is that the film never fails the presence of a meaningful message among all the humor.
The movie Helmet is set in a small town in UP, and that's in fact is one of the most pleasing parts of this movie, since the small-town specialties act as a blowing experience. In that engaging town with traditional desi people, a team intends to do a survey about condoms, and birth control but fails miserably. As the story goes on, the adorable duo of Lucky and Rupali also meet each other. However, their unlike financial situations and social status become a massive barrier in their love story. With time, Lucky gets desperate to earn some quick money to achieve his career goals and marry Rupali.
As Lucky tries to do something about this situation he makes a get-rich-quick plan by robbing a truck of electronic items with his friends. But when they execute it, the group soon discovers that their grand theft contains packets of different flavoured condoms. Now Lucky has to think fast and smart or risk losing his love of life forever. And under the strain of this miserable event, the story revolves around how Lucky and his mates utilize this unexpected possibility to get rich. While Lucky tries various unique ways to deal with the situation he is in, the story tosses the scenes revealing how difficult it is to talk about sex and the use of condoms in India. There's even a scene where the movie depicts how actually purchasing a condom in a crowded store is an embarrassment for people in India.
Helmet movie creates a special and powerful appearance due to the kind of exceptional content that it delivers. And while the movie runs towards its impressive climax, we realize that the cases of STDs and abortions have ranged down due to some circumstances created by Lucky and his friends. The film furthermore touches on the spaces where societal norms determine that birth control consistently turns out to be the responsibility of women, and men asking for condoms can be a shameful act.
The film eventually connects its audience with the statistics of India's national problem of population explosion, yet leaves its audience with smiles, and some light-hearted moments. Despite a bold topic like this, the humour and the story of the movie don't come across as vulgar at any point. Helmet certainly strikes the right chords of its audience, thanks to its new and outstanding concept. In India, where there is still a tremendous disgust for condoms, the movie strives to throw some light on this engaging topic with a package of humour and drama. And the meaningful message behind Helmet has been conveyed to the people in a uniquely entertaining way.
. . .