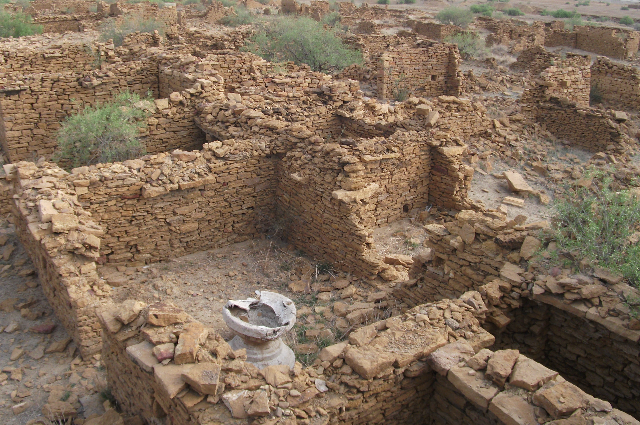 Many daring tourists wish to explore haunted places because there is some kind of scary excitement about facing paranormal activities. Some of these places are covered in mysteries, with legends passed down for centuries. Our country India is home to some of the most allegedly haunted places, and the Ghost village of Kuldhara is one of them. It is one abandoned village in the Jaisalmer district of Rajasthan, India.
Kuldhara was established around the 13th century, and it was once a wealthy village inhabited by the Paliwal Brahmins of Rajasthan. The village was swiftly abandoned by the early 19th century for some uncertain reasons. According to some local legends, the village was abandoned because of the Jaisalmer Diwan or state minister Salim Singh's oppression. It claims that the Diwan of Jaisalmer Salim Singh was known for his wickedness in those days. One day, Diwan declared that he wanted to marry the daughter of the village chief. He also told the villagers of Kuldhara that if his wish was not fulfilled, he would charge heavy taxes on them. And to avoid this, the villagers of Kuldhara just escaped one night, abandoning the village. However, no one certainly knows where they settled after this. It is also believed that, before migrating from the village, the villagers also cursed that no one will be able to live in Kuldhara ever.
The local legends believe that the early inhabitants of Kuldhara had cursed this village. In early 2010, late Gaurav Tiwari of the Indian Paranormal Society claimed to have observed some paranormal activities at Kuldhara. The 18-member team of the Society along with the 12 other people spent a night in the village. They claimed to have come across haunting voices, moving shadows, and some other paranormal activities. Gradually, the ghost village of Kuldhara developed a name as a haunted place and started attracting tourists.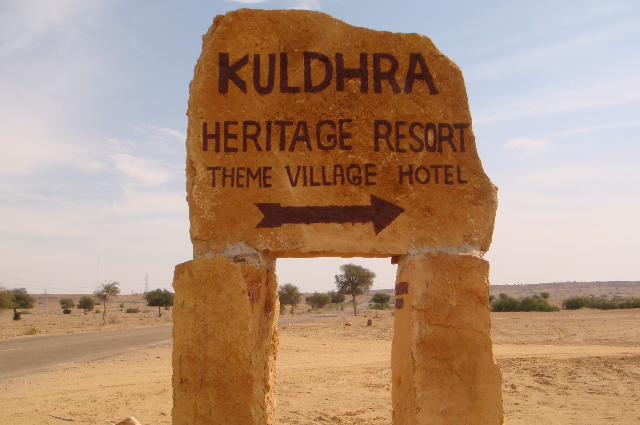 Over the years, the village of Kuldhara has emerged as a demanding tourist spot due to its spooky tales and mysterious architecture. However, the houses at Kuldhara are almost still in the good condition as they were left behind by their inhabitants. The Paliwals constructed their houses considering the technical, terrestrial, and architectural aspects, from bricks and mud in such a way that they were all decently ventilated in that warm region. Tourists can easily see the entire expanse of the village, lanes, and brick homes, midway between each other. This region is now also maintained by the Archaeological Survey of India as a heritage site.
People have always been curious about the mysteries behind Kuldhara. A study by A. B. Royal, published in Current Science, suggested that Kuldhara and other neighboring Paliwal villages such as Khaba were destroyed because of an earthquake. According to the authors of this study, the ruined houses in these villages show evidence of earthquake-related destruction, such as collapsed roofs and pillars. And such wide-ranging devastation cannot be credited to the usual processes of erosion. The author further state that their theory is supported by the evidence of recent tectonic events and the observed ground movements.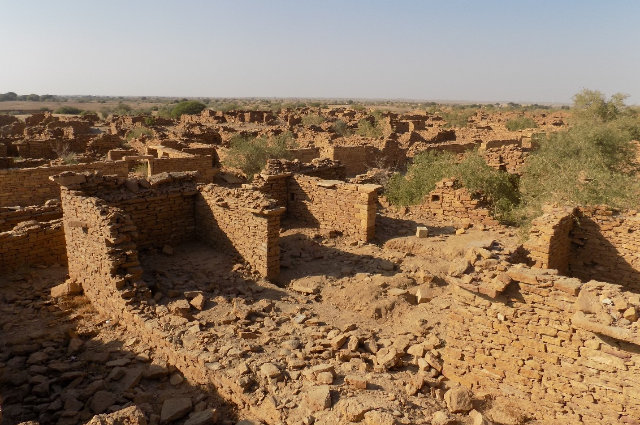 The houses at Kuldhara are may be in good form, but they are now surrounded by numerous ghost stories. However, the residents around the area do not believe in these ghost stories, but they support them to attract tourists. "These all are just myths. Many visitors ask me about ghosts and I do not know who told them about this. I never encountered any such experience. People say what they like or feel about this place", said Suma Ram, a Kuldhara resident to NDTV. Many other people who stayed there for days and nights never felt anything unusual about Kuldhara.
Apart from all the counterparts of ghost stories, the supernatural legends of Kuldhara have kept the interest of tourists in it. In 2015, the Rajasthan government decided to actively develop the village as a tourist spot. This plan included establishments of tourists' facilities such as cafes, night-stay cottages, dance performance areas, shops, and many other things. Such amazing facilities, the mystery of Kuldhara, and the evening breeze of the desert while traveling, attract many tourists to this place. And no matter where people travel, they are sure to find some ghost stories and a haunted site to boost the thrill.
_____________________________________
Reference:
www.tourism.rajasthan.gov.in
www.ndtv.com