Image Source: Asianet News Kannada
Do you guys think that you all are the only ones playing around with your hair right now? Then have a look at this elephant.!!
"The Bob-cut Sengamalam".
Recently, an elephant from Tamil Nadu smashed the entire social media when her photos went online. She is famously known as "Bob-cut Sengamalam" who has a massive fan club just for her "hairstyle". Pictures of Bob-cut Sengamalam got viral on the Internet after being shared by IFS officer Sudha Ramen, and the elephant's cute haircut has caught the attention of many people.
Sengamalam stays at Rajagopalaswamy Temple and was brought there in 2003. This temple is a Vaishnavite temple located in the town of Mannargudi, Tamil Nadu, India. The overseeing deity is Rajagopalaswamy, a form of Lord Krishna. The temple is spread over an area of 23 acres and is one of the important Vaishnavite Temple in India.
S. Rajagopal, her mahout (caretaker), is the one who takes care of her and it requires a lot of maintenance. Talking about what led to this unique styling, he told local media that he had once seen an elephant calf with a bob-cut on the internet and it excited him to grow Sengamalam's hair. He also said that the styling of the elephant was possible only because of the Sengamalam's calm and friendly behaviour.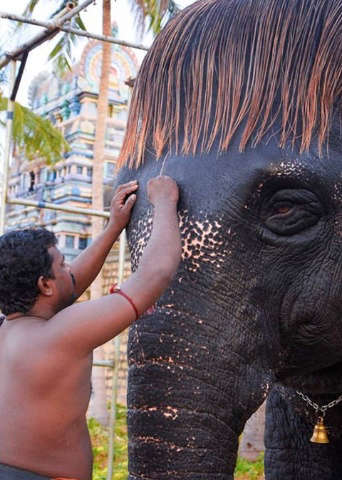 But the viral photos also provoked many debates on social media over the elephant being in captivity. The forest officer Sudha Ramen, who shared the pictures, clarified saying, "Do understand that a Captive Elephant Management rules are strong & followed. Not that all Captive elephants are badly treated and not that all are treated well. As an informed citizen, one should know the existing rules at first place and if they find the animal is treated badly, they need to inform the concerned authority for immediate action," she said.
So, this temple elephant from Tamil Nadu is now a sensation on the internet for her unique 'hairstyle'. And it happened because of the artistic imagination of her Mahaut, S. Rajagopal. Photos of Sengamalam are widely winning hearts on social media and Rajagopal explains that he takes care of the elephant-like his own child.