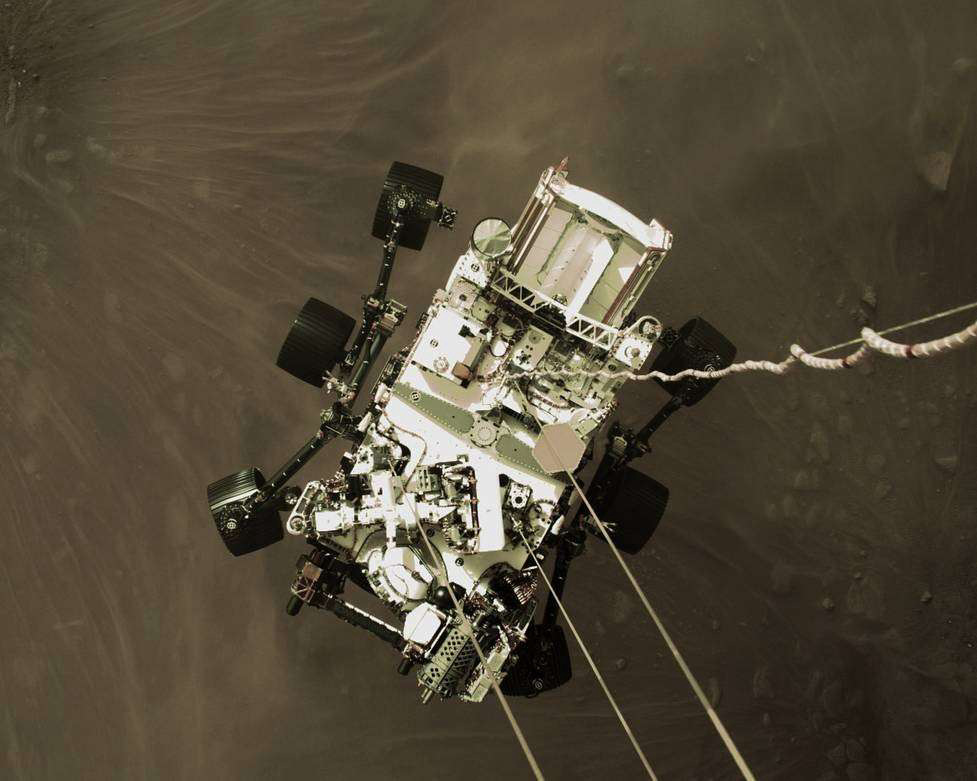 One of the biggest and most ambitious projects of NASA had become successful when the Perseverance Rover landed safely on Mars. NASA's Mars exploration program included the Perseverance Rover and the ingenuity helicopter drone. It was launched from Earth on 30 July 2020 on Atlas V-541 at 11:50 UTC and the confirmation of touch down in "Jezero" a crater on Mars was received on 18 February at 18:50 UTC. The Jet Propulsion Laboratory managed this Mars mission, and this mission will seek habitable conditions and microbial life on Mars. After landing, initially the Perseverance fired some pyrotechnic devices on Mars, releasing the covers on cameras onboard the rover. It took images in front and behind the rover and sent those back to Earth via NASA's orbiting Mars Odyssey spacecraft and Europe's Trace Gas Orbiter.
The Perseverance Mars Rover has sent back images from the surface of Mars, with the help of its Hazcams, Hazard Avoidance Cameras, which help with driving on Mars. The protective covers over these Hazcams are still on. The first images of Mars were low-resolution versions, popularly known as thumbnails, and the higher-resolution versions were soon provided by NASA. Following its landing, the rover sent its first rocky images from Mars. And to publicly confirm the safe landing, NASA's Perseverance Mars Rover's official Twitter handle wrote, "Hello, world. My first look at my forever home".


The image was acquired on 18 February 2021 at the local mean solar time 20:58:24 by using the front Hazcam. Perseverance Mars Rover is NASA's most advanced rover which the space agency has sent to the red planet. The administrator of NASA, Steve Jurczyk, said in a statement, "This landing is one of those pivotal moments for NASA, the United States, and space exploration globally, when we know we are on the cusp of discovery and sharpening our pencils, so to speak, to write the textbooks". Astrobiologists speculate that this latest mission will open several new doors to assess the past life on the red planet.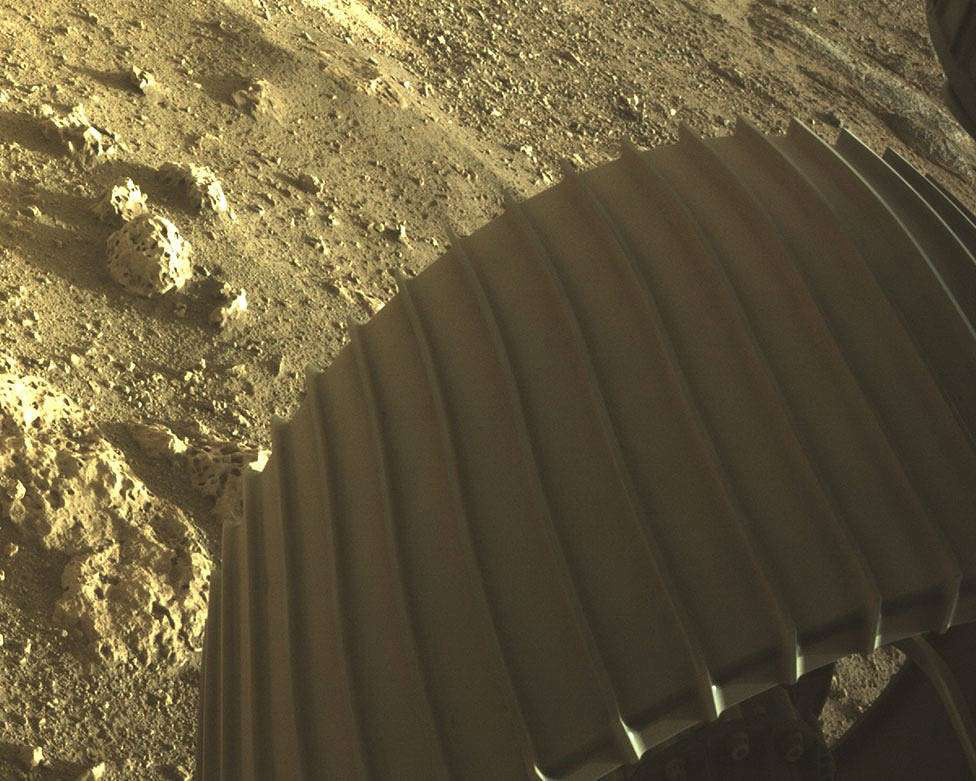 It was NASA's ninth mission on Mars, which is often cold, dry, and red, and it was directed by the Perseverance Rover, which is a robotic geologist and astrobiologist, worth $2.7 billion. Some previous Mars exploration missions including Curiosity and Opportunity rovers have suggested that Mars was once a wet planet with an environment likely to have been potentially supportive of life billions of years ago. Astrobiologists hope this latest mission will offer some evidence as to whether that was the case. Perseverance is fully equipped to carry tests and analyze the rock and sediment of Jezero crater's ancient lakebed and Jezero's river delta to examine the geology of the region and determine the past climate. The other primary objective of Perseverance is likewise to find traces of ancient microbial life in Earth's closest planet, Mars. A clutch of instruments is also designed to analyze rocks for biosignatures, water, chemical hallmarks of life, and will similarly store other samples from the planet's surface. The Science Definition Team suggested that the rover will collect as many as 31 samples of rock cores and surface soil for a later mission to bring back definitive research.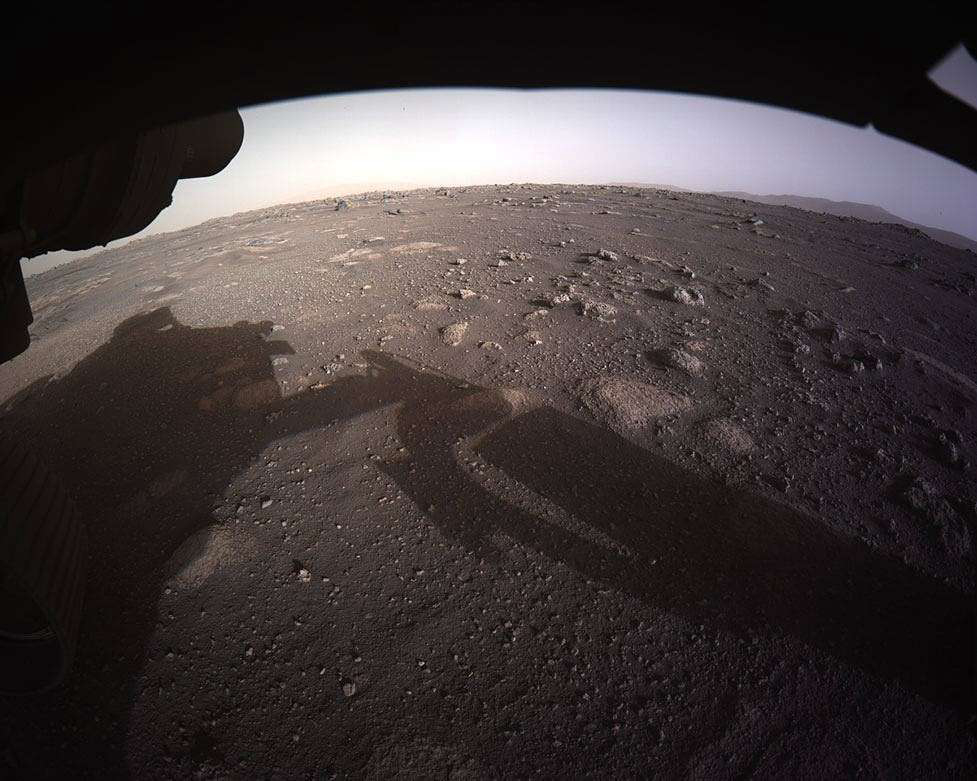 The rover will take a few breaks to recharge the batteries for the next days' exploration. According to the Deputy Project Manager for the mission at NASA's Jet Propulsion Laboratory, Jennifer Trosper, the Perseverance will go through several crucial tasks to validate it is up and running efficiently. The rover will send the exact location on Mars, while the team of researchers will attempt to continue with the basic functions of the rover like power, thermal, and communications. If any of the basic functions aren't working properly, then the vehicle can be damaged very promptly. The Perseverance will likewise run through checks of its instruments, and systems while continuing to send images of its surroundings on the red planet. Some future missions by Europe and the United States will retrieve the samples and data and return them to Earth. The Perseverance Rover's successful Mars landing has increased the chances of finding the answers to mysteries behind life which once thrived on Mars.
_________________________
Reference:
www.nasa.gov
www.scientificamerican.com