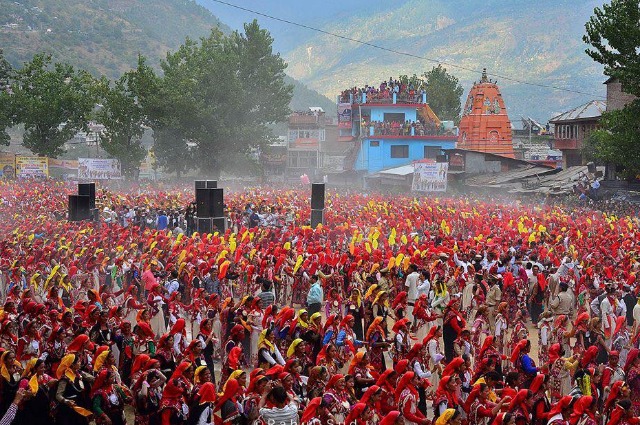 India has a very rich heritage of music and dance and every Indian state has its unique classical dance form that represents the values and traditions of that state. Nati is one such traditional folk dance of the western and central hills of India. This dance form is primarily native to the states like Himachal Pradesh and Uttarakhand and it is performed in the districts like Kullu, Shimla, Kinnaur, and Chamba. More than its uniqueness, beauty, and cultural significance, Nati is one of the most beautiful and liberating dance forms that just sets its dancers free.
The incredible magic of Nati increases with the music which is played by the locals and it often represents the dance form. Nati has both slow and fast beats, an incredible rhythmic syllabus, instrumentals, and tune. Thus, one gets as active as possible in Nati, yet maintains its grace while dancing. Traditionally, locals of the Kullu region perform the Nati dance with the drumming instruments called Dhol-Damau. They use short horns, some single and double skin drums. The horn is called Narasingha, and its shorter version is called Chhannai / Shehnai. The longer horn is called Karnali, and the drums are called Nagaaras or dhols.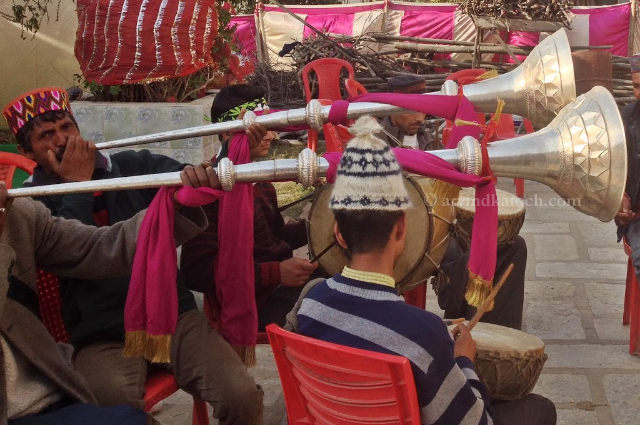 Distinct activities such as new year celebrations, Dussehra, sowing the crop, and reaping it are included in the reasons behind performing the Nati dance. And during a Dussehra festival in 2016, over 9000 artists performed a folk dance in the state of Himachal Pradesh to highlight the 'Save the Girl Child' message. This grand event created a world record of largest participation at one point in time. It included 9892 Nati dancers during the Kullu Dussehra Celebrations in the town of Kullu and entered the Guinness Book of World Records. The vision behind this grand event was of the former Deputy Commissioner of Kullu Rakesh Kanwar. Kanwar managed to arrange the largest voluntary folk dance in the world.
Along with its grandness, Nati also evokes grace in the female and male dancers in its true forms. It also helps people to express their devotion towards the almighty and enjoy the moment at the same time. During Nati dance, female dancers wear traditional Kulluvi woolen dresses over their clothes called Pattu. This Pattu is a woolen cloth quite bigger than a shawl which has beautiful embroidery of woolen threads. It is tied with pins, with silver chains and women wear lots of silver and gold ornaments with it. Their heads are covered with a piece of cloth called Dhatu and they also wear the handmade footwear called Pullas. While on the other hand, the male dancers wear a long woolen coat with pleats called Chola with tight woolen pants called Suthan. The Chola is tied to the waist of the males with the help of a piece of clothes called Dora. The male dancers also wear a woolen cap with a hanging crown made up of colorful threads.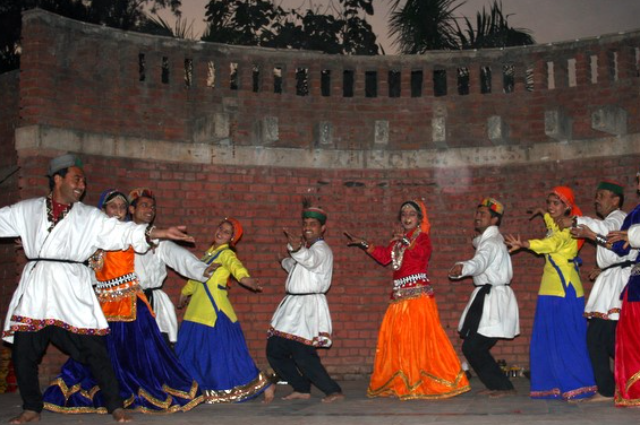 All these instruments, distinct clothing styles, along with some literary sources, sculptures have provided extensive evidence on dance styles like Nati in many different parts of India. Nati is one of the most beautiful things that represent India's vibrant culture through the music, colorful attires used in it. Many other traditions support the view of this dance style and it holds a significant place in the religious life of people in Kullu. And before the dance and other celebration begins in the Kullu, the locals celebrate their idols of gods which arrive from all around the mystical valley on carts.
People carry their gods in a palanquin and they are called 'Jamannis'. They carry the gods from their villages on foot. Some of these palanquins get as heavy as 200 kg. and people who walk along are called 'devlus', but not anyone can be a devlu, and not everyone can be jamannis, because they must have coordination amongst them. Otherwise, the palanquin could get imbalanced and the gods may fall. And along the way, they can keep down their gods at certain designated places only. Later, many other ceremonies and traditions like Nati dance are performed to celebrate various festivals.
There are many beautiful varieties of Nati dance forms which include types like Kullvi Nati, Sirmauri Nati, Kinnauari Nati, Jaunpuri Nati, Tandi, and many more. This dance form is now recognized all over the country and the world as well. People of Kullu value and follow their Nati dance highly, and it is the reason that this beautiful dance form has not vanished over so many years of modernization in the region. There are numerous incredible dance forms like Nati that many Indian states have to offer. Such incredible dance forms, despite being equally amazing, remain mostly unnoticed, and we need to tap into such rich cultural dance forms.
_________________________________________
Reference:
www.indiavivid.com
www.thenewshimachal.com
www.wikipedia.org