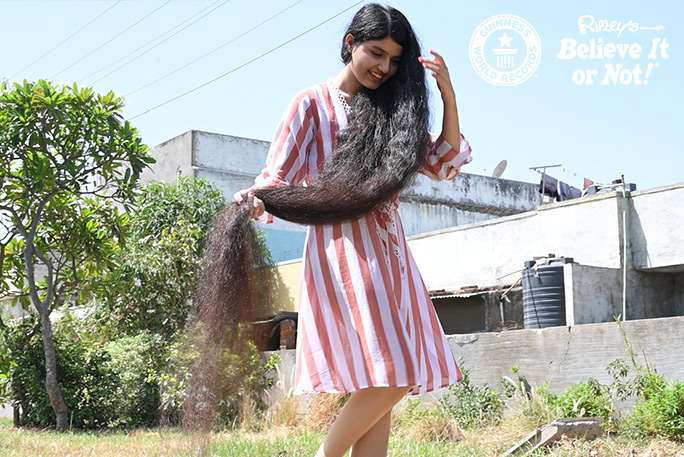 The remarkable character of Rapunzel, who was a young lady having very long hair with mysterious powers is quite famous around the world. And this fictional character was even discussed in a Disney movie, but now an Indian real-life Rapunzel, with the world's longest hair, without any magical powers has just cut her remarkably long hair. Her name is Nilanshi Patel, and she is from Modasa, Gujarat. Nilanshi's most recent world record was in July 2020, with a length of 200 cm, her hair was the longest hair on a teenager. She similarly held the record in the same category in 2018 and 2019. However, now she has said goodbye to her long and stunning hair. And once all when Nilanshi's hair had been cut, it was tied up into a bunch that weighed a total of 266 g. Since 2018, she has held the Guinness World Records title for the longest hair on a teenager. At the time of her first record in 2018, she was 16 years old, and her hair measured 170.5 Centimeters (5 ft. 7 in). In July 2020, just before her 18th birthday, her hair was measured for the time and reached an incredible 200 cm, locking her the incredible title for the longest hair ever on a teenager.
Nilanshi decided to stop having haircuts when she was just six. After a quite bad experience at a hair salon, she decided to grow and groom her hair, and quit hair cutting. She was stuck by her decision for 12 years and she described her long hair as her lucky charm. But after growing her hair for over a decade and earning 3 Guinness World Records titles, she made a bold decision to cut off her locks. In an interview with the Guinness World Records, Nilanshi said, "My hair gave me a lot – because of my hair I am known as the 'real-life Rapunzel'… now it's time to give it something back". Right before her haircut, Nilanshi said, "I am so excited and a little bit nervous because I don't know how I am looking in the new hairstyle… So, let's see what happens, but I hope it's going to be amazing". Before the first cut took place, she kissed her hair and crossed her fingers for luck. It was a quite tensed moment for her and an emotional one too, as her hair had been such a significant part of her identity for 12 years.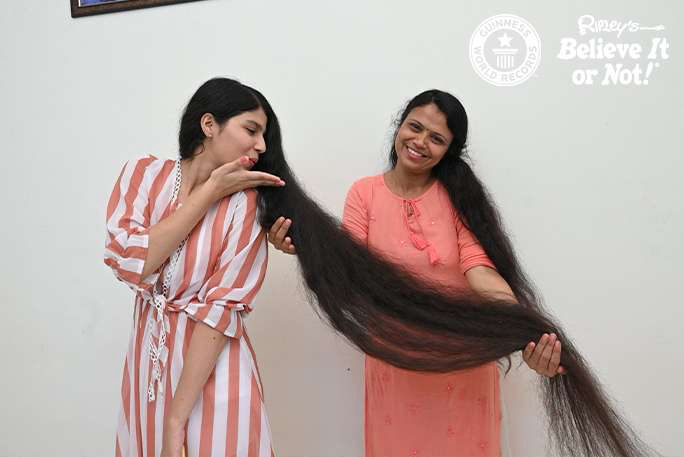 Barely after a few minutes, the initial big cut was complete and Nilanshi went on to get her new, short locks cut. Once the new haircut was complete, she was blindfolded, led to a mirror, and has her new look revealed to her. And fortunately, Nilanshi was extremely happy with her haircut. Despite Nilanshi's joyful reaction, her mother Kaminiben could not help but say that she missed Nilanshi's hair. But once when her mother got used to the drastic change, she said that Nilanshi looked beautiful with her new haircut. It must have been very strange for Kaminiben, who was used to helping her daughter wash, dry, and comb Nilanshi's hair once a week, which was a very time-consuming task due to the length of the hair. In fact, Kaminiben was the one who encouraged Nilanshi to continue to grow her hair and break world records.

The Guinness World Records has also released a video of Nilanshi Patel's haircutting experience. In this video, Nilanshi pats her hair after it has been cut. The stunned mother and daughter can likewise be seen hugging each other. And looking in the mirror, Nilanshi says, "It is beautiful. I look like a princess. I am still Rapunzel… I love my hairstyle".

Numerous people were surprised to see Nilanshi having a haircut, and the clip garnered a lot of views and likes on the internet. According to Guinness World Records, when Nilanshi was finally cutting her hair, she was given 3 options. She could auction it, donate it to charity for cancer patients, or donate it to a museum. Nilanshi consulted her mother and decided to give her hair to a museum, and her mother told Nilanshi that the hair deserved to be in the museum as it would help inspire other people. Even her mother Kaminiben chopped off her hair along with Nilanshi, and the mother donated her locks to cancer patients. Nilanshi Patel feels proud that she is going to send her hair to the US Museum at Ripley's. Once Nilanshi's hair has been shipped from India to the USA, it will be on display at Ripley's. And India's real-life Rapunzel is still thrilled with her new shorter hairstyle and she can't wait to see her long locks on the display. She also hopes to inspire people and add more and more world records to her name.
________________________
Reference:
www.guinnessworldrecords.com
www.news18.com