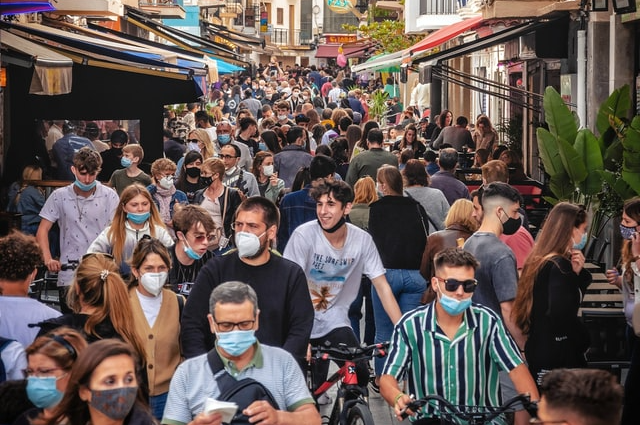 After months of strict lockdowns, the Indian states are holding back some restrictions, and travelers are touring to major tourist destinations. Several regions have relieved the compulsion of mandatory e-pass and RT-PCR tests for tourists. States like Himachal Pradesh and Kerala have become one of the most famous tourist spots once again. And countless pictures of overcrowded tourist places are going viral on social media with numerous people slamming those violating Covid19 norms while traveling.

Some recent viral pictures of the densely crowded places of Manali during these days have picked a lot of objection with the netizens calling Himachal Pradesh the next hotspot to trigger the COVID-19 third wave. The covid awareness campaign, which has been initiated in Himachal Pradesh is observing an extensive inflow of visitors following relaxation in COVID-19 limits by the state government.
Referring to a huge footfall of people in tourist spots, the Health Ministry has stated that total violations of COVID-19 relevant actions can invalidate the gains so far. Joint Secretary of Health Ministry Lav Agarwal has said that "Virus will get an opportunity to spread again if people continue to move around in hill stations and markets without wearing masks and without maintaining physical distance". The images which are going viral on social media make it sufficiently obvious that people are pushing for space at tourist places.

The Director-General of the Indian Council of Medical Research has said that "The pictures that we have seen today are very frightening. COVID-19-appropriate behavior is absolutely essential". Emphasizing that the pandemic is not yet over, health ministry officials have further explained the situation of large people gathering at famous hill stations is frightening.
All the improvements that the nation has obtained right now to hold the virus will go to waste if people continue to gather in tourist destinations. It has been widely noticed that travelers are crowding at common tourist places such as Manali and all the COVID-19 protocols are being unfollowed, which means no one wears masks, and no social distancing is being maintained. For instance, various shopping malls in different states have been sealed by the state governments for breaking COVID-19 norms. These shopping malls were even served notices, despite that, they were found violating norms under the Epidemic Act.
Furthermore, despite a massive surge in COVID-19 infections and the threat of a lockdown in Maharashtra, massive crowds can be observed at different tourist spots like Lonavala. A massive crowd was reported at several areas at different hill situations in Maharashtra as tourists come to enjoy the monsoon season. Thousands of people were further seen at tourist spots in Gujarat, where the crowd was seen at various holy places and hill stations. People are moving around with no masks and violating social distancing guidelines in those places. Similar conditions can be noticed in other states like Punjab, Goa, and Kerala as well. Additionally, several government officers and politicians were also seen enjoying themselves as tourists. Countless photos and videos of such events have gone viral on different social media platforms.
If people proceed to behave in such a way for their pleasure and fun purpose, then the next wave might not be far away. As COVID-19 cases and deaths continue to increase and vaccine uptake appears as a critical way out of lockdown, demand to get more people to follow the guidelines becomes even more crucial.
The Indian Medical Association (IMA) has similarly asked the central government and state governments to not allow any kind of mass gatherings or huge celebrations in the wake of the next likely wave of COVID-19. At the same time, several campaigns are presently trying more to assisting people to follow the rules, and they have attempted to convince the public that this threat is serious, and following the rules is very important.
_______________________________________________
Reference:
www.timesofindia.com
www.indiatoday.in