The changing outlook of people towards sports is gradually giving opportunities to many young and talented kids in India, and they can be star sports personalities of the nation. And recently, a 22-year-old girl from Tamil Nadu surprised everyone at the National Federation Cup event, when she won a gold and broke the records of PT Usha, Dutee Chand, and Hima Das. This young girl named S Dhanalakshmi shocked her competitors and the entire audience in the 100m final which clocked a meet record time of 23.26 seconds in the women's 200m semi-finals at the 24th National Federation Cup Senior Athletics Championship 2021 in Patiala. The most significant aspect of her victory is the fact that she broke a Meet Record of India's celebrated legendary sprinter PT Usha. Dhanalakshmi's timing broke PT Usha's last-standing meet record of 22.30 seconds set in Chennai in 1998. Moreover, she also gained a victory over Hima Das of Assam, who clocked 24.39 seconds, in the semi-final heats lifted her to the top 10 of the Indian all-time lists. It is significant to state that Hima Das had faster times than the one by Dhanalakshmi. However, this young girl began running her career in sports in 2018, and she hasn't stopped yet.
Dhanalakshmi Sekar deserves this attention because she has beaten both Hima Das and Dutee Chand. It happens to be her second victory after the 100m event for which she won a gold medal. Dhanalakshmi finished that competition at 11.39 seconds and the best part of her glorious victory is indeed she managed to beat both Hima Das in 200m and Dutee Chand in 100m respectively. In the sprinting event of 100m, Hima Das was disqualified for a false start while Dutee Chand bagged the second position in the competition with the timing of 11.58 seconds. Sprinter Archana Suseendran finished this race at third place by clocking the race at 11.76 seconds.
Dhanalakshmi Sekar is from a small village named Gundur near Tiruchirappalli in the southern state of Tamil Nadu. Born on 5th June 1998, she was very active in sports from her childhood. She lost her father at a very young age and her mother worked as a domestic help to support and feed the entire family, which included Dhanalakshmi and her two younger sisters. As the youngest sibling, Dhanalakshmi turned her interest in sports. Choosing sports and doing something in it is relatively ordinary in numerous Indian rural families from poor economic backgrounds, due to some possibilities of government jobs under the sports quota. In 2017, Dhanalakshmi met a veteran Tamil Nadu-based sprinter and her current coach Manikandan Arunmugam, and suggested she try out athletics. He knew what he was looking at, and although Manikandan was also competing, he took Dhanalakshmi under his guidance and also helped her out with food, equipment, and coaching.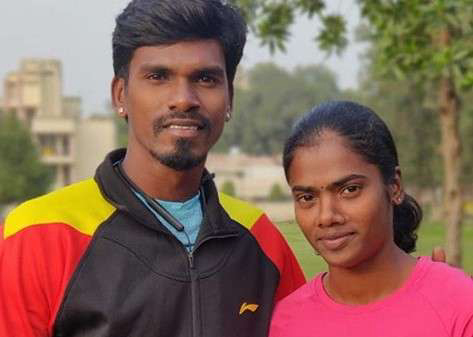 Manikandan admits that his suggestion was a bit of very general advice he would give to any youngster, but there was something special about Dhanalakshmi. "I know what it's like to be hungry but also how athletics can change lives", the coach said in an interview. Lack of resources was a constant adversary for Dhanalakshmi, but she somehow managed to continue the practice and the girl finally began breaking through in 2018. She finished third in both 100m and 200m at the Tamil Nadu State Championships held in Tirunelveli in 2018. When S Dhanalakshmi was running in the Federation Cup two years ago she recorded 24.05 seconds and finished third in the Cup. Dhanalakshmi also recorded a 23.47 in the Tamil Nadu State Championship in Sivakasi, thus making it the second time she was dipping under 23.50 seconds.
Dhanalakshmi Sekar told the Hindu, "I knew I was competing against Hima Das and Dutee but that was the extra motivation. The spotlight is always on them, no one bothers about the others and I was determined to change that". While her previous official best was 24.05, more than half a second off her recent pace, she had done 23.47 in a state meet in January this year. Running and giving a tough competition to Hima Das, Dhanalakshmi pushed this more famous runner to a distant second in 24.39. With Dutee Chand pulling out of the event earlier, it was expected to be a clash between the established sports star and this new talent in the Indian sprinters. It is still the start of Dhanalakshmi's career in sports and it can surely reach new heights in the coming days.
___________________
Reference:
www.scroll.in
www.thehindu.com
www.espn.in