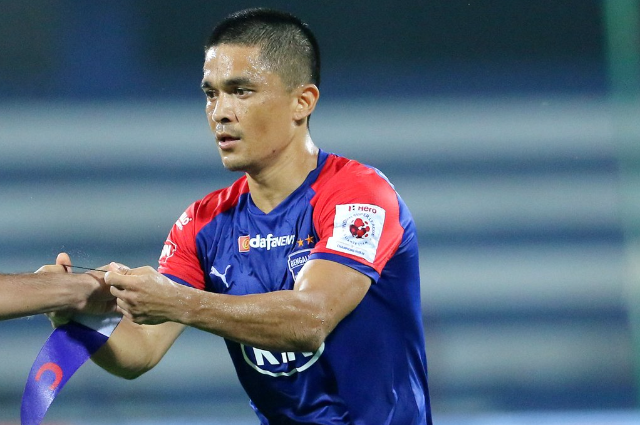 Indian football legend Sunil Chhetri is quite famous for his game techniques, and never-give-up attitude. And now this experienced striker who contributed to the win of India is in its final World Cup qualifier in six years. Adding another great achievement to his list, Sunil Chhetri with 74 goals has gone ahead of Argentina's Lionel Messi with 72 goals to become the second-highest active international goal-scorer. He is now just behind Portugal's Cristiano Ronaldo with 103, in terms of the current international goal scores list.
This incredible event took place when Sunil Chettri won against Bangladesh in the combined preliminary qualifying round for the 2022 FIFA World Cup and 2023 AFC Asian Cup on 7th June. At the Jassin Bin Hamad Stadium, Chettri broke the standstill in the 79th minute, heading in Ashque Kuruniyan's cross from the left, and they sealed the win in extra time by sending a wide-ranging goal on the field.
Presently, Sunil Chettri is two goals ahead of Argentina's Lionel Messi. Last week, Messi scored his 72nd international goal against Chile in a World Cup qualifier, while Emirati player Ali Mabkhout added to his total against the Malaysian team. Sunil Chettri is now also one goal away from joining the league of the top 100 of all-time in world football. For the first time in a long time, India has won, and all credits go to Sunil Chhetri's double goals in what was turning out to be a substandard World Cup qualifying campaign. Moreover, it was India's first win in World Cup qualifiers away from home in 20 years. Now India has climbed to third place in Group E with 6 points from seven games after the recent victory.
Earlier, India started the World Cup qualification run with a narrow 2-1 defeat at the hands of Oman at home, and it was followed by a historic scoreless draw against Asian Champions Qatar in Doha. In the third and fourth match, the Blue Tigers of India managed 1-1 draws against both Bangladesh and Afghanistan, and then they suffered a 1-0 defeat against Oman away from the home.
Indian team has many excellent players in the team, which can help the captain Sunil Chettri in the upcoming matches. Goalkeeper Gurpreet Singh Sandhu, midfielders like Udanta Singh, Brandon Fernandes, and forward players like Ishan Pandita, Manvir Sing, along Sunil Chhetri have been great players on the team. After the recent victory of the Indian football team, the head of the All-India Football Federation (AIIF) Praful Patel, has praised Sunil Chhetri for leading from the front.
The AAIF president similarly congratulated the entire squad on their incredible win, which was largely due to Chhetri's skills. Igor Stimac, the Indian football team head coach said that 36-year-old goal-machine Sunil Chhetri plays and scores like a 25-year-old. He also said that Chhetri is still in good shape and is working hard with such professionalism. Bangladesh coach Jamie Day has also said that talismanic Sunil Chhetri won't miss if you allow him to score. Now India will play on June 15, against Afghanistan, and it will surely be an exciting match to watch.
________________________________________
Reference:
www.goal.com
www.sportstar.thehindu.com