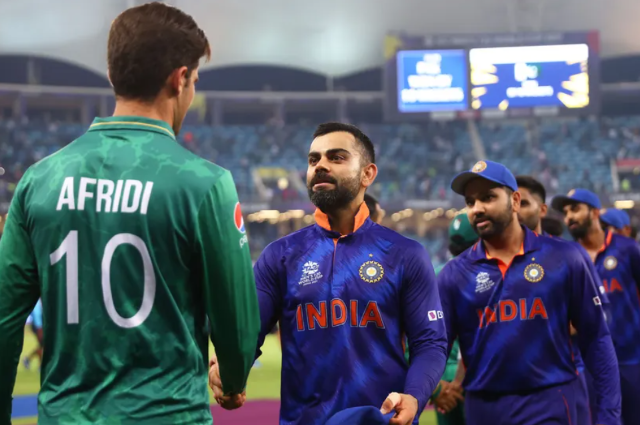 Each time India and Pakistan teams face each other on the cricket pitch, the excitement reaches the high skies, and this huge moment came at this year's T20 World Cup. However, it was not a fortunate night for Indian cricket fans as it was a match where the Pakistani team got everything right after winning the toss to earn their first win over India. With this historic win, Babar Azam became the first Pakistani captain to drive his team to a victory over India in the men's ICC World Cup match. Pakistani players Babar Azam and Mohammad Rizwan presented a great play as Pakistan delivered a 10-wicket win against India. Chasing a target of 152, the Pakistani players were vigilant against the Indian bowlers while being spectacular with the bat.

At the start of the match, young player Shaheen Afridi blew fire with his bowling and dismissed both KL Rahul and Rohit Sharma. Skipper Virat Kohli tried his best to save the match, but his bat also dropped after a point. The death overs saw an inrush of runs for India, but it was nowhere close to enough on the match. Although, this defeat may act as a motivational call for the team and the players must be glad that the defeat came in the first match rather than a knockout game. Before the match, the enthusiasm among the cricket fans was at an all-time high. However, when the Indian team suffered a brutal defeat against its arch-rival Pakistan, a wave of sorrow passed through the whole of India. Yet, many people seemed to support the Indian Cricket Team, which displayed the true sportsmanship of cricket lovers.
Here are some of the interesting reactions of Indian cricket fans:
. . .
Reference: